Description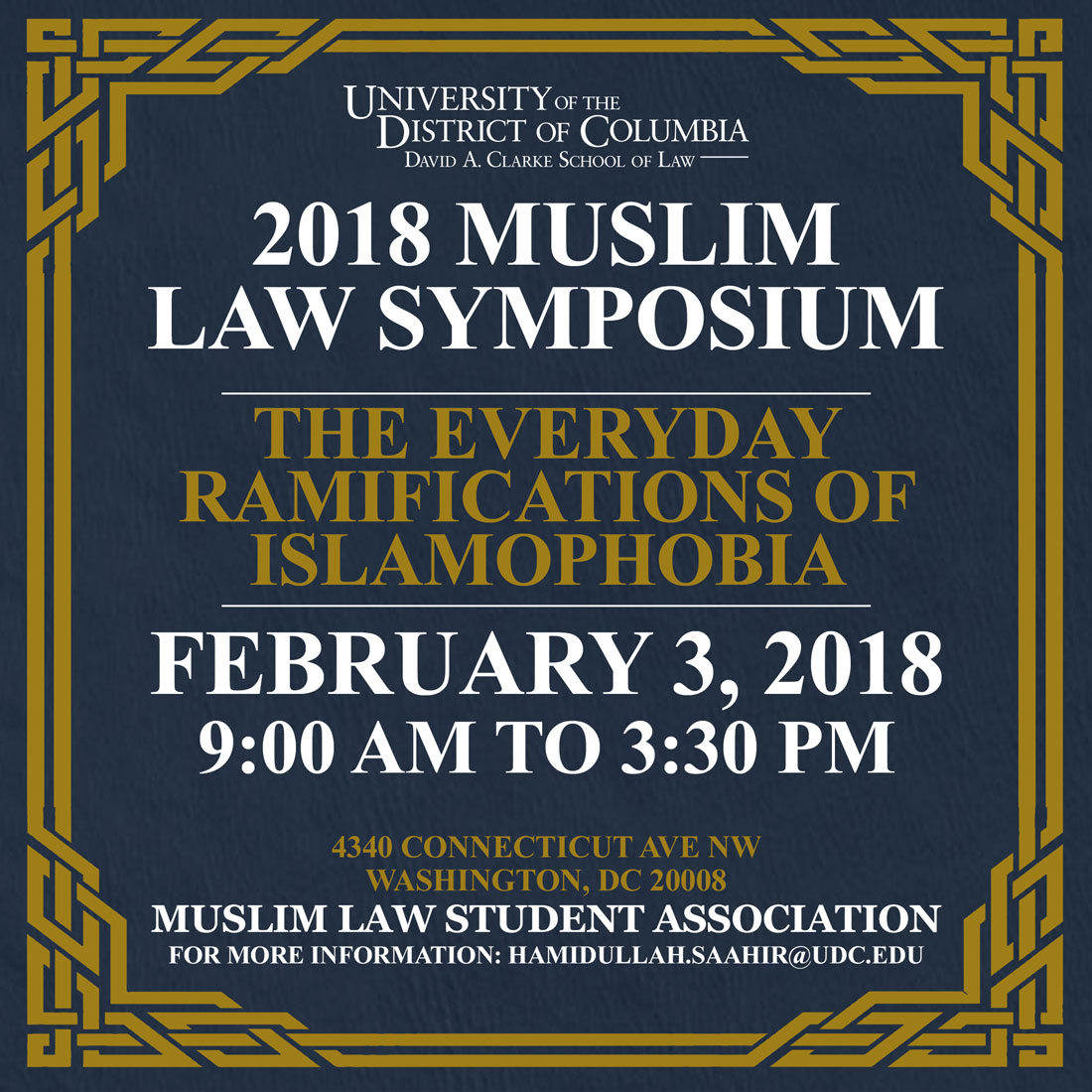 The University of the District of Columbia David A. Clarke School of Law's Muslim Law Student Association (UDC-MLSA) invites you to our first Muslim Law Symposium on February 3, 2018. The Muslim Law Symposium themed "The Everyday Ramifications of Islamophobia" will include panel discussions on Racial and Islamic Profiling, Anti-Muslim Bigotry and Hate Crimes, and Discrimination in Housing, Employment, and Education. The symposium will include a continental breakfast, lunch, and will close with a town hall forum.
The Muslim Law Symposium will be held at the David A. Clarke School of Law located at 4340 Connecticut Ave NW, Washington, DC 20008 and will begin at 9:00 am and continue until 2:30 pm.
The David A. Clarke School of Law the only public law school in Washington, DC is anchored by the mantra "Practice Law. Promote Justice. Change Lives." and is the perfect venue to hold a symposium on such pertinent issues.
For more information please email UDC-MLSA President Hamid Saahir at Hamidullah.Saahir@udc.edu.
---
Muslim Law Symposium
The Everyday Ramifications of Islamophobia
February 3, 2018 . 9:00 a.m. – 3:30 p.m.
9:00 a.m.—Registration and Continental Breakfast
9:30 a.m.—Welcome and Opening Remarks
• Shelley Broderick, Dean, UDC-DCSL
• Hamid Saahir, President Muslim Law Students Association
9:45 a.m.— The Moral Imperative to Act
• Talib M. Shareef, President and Imam, The Nation's Mosque, Masjid Muhammad
10:00 a.m.—Hate Crimes: Emmett Till, Deah Shaddy Barakat, Yusor Mohammad Abu-Salha, Razan Mohammad Abu-Salha, and Jamilla Doe
• Introduction: Saleema Snow (Associate Professor of Law, UDC-DCSL)
• Moderator: Ali Muhammad (D.C. Human Rights Commissioner, Deputy Director of Civil Rights USDA)
• Alejandro Beutel (Research Analyst, Southern Poverty Law Center)
• Jonathan Smith (Director of Litigation, Muslim Advocates)
• Muhammad Fraser-Rahim (Executive Director, North America for Quilliam International)
This panel explores hate crime statistics, the legal framework for prosecuting hate crimes, and whether existing legislation sufficiently addresses the growing attacks on American Muslims and those perceived to be Muslim. Panelist will also discuss
11:15 a.m.—Break
11:30 a.m.—Shari'ah in American Courts
• Azizah El-Hibri (Professor Emerita, Richmond School of Law and Founder Karamah: Muslim Women Lawyers for Human Rights)
12:00 p.m.—Lunch
and America's Islamic Heritage Museum Exhibit
12:45 p.m.—Spoken Word
• Jinan Shbat (Muslim Writers Collective)
1:00 p.m.—Discriminatory Profiling
and Surveillance
• Introduction: Saba Ahmed (Instructor, UDC-DCSL Immigration Clinic)
• Moderator: John C. Brittain (Professor of Law UDC-DCSL)
• Rachael Levinson-Waldman (Senior Counsel, Brennan Center)
• Jonathan M. Smith ( Executive Director,
Washington Lawyers Committee for Civil Rights)
• Ahmed Mohamed ( Trial Attorney, Council on American-Islamic Relations)
• Abed A. Ayoub (National Legal & Policy Director, Arab-American DC)
The government has developed various secretive measures intended to target terrorists. These measures have resulted in stigmatizing Muslims and spying on mosques, civil rights organizations, and Muslim leaders. Emergent technologies have intensified these government practices and often threaten constitutional rights. The panel will address the mapping of Muslim communities, the scope of government surveillance, and the legal challenges to discriminatory profiling and surveillance practices.
2:15 p.m.—Break
2:30 p.m.— Town Hall Dialogue
• Facilitator: Brenda Abdelall (President, Bridge Strategies)
3:15 p.m.—Closing Remarks
• Jacquelynn Mays Espinoza, Muslim Law Symposium Director