MusiCares and The Recording Academy Washington, D.C. Chapter present The He...
Description
FREE DENTAL CLINIC FOR ELIGIBLE MUSIC PROFESSIONALS
MusiCares® and Smile Virginia are offering a free dental clinic from 9:30 a.m. - 5:00 p.m. to pre-screened, pre-approved clients. Services will include a dental exam, simple cleaning and bitewing x-rays. Deadline to pre-register is December 5th . Appointment times will be pre-scheduled.
Register at 877.303.6962 or rsvp_mcny@grammy.com
Managing Your Mind and Your Money Panels
Panel I – Managing Your Mind
Dr. James Ballard, Psychologist, Songwriter
Vanessa Ballard, Fitness and Nutrition Coach
Dr. Marc Brodsky, Medical Director, Center for Integrative Medicine and Wellness
This panel will provide information from a holistic coach, psychologist and a nutritionist on working (hustling) in a healthy manner. With artists on tour, in the studio, working long hours etc., time is limited to have healthy meals, to relieve stress and to exercise. The Holiday season is a great month to hold this event as it is the most demanding mentally, emotionally, physically and spiritually.
Panel 2 – Managing Your Money
Greg Aloia, JD, CFD, Sr. Wealth Advisor
Helping artists navigate their finances and great tips to becoming better stewards of their money.
Enjoy a FREE 10-minute massage!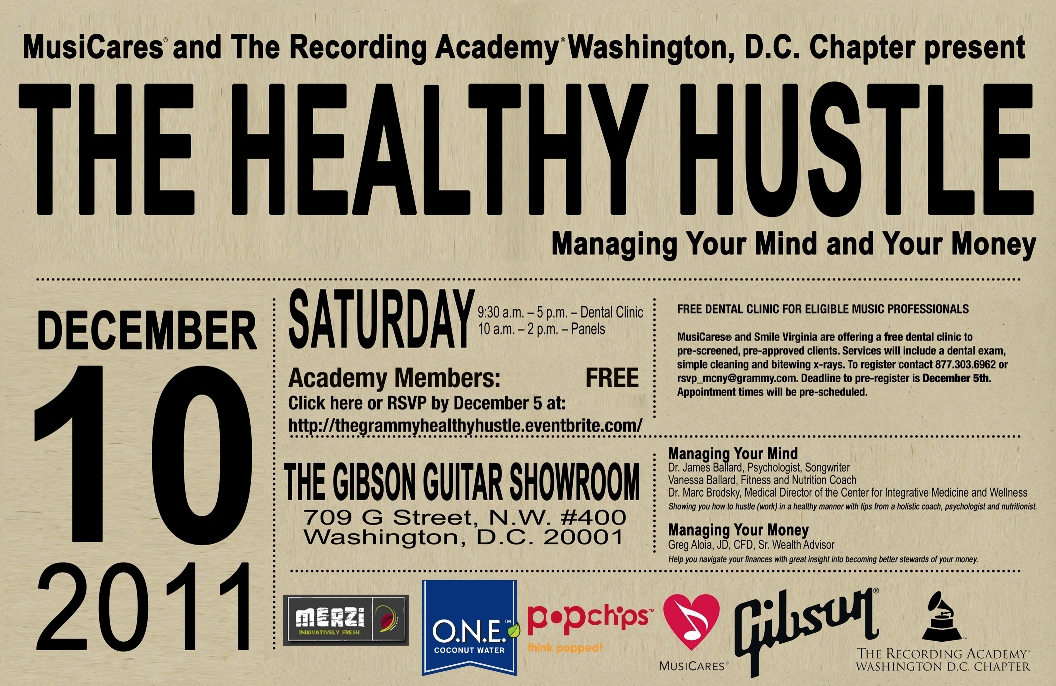 Organizer of MusiCares and The Recording Academy Washington, D.C. Chapter present The Healthy Hustle: Managing Your Mind and Your Money Panel