Description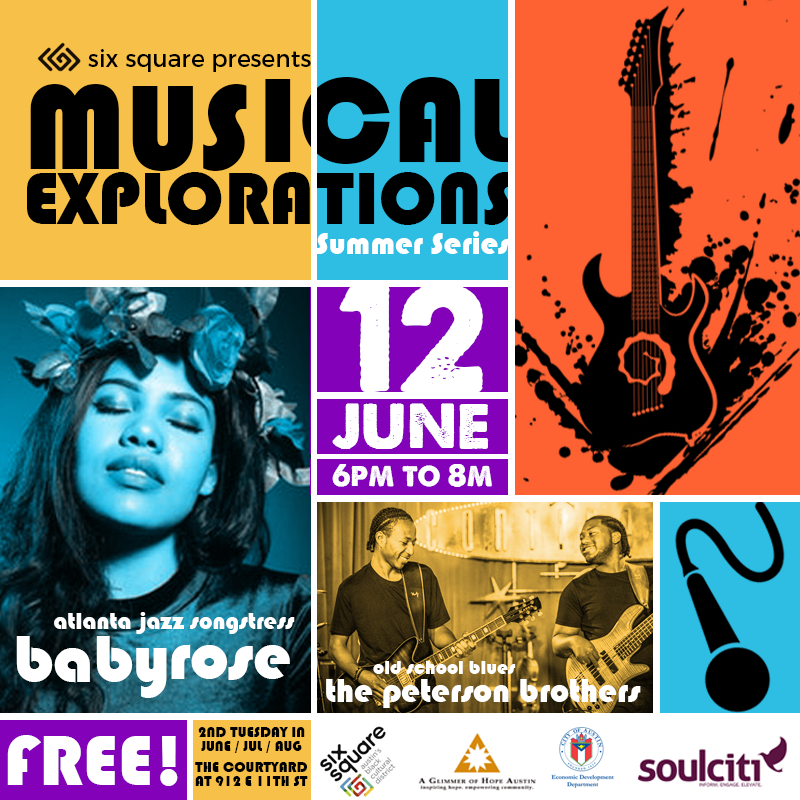 Six Square Presents: Musical Explorations FREE Summer Series
Mark your calendars for our new summer music series, Musical Explorations! Held every second Tuesday from June to August, from 6pm - 8pm at the African American Cultural Heritage Center Courtyard (912 E 11th St, Austin, TX 78702).
June will be our Blues and Jazz Showcase featuring local favorites Peterson Brothers Band and Singer/Songwriter Baby Rose from Atlanta.
This event will take place on Tuesday, June 12th and is free and open to the public.
*Suggested donation $7
- June 12th (Blues & Jazz Showcase)
- July 10th (R&B/Neo-Soul)
- August 14th (Hip-Hop)
BABY ROSE LINK:
https://soundcloud.com/babyrosemusic
PETERSON BROTHERS SNEAKPEEK:
https://www.youtube.com/watch?v=XLVCwRXE9To
***Stay tuned for more showcase updates!!!
This event is brought to you in part by the City of Austin Economic Development Office, A Glimmer of Hope Foundation, & the African American Cultural Heritage Center.