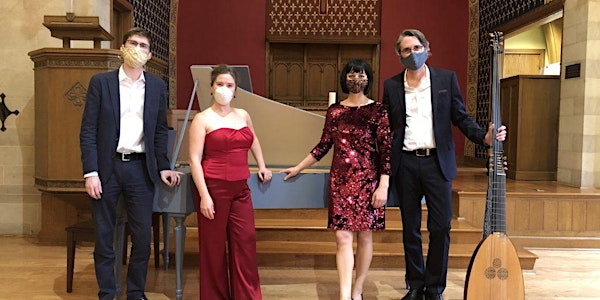 Musica Mundana: Italian Duets
Raquel Winnica Young and Justin Wallace team up with guests Pascale Beaudin and Scott Pauley for an irresistible program of Italian Duets!
Refund Policy
Contact the organizer to request a refund.
Eventbrite's fee is nonrefundable.
About this event
Event Page: https://musicivic.net/mc21-0021
Artists
Raquel Winnica Young
Justin Wallace, Harpsichord
Pascale Beaudin (guest)
Scott Pauley
Program
George Frideric Handel composed twenty-one miscellaneous duets during his lifetime, and the bookends of this virtual concert will feature two of these rarely performed musical gems. Tanti strali al sen mi scocchi was composed around 1710-1711 while Handel was living in Italy. Though he was still a young composer, one can hear that he had already fully mastered the Italian vocal style. Next, each singer will present an arietta by Barbara Strozzi, who was the most prolific composer of secular vocal music in Venice during her lifetime. The playful and flirtatious Amor dormiglione gives way to the more dramatic Tradimento. A harpsichord sonata by the Neapolitan-born Domenico Scarlatti transitions to a much earlier vocal duet Ohimè, dov'è il mio ben? by the Cremonese master Claudio Monteverdi. While this piece is a seemingly simple set of four variations upon a harmonic sequence known as the Romanesca, Monteverdi's imagination is on full display here as he weaves complex chains of dissonaces between the singers in order to evoke the deep pathos of the text. Returning to Handel to close the program, Nò, di voi non vo' fidarmi was written in 1741, just a matter of months before he penned his most popular and enduring oratorio Messiah. This is a wonderful opportunity to hear the original melodic strains which Handel would then reuse to create such famous choruses as All we like sheep and For unto us a child is born.