Description
COME SEE TONY LO BIANCO AND DEANA MARTIN IN THIS FABULOUS MUSICAL EXTRAVAGANZA! "MUSIC YOU CAN NOT REFUSE"! is on Sunday, August 13, at the Schlesinger Concert Hall in Alexandria, Virginia. Concert starts at 4:00 pm. Preconcert warm up acts start at 3:00 pm.
Keep your friends close, but your music closer – as you enjoy the thrilling nostalgia of the Godfather Theme and Godfather Waltz. Tap your toes to Johann Strauss' Emperor Waltz – Queen Victoria is said to have danced until 3 am, as the orchestra, directed by the famous composer, first played it in London. And try to resist clapping loud and clear, as the orchestra plays the famous "Kalinka". This year we will, for the first time, have dancers on the stage swaying to the music. Watch Tony Lo Bianco deliver his signature moving reading of "Just a Common Soldier". And, oh, how could I forget the exquisite music of Ludwig van Beethoven?! The orchestra plays excerpts from his magnificent 5th Symphony. This, in addition to our moving Iwo Jima Flag Raising, the MIA-POW "Vacant Chair", and much more! To cap it all, Deana Martin sings "Volare", "That's Amore" and other favorites of her iconic father Dean, as this year is the 100th anniversary of his birth.

The music is irresistibly tied-in with unforgettable sayings of mob bosses from the movies. Our world-renowned Medical Musical Group (MMG) is directed by its inspirational "Doctor Maestro", Victor Wahby, MD. The entire feast is hosted by award winning Screen and Stage Actor Tony Lo Bianco, best known as Sal Boca in the 5 times Academy Awards winner The French Connection. Tony's cohost is the lovely and talented Hilary Fordwich, former host of Government Contracting Weekly on CBS, and commentator on Capital Golf Weekly on ABC. The concert benefits homeless veterans programs. The British-American Business Association (BABA) cooperates on this epic event.

Available Box Tickets: $50. All others: $30, but Early Bird price by July 31: $20. Veterans and their families, as well as students are admitted FREE. This is a concert you cannot refuse, so purchase your tickets pronto.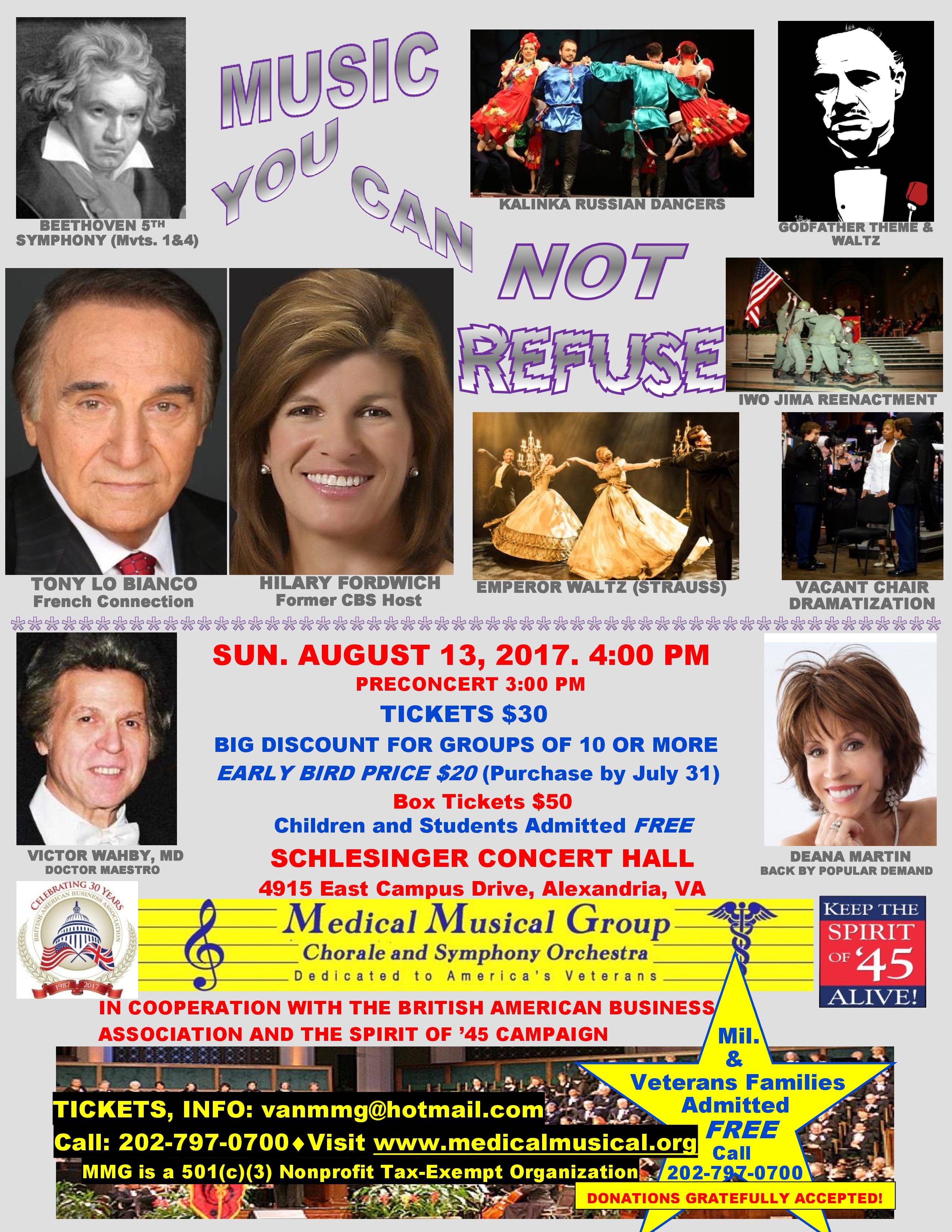 FAQs
What are my transport/parking options getting to the event?
Free Parking at the Schlesinger Concert Hall. See https://www.nvcc.edu/schlesingercenter/directions.html for directions.
Where can I contact the organizer with any questions?
Email vanmmg@hotmail.com or call 202-797-0700.