Description
Attire: Business Casual

Rita Comes to George Mason University
Join Mason Hillel for a unique musical performance and TED style presentation by Rita.
Rita brings her unique message of peace and understanding through music to George Mason University. She immigrated to Israel from Iran as a young girl, and maintains deep roots to her Persian heritage. Her breakthrough album My Joys features songs in Farsi and turned gold in Israel in two months. It is widely reported to have become an underground hit in Iran, where most Western music has been banned. According to BBC, the album serves as "a message of peace between Iran and Israel." Rita has filled concert venues in the United States, been featured in Rolling Stone and The Wall Street Journal, and performed for President Obama and the United Nations among other prominent audiences.
To purchase tickets visit: http://musicwithoutborders.eventbrite.com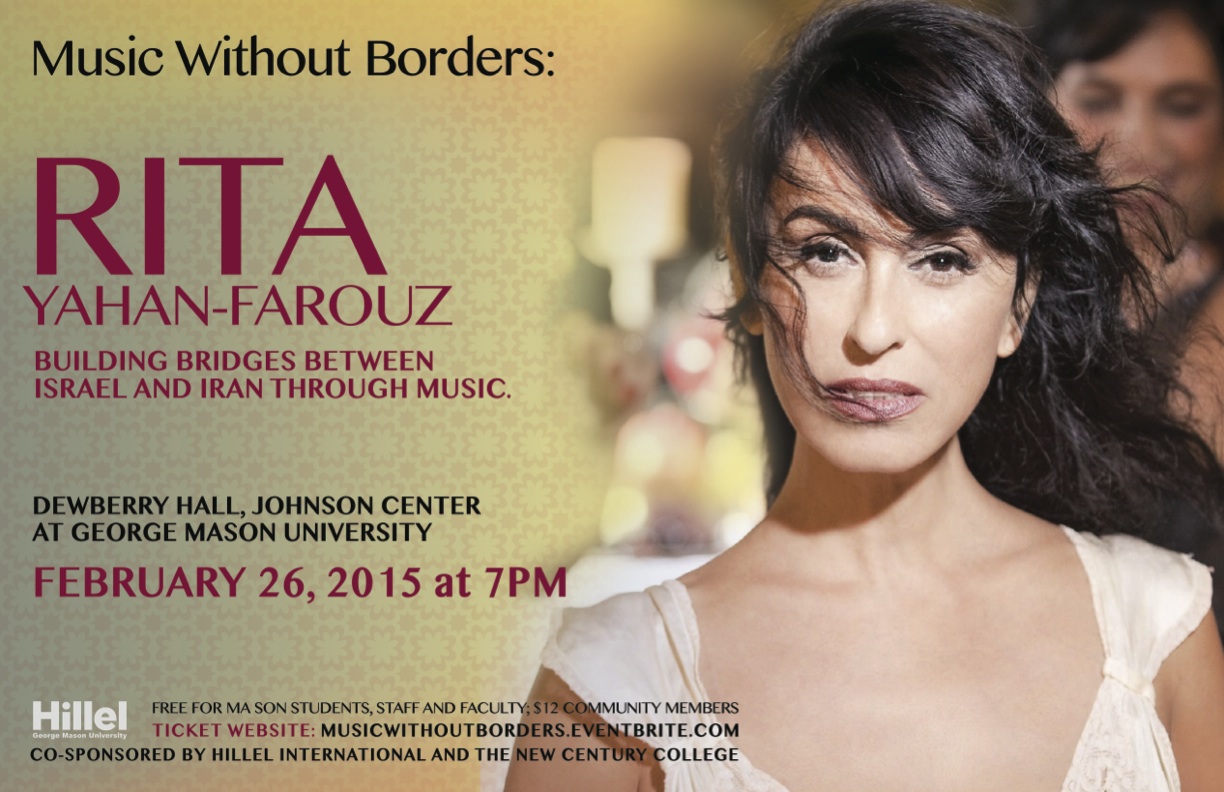 Networking reception generously sponsored by:


Organizer of Music Without Borders: Rita Yahan-Farouz
George Mason University (Mason) Hillel is the Center for Jewish Campus Life at George Mason University. Mason Hillel provides a wide range of programs to provide students meaningful Jewish experiences and Israel engagement opportunities. Our vision is for every Jewish student to make an enduring commitment to Jewish life, learning and Israel.
Mason Hillel is an independent 501(c)3 non-profit and is funded through community contributions and allocations. Mason Hillel's vision is driven by a Board of Directors consisting of parents, alumni, community members, students, and faculty. The BOD empowers an Executive Director, Ross Diamond, to realize the vision of the organization.
The Israel Student Association(GMU) is a cultural group on campus that seeks to promote dialogue, education and fun!
The Israel Student Association is a cultural organization that seeks to celebrate the proud nation of Israel while simultaneously promoting Israeli advocacy on and off campus. It is our hope that through discussions and intercultural interactions, we may show you just how diverse and complex Israel's society is. Although Israel is a Jewish nation, our membership is non-specific, and we encourage peoples of all backgrounds to join us in our effort to illustrate how important Israel truly is.