Description
THE FIRST EVER Music Video, Poetry Video, Movie Short & Small Business/ Entrepreneurs Commercial Film Festival in Queens, NY, Jamaica, NY -Submit By Sept. 15th


For those of you who are not aware, Jamaica Queens gets to brag our W.E.B. Dubois, Count Basie, Fats Waller, Lena Horne, Ella Fitzgerald, Hank Aaron, Miles Davis, Louis Armstrong, Al Roker, LL Cool J, Run DMC and A Tribe Called Quest - to name a few.

We are also embedded in a college town with Queens College, York College, St. Johns, Queensborough College, Bramson ORT and a multitude of satellite programs and private schools. Not to mention that most of our businesses are considered small businesses with less than 500 employees.

We have an extremely large number of Entrepreneurs and Community Organizations.

All of this to say, that the Film Festival is a great way to garner more exposure, fans, and opportunities.


This is why our Film Festival accepts Movie Shorts, Performers Videos (Poets, Singers, Rappers, Musicians and Dancers), Small Business / Entrepreneur Commercials, and Web Series Episode.

FilmFreeway.com/QueensUndergroundInternationalFilm Festival


Queens Center Of The Arts ( QueensCenterArts.com ) is our parent and a proud one at that - all we're missing is you.

We collaborate with many other organizations as well to keep the History, Arts, Culture, and Business opportunities thriving in Jamaica, Queens, NY while welcoming everyone from everywhere to come out and get to know us.


The venue, The Southeast Queens Chamber Of Commerce, an active vibrant contributor to the community also welcomes Creatives and there will be Vendors and Artists during Festival Week as well.


Can you imagine, a Film Fest with Music Videos and Small Business / Entrepreneurs Commercials? This is amazing and truly needs your support by submitting a project, making a donation, becoming a sponsor, and definitely by procuring your guest pass to view the submissions. You may also request an interview for your business or talent on our Talk Show: Meet My Business (view excerpts on Instagram: Meet My Business)


Also, follow us on Instagram, Facebook, and Youtube: Queens Underground 718.


Have we won you over yet? We sure hope so.

Send us an email anytime, we love interactiveness with the Creative and Business Communities.

You may also get your Guest Passes with this link:




Subscribe on QueensUnderground718 and on our YouTube Channel to stay in the loop about upcoming events including the First Ever Poetry Slam which will be held at the Barclays Center in the spring.
FESTIVAL WEEK- October 17th -20th




Win Prizes, Awards & Opportunities!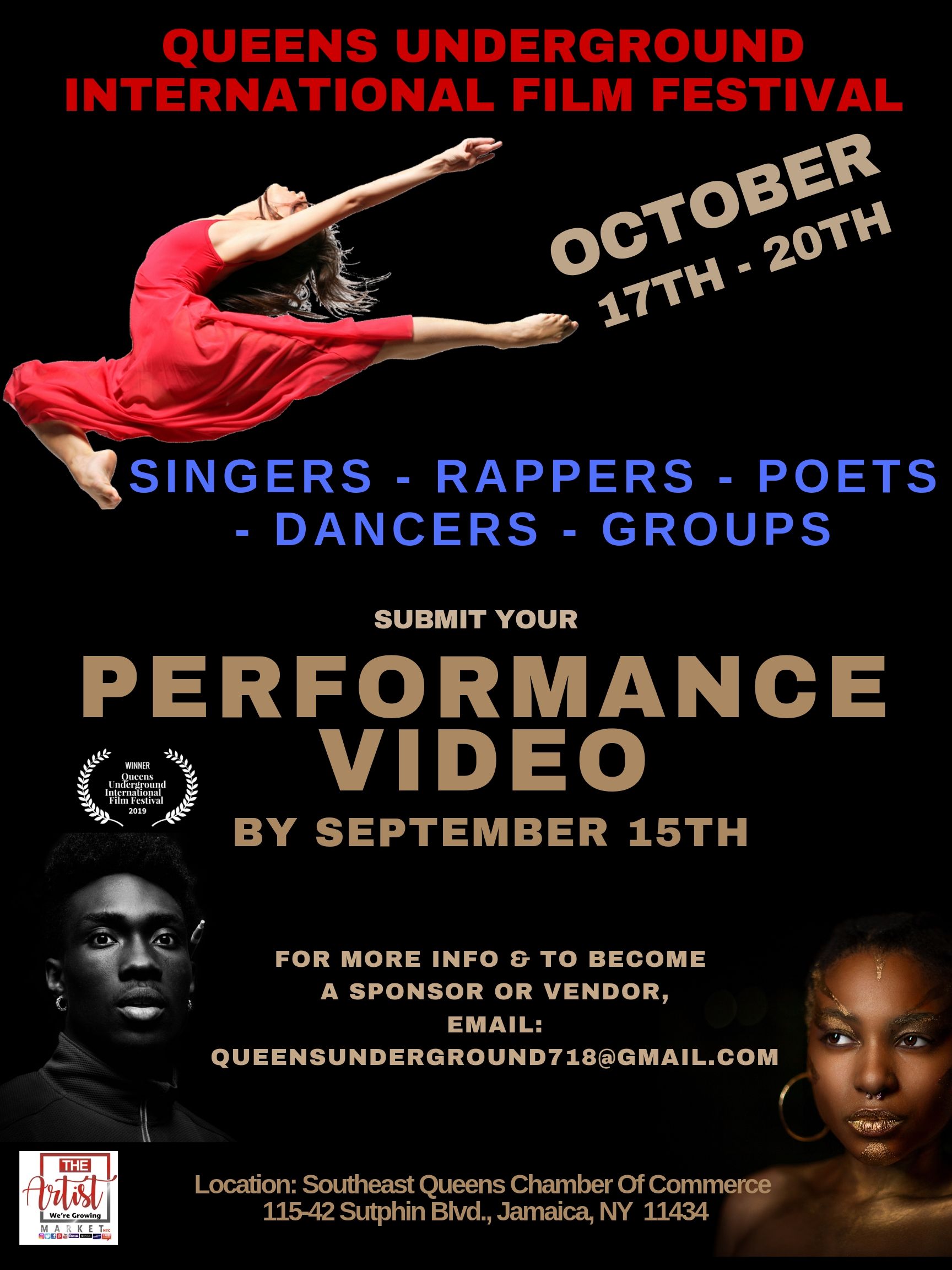 Vendor per day - non-food

#Filmmakers #filmfest #filmfestival #moviemaker

#singer #poet #smallbusiness #storyteller

#musician #artist #author #spokenword #poetryvideo #entrepreneur #smallbusiness #filmstudent #movieproducer #musicvideo #filmcommunity #womenfilmmakers #filmmaking #atlanta #washingtondc #losangeles #nycfilmmaker #nycevents

#movieproducer #movieshort #shortmovie #indie #indiefilmmaker #indiefilm #indiemovie #webseries #nyc #brooklyn #manhattan #bronx #statenisland #farrockaway #movieproducer #queensny #nyc #indie #artist #performer #poetry #musicvideo #poetryvideo #singer #author #dancer #musician #band