Music Travel and Love Presents: Prosecco + Stixxs
Processo + Stixxs is the Supreme Adult Event. Come Experience a time that we are certain you will speak on for years to come!
About this event
Prosecco + Stixxs: The Supreme Adult Experience!
This amazing gathering is designed with the ladies in mind and taylored for the gentlemen.  Why the theme?  The elements (prosecco and stixxs) represents the elegance of the sophistcated Lady and smoothness of the Gent. This is a celebration of life, good people, and memories topped of with the sweet taste of full fun!  All passes include complimentary food, premium drinks, entertainment and uplifting!
Event Attire by Day:
Friday, 10/29 - Casual Elegance: Comfortable autumn swag as the gathering for this period will be outdoors.
Saturday, 10/30 - 70's Night: Bell bottom pants, long coats, big hair, and stack shoes!
Sunday, 10/31 - Hats & Brims Day: ladies and gents, bring the best of your headwear out in sexy fall colors and complementary attire. Our official head wear vendor is Straw and Wool, visit www.strawandwool.com/discount/MTL10 for a 10% discount.
Music & Concert Series:
Recording Artist MADICIN.
The Chuch f/ Fred Boswell Jr.
Special Appearances by Recording Artists Angela René & Harris.
Special Appearance by the Legendary Fillmore Slim.
Spoken Word by Divine.
IKON Radio host Ken Kong.
Cigar Herf Facilitated by Anthony's Cigar & Social Travel Club.
BlackSTREET member, Rodney Poe will not be performing at this event as previously advertised! We apologize for this program change.
Parking:
Parking at the respective sites (Golf Course and Resort) - see event parking map for locations.
COVID Precautions:
Guests are encouraged to practice recommendations per the CDC. Complimentary masks and hand sanitizer will be available by request to guests to provide a safer environment.
Event Schedule (Times may adjust):
Friday, 10/29/21: Prosecco + Stixxs (Meet & Greet)
5:00 PM - 6:00 PM: Social Hour at the Yoga Pavillion
6:00 PM - 7:00 PM: Prosecco 101 by Dave Woods
7:00 PM - 7:30 PM: Uncle Nearest 101 by The Roedigs of Uncle Nearest, Inc.
7:30 PM - 8:15 PM: Cigars 101 by Ron Hardin of Maduro's Fine Cigars
8:30 PM - 10:00 PM: Entertainment & Games
Saturday, 10/30/21: 70's Night (Grown Folk Party)
5:00 PM - 6:00 PM: Social Hour
6:00 PM - 7:30 PM: Concert Serie I
8:00 PM - 9:00 PM: Concert Series II
9:00 PM - 10:00 PM: Dance Floor
10:00 PM - 11:59 PM : After-hour at the Yoga Pavillion
Sunday, 10/31/21: Hats & Brims Day (Hi-Life Brunch)
8:30 AM - 10:00 AM: Breakfast Smoke with the Understanding Collective
11:00 AM - 1:00 PM: Brunch and Live Uplifting Music
1:30 PM - 3:30 PM: Social Hour on the Patio
3:30 PM - 4:00 PM: Group Photo & Closing
Event Sponsors:
Rachel Frazier Johnson Law
Foundation Cigar Company
Fox Cigar Bar
Maduro's Fine Cigars
06 Holdings, LLC
Anthony's Cigar and Social Travel Club
Inn at Eagle Mountian Resort Information:
9800 N. Summer Hill Blvd., Fountain Hills, AZ 85266 | www.innateaglemountain.com
For guest traveling to Arizona for this event, it is greatly encouraged that sleep accommodations be made at the very soonest due to the high demand for staying onsite.
MTL has negotiated a special rate of $179/night for king, deluxe king, and luxuary suites. Rooms are not included in the event passes.
Reservations must be made by individual attendees, call in to 855-631-5134.
Check-in time is 3:00 PM and Check-out time is 11:00 AM (Late Checkout can be grated if requested).
Callers must identify themselves as attendees of Music Travel and Love and provide group code MTL21, no later than 21 days prior to arrival. After that date, you agree that we may offer unused rooms held in your block to other customers to reduce our losses and your obligations under the performance clause. The hotel will honor the group rate up to the contracted number of rooms blocked per night. Any rooms requested above the number of rooms BLOCKED PER NIGHT, after the cut-off date, and before or after the conference dates, will be charged at the prevailing Best Available Rate.
Individual Reservation Guarantee: All reservations must be accompanied by a first night room and tax deposit or guaranteed with a major credit card. The hotel will not hold any reservations unless secured by one of these methods. A credit card imprint is required from each attendee at the time of check-in. Otherwise a cash advance of all nights' room and tax, an additional $50.00 will be collected to cover incidental charges, is required. All purchase orders MUST be on file with Inn at Eagle Mountain two (2) weeks prior to arrival.
For vendor opportunities send inquiries to curtlinj@mac.com.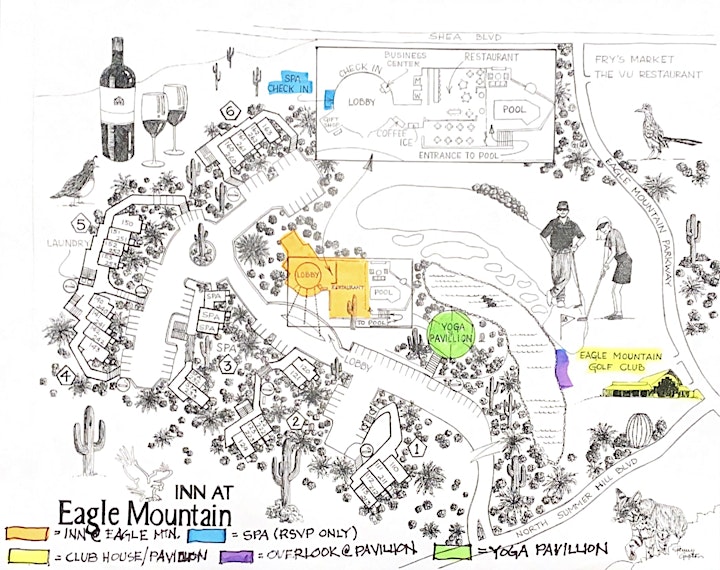 Organizer of Music Travel and Love Presents: Prosecco + Stixxs