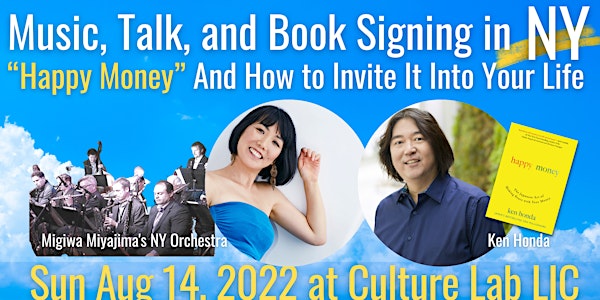 Music, Talk, and Book Signing by Migiwa Miyajima and Ken Honda
Location
Culture Lab LIC
5-25 46th Avenue
Queens, NY 11101
Refund policy
Refunds up to 7 days before event
Eventbrite's fee is nonrefundable.
The first unique collaboration in NY with music, talk and book signing with Japanese author Ken Honda and Japanese musician Migiwa Miyajima
About this event
Join this unique event with Ken Honda, internationally-acclaimed Japanese author and Money Mentor, and Migiwa Miyajima, Japan-born, NY-based jazz composer, producer and pianist!
How did Ken's early business experiences affect his successes in life?
How did Migiwa, editor-in-chief of a famous magazine in Japan, reinvent herself in NY as a Grammy-nominated musician?
They will share secrets about money, willpower, gratitude, and the Japanese Zen mind, with a performance of Miyajima's compositions with her jazz orchestra. There will be a Q&A and book/CD signing, and you will see Ken and Migiwa in person!
*Event profits will be donated to Miyajima's "Unbreakable Hope and Resilience" project based on interviews of the 2011 Japan earthquake survivors and volunteers.
- The doors will open at 3:30 pm at Culture Lab LIC 5-25 46th Avenue, Queens, NY 11101
- Audiences of all ages must present in-person verification of vaccination and a government-issued photo ID to enter the venue. Audiences of all ages are also required to wear masks for the entire show.
Ken Honda https://kenhonda.com/
Migiwa Miyajima https://miggymigiwa.net
About Ken
Money and happiness expert Ken Honda is a best-selling self-development author in Japan, with book sales surpassing eight million copies since 2001. His latest book is called "Happy Money: The Japanese Art of Making Peace With Your Money" (June 4, 2019, Simon & Schuster). Ken studied law at Waseda University in Tokyo and entered the Japanese workforce as a business consultant and investor. Ken's financial expertise comes from owning and managing several businesses, including an accounting company, a management consulting firm, and a venture capital corporation. His writings bridge the topics of finance and self-help, focusing on creating and generating personal wealth and happiness through deeper self-honesty. Ken provides ongoing support through mentoring programs, business seminars, therapeutic workshops, and correspondence courses.
Ken is the first person from Japan to be voted into the Transformational Leadership Council, a group of personal and professional development leaders. He is fluent in Japanese and English; lived in Boston, Massachusetts for two years; and currently resides in Tokyo, Japan. Learn more at KenHonda.com.
About Migiwa
Hailing from Japan, composer, producer, pianist, and bandleader of the 17-piece Miggy Augmented Orchestra, Migiwa "Miggy" Miyajima creates large-scale works manifesting her distinct life experiences. Birdland Jazz Club says, "Miyajima's music reflects her journey as a musician and humanitarian." Formerly editor-in-chief of a magazine in Japan, Miyajima trusted the power of music and became a full-time musician at the age of 30. In four years, the Grammy-winning Vanguard Jazz Orchestra found her and brought her two Grammy nominations as its associate producer. After surviving the 2011 Great East Japan Earthquake, Miyajima received a Japanese government grant and a Japan-U.S. Friendship Commission Fellowship, and relocated to the US.
She is the recipient of grants and awards including the 2019 Jerome Hill Artist Fellowship, 2020 NYC Women's Fund for Media, Music and Theatre, and 2021 Creative Engagement program of the Lower Manhattan Cultural Council. In July 2021, she performed at the Restart Stages of the Lincoln Center as a representative of Asian artists. In March 2022, she gave a speech and performed in Times Square at the special stage for the event entitled "BREAK THE SILENCE: Justice for Asian Women", a nationwide rally with speakers such as governor Hochul of New York State.