Refund policy
Contact the organizer to request a refund.
Eventbrite's fee is nonrefundable.
Speaker Series #38 | Clean Energy in Hawai'i with HSEO Wayfinder Sally Barr and Joy Galatro with Pacific Biodiesel, Music by Mason Scharer
About this event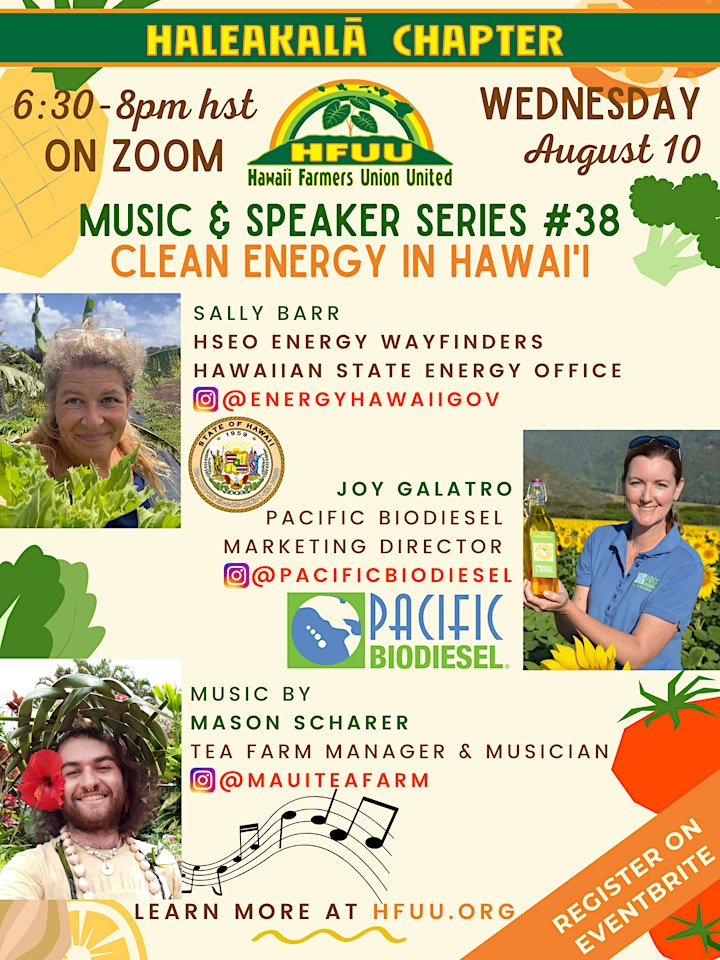 Speaker Series #38 | Clean Energy in Hawai'i with HSEO Wayfinder Sally Barr and Joy Galatro with Pacific Biodiesel, Music by Mason Scharer
Join us on ZOOM on Wednesday August 10th at 6:30pm HST!
Joy Galatro spearheads marketing, PR and product sales initiatives for Pacific Biodiesel and its sister company, Maiden Hawaii Naturals, LLC – both companies founded by renewable energy pioneers, Bob and Kelly King. For Pacific Biodiesel, she helps promote the benefits of clean, locally made biodiesel as part of Hawaii's renewable energy mix. For Maiden Hawaii Naturals, her focus is marketing the company's sustainable farming practices and local production of culinary oils, natural cosmetic ingredients and clean beauty products. Joy helps connect a variety of audiences with the "full circle sustainability" focus of these companies, which demonstrate a system of renewable energy, recycling and diversified agriculture that's helping to fight climate change and support greater energy security and food security in Hawaii.
@PacificBiodiesel | www.BioDiesel.com
Clean Energy Wayfinder Sally Barr has a background in music, publishing, energy, environmental policy and circular economy. Since moving to Maui, she has established Hale Sunshine Rae, a food forest whose bounty directly benefits the Maui Food Bank and works with a dedicated team at the Hawai'i State Energy Office to share mana'o with the community to ensure all voices are heard in the process of this transition.
@EnergyHawaiiGov | Energy.Hawaii.Gov
Mason Scharer moved to Maui in 2015 as a work-trader on a small organic farm on the Northshore in between semesters finishing college at University of California Santa Cruz. After graduating UCSC with bachelor degrees in biochemistry and art, he was hired as the farm manager at the same farm I kept returning to and have been farming ever since. Throughout his seven years on Maui he has had the pleasure of managing a handful of farm, garden and nursery projects as well as getting the wonderful opportunity to help in conservation efforts on the island of Kahoolawe with the KIRC for a year of invasive species control and native forest restoration. He is currently the farm manager of the Maui Tea Farm in upper Kula growing both Camellia sinensis and Mamaki. When not farming around the island, you can find him in his own garden in Haiku or on the beach playing music and making art. Mason is glad to be a part of HFUU Haleakala chapter and to be part of our growing community.
@MauiTeaFarm | www.MauiTeamFarm.com
This is an online ZOOM event, open to the public, with priority given to Farmers Union members.
August 10th, 2022: 6:30pm (Hawaii) / 9:30pm (PST) / 12:30 am(EST)
To become a member, please visit hfuu.org. Donations appreciated, supporting family farms in Hawaii via Hawaii Farmers Union Foundation.