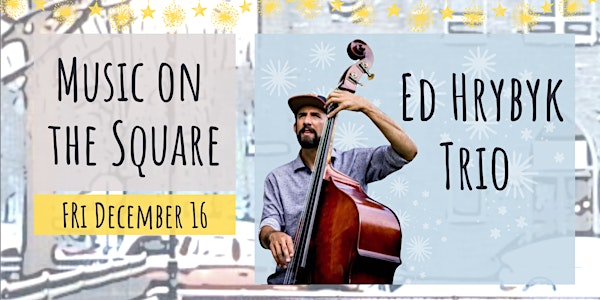 Music on the Square: feat. Ed Hrybyk Trio
Baltimore's mover & shaker in the jazz scene live and on stage!
When and where
Location
Church on the Square 1025 South Potomac Street Baltimore, MD 21224
About this event
Ed Hrybyk is at the heartbeat of the vibrant jazz scene here in Baltimore. He is a mover-and-shaker both on stage and as an organizer and facilitator. You can hear and see his love for building community and sharing joy through music wherever Ed Hrybyk happens to be. And... Ed happens to be all around Baltimore growing the jazz scene all of the time. As an artist he, makes the upright bass sing and also effortlessly transitions from that off the lead voice to accompanists at a moments notice. The deep sense of listening happening in his trio invites you to be right in the center all the action happening.Come experience a whole new night of music at Music on the Square with Ed's trio.
Ed is an upright bassist, composer, arranger, and educator at the Baltimore School for the Arts. He graduated from Baltimore School for the Arts in 2006 where he is currently the director of their jazz program. He hosts the Charm City Porch Concert Series and the Baltimore Pop-Up Jazz Jam. He is bright light of welcoming and supportive engergy in our city's music scene.
--Have you ever said to yourself--
"How can I see more roots music here in Baltimore?"
"Where can I go to hear music in a beautiful resonant space?"
"How can I connect with the Baltimore Roots Music scene?"
​
Look no further, because the Music on the Square series has all of that happening in a wonderfully resonant space in the heart of Canton. Come enjoy music by Ed Hrybyk and his and connect with your music community here in Baltimore.
Ed Hrybyk - upright bass
Savino Palumbo - keys
Allen Bernard Branch - drums
Friday - 12.16.2022
Concert start at 7:30pm - Doors at 7:00pm
$20 Suggested Donation
Church on the Square - 1025 S Potomac St, Baltimore, MD 21224
-- Other Music on the Square 2022-2023 Concerts--
January 13th ($30): Tom Paxton, Cathy Fink, & Marcy Marxer - Legendary and grammy winning singer-songwriters and multi-instrumentalists come together to share a message of unity and the beauty of life.
February 10th ($25): Across The Harbor - a musical confluence of Baltimore's singer-songwriters with the city's Bluegrass, Irish, & Old-Time instrumentalists.
March 3rd ($20): "Don't Put Her Down" (documentary showing by Julia Golonka + Wicked Sycamore - come see local videographer and documentarian Julia Golonka talk about the making of her documentary with a performance by the incredible unique and talented contemporary acoustic trio, Wicked Sycamore (Cello, Mandolin, Guitar and Vocals)
April 14th: TBA
May 12th: TBA