An interspecies improvisational concert with musicians and plants in a wondrous musical co-creation, unlike any other! From Damanhur Italy.
About this Event
Tritone Crisantemo from the Federation of Damanhur in Italy, with Pittsburgh musicians Jenn Davidson, Stephanie Miller, Steve Sciulli and Brooke Smokelin will perform in concert with plants that are connected to a "Symphony" device, giving them musical voices with the ability to create sounds and melodies that respond to their environment and their interaction with humans.
Come experience this wondrous sonic journey with our friendly flora and appreciate plant life like never before. If you have ever wondered whether plants have the ability to communicate, then please don't miss this unique musical event, the first of its kind ever in Pittsburgh! A performance by Masterplants is a wondrous experience, opening doors to a new awareness of the presence of plants and nature that surround us in unity and harmony.
The Masterplants Orchestra from Damanhur, Italy is the world's first interspecies orchestra, using modern technology to play music with plants. By converting the biorhythms of plants into musical notes and melodies, musicians and plants co-create a sound experience taking us on a sensory journey, awakening in ourselves that which we have always known... that nature has its own unique song with its own harmonious sense... whose sounds are created to unite and vibrate as one. A concert by Masterplants can be a life-altering experience! For more details see http://omapittsburgh.org/event/music-of-the-plants/
About Damanhur: Damanhur is a living laboratory for the future of humankind. It is a Federation of Spiritual Communities, with its own Constitution, culture, art, music, currency, schools and use of science and technology. The Community was founded in 1975 to achieve a fertile reality based on solidarity, sharing, love and respect for the environment. Damanhur is well known for its extraordinary subterranean work of art and architecture known as the Temples of Humankind. Profiled on international television as the "Eighth Wonder of The World," this complex was entirely dug by hand into the heart of a mountain. Decorated with mosaics, stained glass, sculptures and wall paintings, it is dedicated to the awakening of the divine spark present within every human being.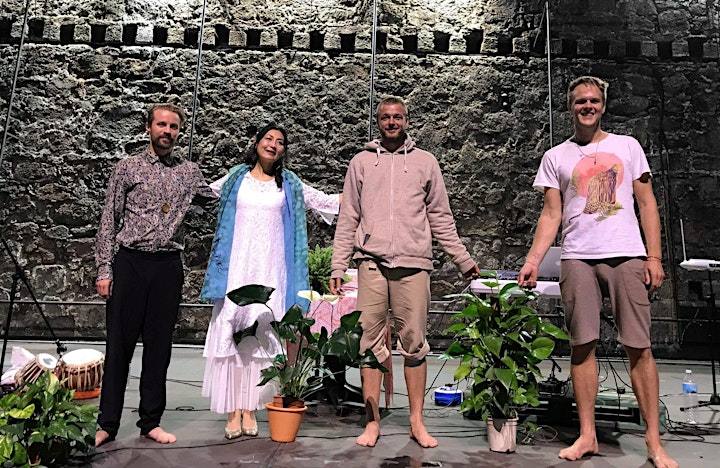 Tritone Crisantemo on far right from Damanhur Italy, with other Masterplants Orchestra muscians and plants they performed with.