Music of the Carolinas: Freddy Greene - Street Genie
Sales Have Ended
Ticket sales have ended
A limited number of tickets will be available at the Museum on the day of the event - please visit the information table outside Daniels Auditorium beginning at 2 p.m. on the show date.
Sales Have Ended
Ticket sales have ended
A limited number of tickets will be available at the Museum on the day of the event - please visit the information table outside Daniels Auditorium beginning at 2 p.m. on the show date.
Description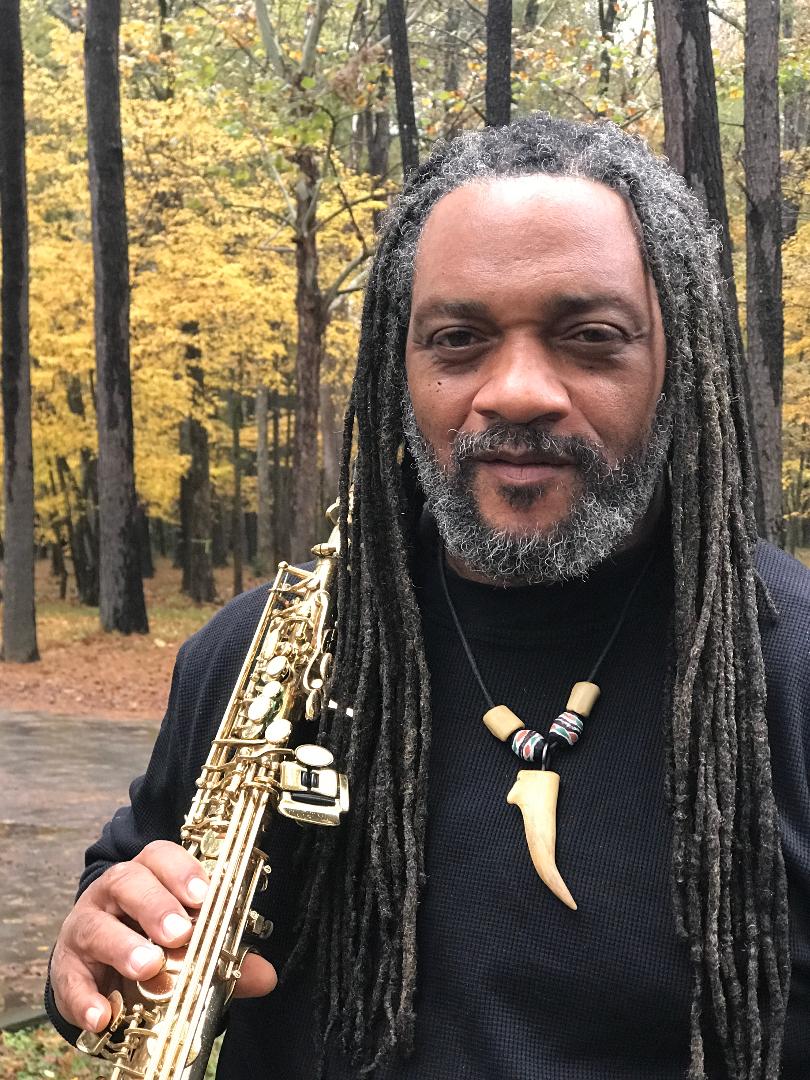 (Photo Credits: Freddy with mural - Scott Sharpe/News & Observer; Freddy in Park - Yara Allen)

Jazz up your new year with a free concert featuring saxophonist Freddy Greene - Street Genie with his band: Bakru Hunsel (percussion), William Danny Ray (aka "Steele Will") (drums), Stephen Klingman (guitar), and Rony Thomas (keyboard).
For those who have witnessed a live performance by Freddy Greene, it is apparent that there is, indeed, magic in the air as he blows his silky tunes. This energetic jazz/funk musician and composer weaves the smooth and mellow sounds of classic jazz with innovative funk. Born in Franklinton, NC, in what had once been a "juke joint" (The Chicken Shack), Greene was exposed to music and the art of performing at an early age. He recalls people joyfully dancing, playing instruments, and singing in the Chicken Shack. Greene was inspired by his mother, Flora, an artist and storyteller, and by his father, Isaac, who gave the budding artist his first official instrument - a trombone - at age 11. He later began playing bass guitar, and by the age of 15 he was playing with a local band. Greene took to the saxophone at 17.
He pursued his musical calling by attending St. Augustine's College (Raleigh, NC) and North Carolina Central University (Durham, NC). While maintaining his studies, he ventured into the world of street playing where he fine-tuned the art of street performing. From this art form, he acquired his alias, "Street Genie." Throughout his musical career, Greene has played for diverse audiences, including those honoring politicians and international figures, among those was the beloved Desmond Tutu. Greene continued to compose and perform while mentoring at risk students at the Sally B. Howard School for the Arts and Education (Wilson, NC), teaching them to play musical instruments. Among his CDs are Heavy on My Mind; Street Genie; You Say, I Do; and most recently, Solo Dancer, all of which showcase the artist's creativity, skill, and love for the craft. Greene is currently working on a new album due out next year. Although he performs in various venues, Greene continues to embrace his love for street playing, maintaining his humble connection with the public. For this artist, whether large or small venues, "All the world is a stage."
Hunsel is a percussionist hailing from the South American country of Suriname has been playing with Greene and other artists since arriving in North Carolina in 1999.
Ray hails from the Bronx, N.Y. He comes from a great A.M.E family with good Christian values where he was always in the company of wonderful musicians. Very soon, his chops and skills on the drums were noticed by key musicians. He later moved to North Carolina, where he went on to become a professional drummer who eventually became known for his skills in being a solid pocket drummer, hence the nickname "Steele Will." He has shared the stage with many great artists such as Timothy Wright, Martha Munizzi, Maurette Brown Clark, Cece Winans, Hezekiah Walker, Wake Chapel Church, Catina Rosemond, Veronica Evans, and Grace the Movement. In addition to performing with Greene, he also plays with Project 919 Band; Johnny White & the Elite Band; Lamont Bradshaw, and several others. Ray also has recorded with Wake Chapel Church (Bishop J. Jasper Wilkins) and Veronica Evans and has made several TV appearances, including WRAL's Spiritual Awakening.
Klingman is a guitarist from Raleigh. He graduated from NC State in 2016 and has since been prolific as a member of the Durham band Tha Materials. Along with Greene, he also plays with pastor Shirley Caesar.
Thomas took interest in music while still a child, sitting in church next to the organ and drummer. He began his musical journey in grade school; his first instrument was the clarinet. Today, he plays a variety of instruments, but he has made the ivories his primary instrument. He has recently produced and released two albums. Furthermore, Thomas continues to play with multiple bands, produce, and perform for all lovers of music.
Large print program notes will be available, and assistive listening devices will be available as well. Learn more about accessibility at PineCone events
Although this event is free to attend, the performers are paid. Please consider making a donation to the series when you reserve your tickets. Thank you!
Learn more about this event on PineCone's website
Music of the Carolinas is presented in partnership by PineCone and the North Carolina Museum of History.
THANK YOU to Music of the Carolinas sponsors NC Museum of History Associates and North State Bank.