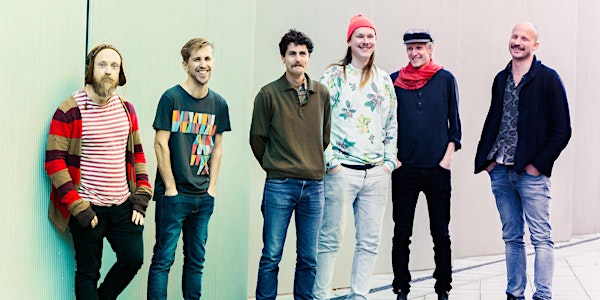 MUSIC: Nordic Jazz 2017
When and where
Location
House of Sweden 2900 K Street Northwest Washington, DC 20007
Refund Policy
Contact the organizer to request a refund.
Description
The Nordic Embassies are excited to present the eleventh annual Nordic Jazz Festival in Washington, D.C., June 25th – 29th, 2017. Internationally acclaimed performers from Denmark/The Faroe Island, Sweden, Finland and Norway will present the modern sound of Nordic Jazz over the course of 7 concerts. For a full schedule and band information please visit: http://usa.um.dk/en/denmark-in-us/culture/nordic-jazz-2017

On Monday, June 26 three bands will perform in the spectacular setting of House of Sweden. Enjoy a first hour of cocktails and jazzy tunes by Oskar Stenmark Trio on our rooftop followed by two full sets of contemporary jazz by Swedish sextet Klabbes Bank and by the Nordic ensemble based in the Faroe Islands Yggdrasil.

Program
6:30 Doors open. Bar with spectacular views overlooking the Potomac river is available with items for
purchase.
7:30 - 7:45 Welcome remarks and Oskar Stenmark Trio in Nobel Hall
8:00 - 8:45 Klabbes Bank in Alfred Nobel
8:45 - 9:00 Short break with bar with spactacular views overlooking the Potomac river is available with items
for purchase.
9:00 - 9:45 Yggdrasil in Nobel Hall

Please note that the full concerts will not take place on the rooftop.
Cash bar and food items for purchase
21+ to drink
Welcome!
Oskar Stenmark Trio - in my grandmother's footsteps
"In Gärdebyn, Dalecarlia, you will find an important and ancient music tradi-tion. The small Swedish village has been a cultural hub for over two hun-dred years. Oskar Stenmark, a flugel-horn player, is the seventh generation in his family to pass on this tradition, much thanks to his (paternal) grand-mother Elsie Börjes, who grew up in Gärdebyn. Elsie went on a U.S. tour with a group of fiddlers in 1956, when she was only 17 years old. 61 years later Oskar is recreating the tour by visiting Minneapolis, Chicago, Rockford, Bish-op Hill and New York. The last stop of the trip is Washington D.C. a place El-sie also visited. Together with Swedish bass player Lars Ekman and Ukrainian -American pianist Alex Pryrodny, the group will perform some of these mel-odies, mixed with a contemporary ex-pression and sounds from New York."
More information: http://www.oskarstenmark.com/live/
Klabbes Bank
Klabbes Bank is electronica and jazz: the compositions feature the highly individual voices of three wind instruments bathing in a trio produc-ing an electronic ocean. Occasionally they oat on top, other times they're submerged, bringing forth music that ripples and crests like waves.
More information: http://www.klabbesbank.com/
Yggdrasil

Yggdrasil is a Nordic ensemble, based in the Faroe Is-lands. Musicians that are part of the ensemble, have varied musical backgrounds, mainly in jazz, but also in ethnic, folk, rock and classi-cal music. While the works draw ideas or themes from ethnic mate-rial, improvisation ranges from free to classical style. Kristian Blak is pianist, founder and the main com-poser of the group. Eivør Pálsdóttir has on several occasions been solo-ist with Yggdrasil on tour and on several recordings.
More information: http://www.kristianblak.com/yggdrasil

This festival presents a rare opportunity to experience five very different world-class Nordic jazz solo artists and groups. The concerts will be held at the Finnish Embassy, the Danish Embassy and House of Sweden.
Nordic jazz artists present a unique sound that emphasizes the natural elements of the Nordic countries with a modern interpretation. The contemporary Nordic Jazz scene is characterized by improvisation; the music tends to be experimental but melodically strong with a spacious sound and open song structures. The participants in Nordic Jazz 2017 are some of the Nordic countries' most creative and interesting artists with strong educational backgrounds, international careers and several jazz prizes in their curriculum vitae.
Photo Credit: Jamin Pirnia