Music Night/ Outdoors event at SLA Art Space Garden
The night of music, art and friendships.
About this Event
Featuring:
Simona Smirnova
Lithuanian born jazz vocalist, composer and kanklės player based in New York City. Simona earned her BA in jazz vocals at the Lithuanian Academy of Music and Theater. Shortly after receiving the European Touring Scholarship, she moved to the United States to study at Berklee College of Music where she majored in Contemporary Composition and Production and graduated in 2015.
Simona is a current awardee of New Work Grant by Queens Council on the Arts. She is regularly performing locally in New York venues with her quartet, as well as touring in different parts of the world, such as Australia, New Zealand and Europe. Her style is known for its unique theatrical flavor, genre-bending, and virtuosic vocal improvisation.
Carl T Smith
Producer and recording artist for Clarence Music mid 70s to early 80s• Member of Recording band Questarr (Original band for New Edition 82-84)• Single release of "Come Back Lover" (84)• The original touring keyboardist for New Edition (83-86)• The original touring keyboardist for Bobby Brown (87-88)• Co-host of the radio program "The Lovezone" with Maurice "The Voice" Watts in the early 90s. Single release of "Baby Be Mine" (92)• Member of the singing group Final Mix on Bar-Roma Records (2007-2010)• Performed with Leon and The Peoples (2016-2018). Carl T Smith's blend of silky-smooth yet funky R&B/Soul has delighted music lovers for decades.
Theo Berliner
Young, up and coming guitarist from New York City. He is a high school senior and has studied guitar for five years under David Moreno at Third Street Music School. Theo is competent in the styles of jazz, rock, and fusion.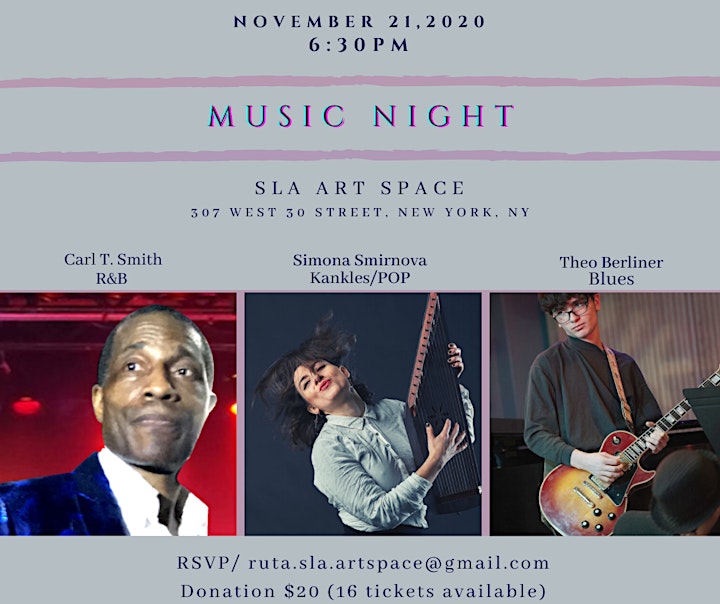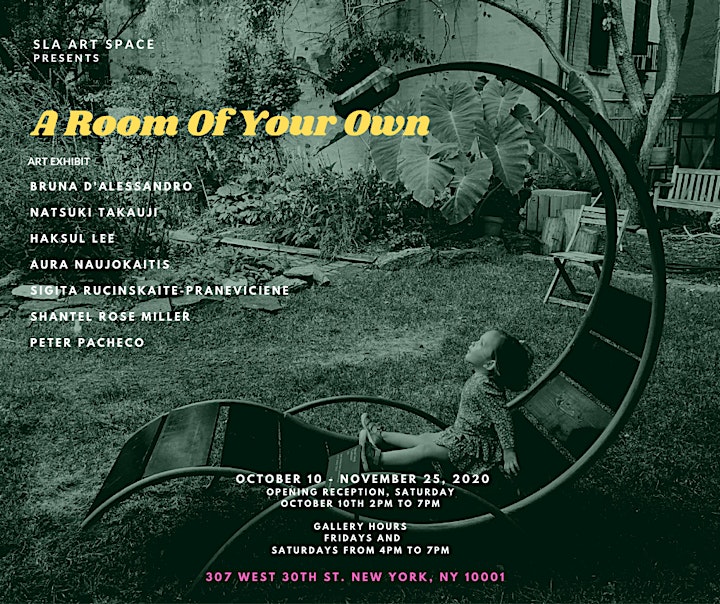 Night of Music and exhibition "A Room of Your Own" closing.
You can visit exhibit from 2pm-6pm on Saturday, November 21, 2020.
Music Night starts at 6:30pm ( Outdoors Event)
Donation $ 20
Limited seating (16 tickets), glass of wine included.
Outdoors Event in SLA Art Space Garden.