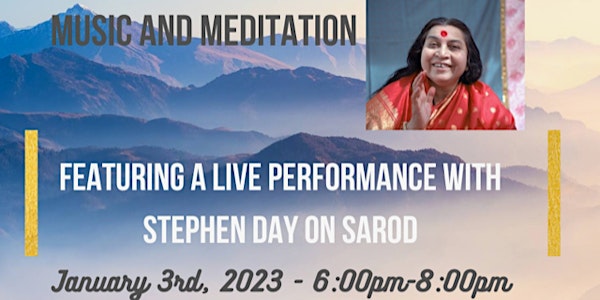 MUSIC + MEDITATION with STEPHEN DAY ON SAROD
Sahaja Yoga Meditation is excited to host Stephen day, sarod player, singer/songwriter + composer for an evening of music and meditation!
When and where
Location
Sahaja Yoga Meditation Center 4510 C Highway 6 North Houston, TX 77084
About this event
We are thrilled to host an evening of blissful music and meditation for all to enjoy. We will spend 2 hours on a musical journey with Stephen Day, pausing for stories and deep meditation. We will finish the evening with tea and a light snack. Learn more about Sahaja Yoga and renowned musician, Stephen Day below. This event is free of charge.
Sahaja Yoga Meditation
Sahaja Yoga is a meditation technique founded by Shri Mataji Nirmala Devi and is practiced in over 200 countries around the world. Sahaja Yoga is a non-profit , in which classes, workshops, and events are always free. Sahaja Yoga Houston Collective opened a meditation center in West Houston in 2017 and offer free classes there and throughout the city. To learn more about Shri Mataji and how to meditate, visit www.houston-meditation.org
Stephen Day
Sarod player, singer/songwriter, and composer, Stephen Day, writes songs and compositions inspired by his many musical adventures around the world.
Day describes playing the 21-stringed fretless silver-necked lute-like Sarod as 'being the perfect instrument for meditation with the characteristic microtonal 'slides and glides' facilitating the emotional yearning of the seeker on a 'rocket ride for the inner soul'.
Born in California, and raised in Canada and France, Day developed an ardent search for meaning in life from a very young age. When he was 18 years old, while hitchhiking for the summer in Italy and Greece, he experienced a profound sense of joy and freedom. He was so moved by the experience that he vowed to search for a lifestyle that would allow him to remain in touch with the awakening that he had felt that summer. A few years later, he was introduced to a meditation called Sahaja Yoga by its founder Nobel Peace Prize nominee Shri Mataji Nirmala Devi. Shri Mataji encouraged Stephen to play Indian Classical music and introduced him to world-renowned award- winning Sarod player Ustad Amjad Ali Khan. Day was then awarded a scholarship by the Indian Council of Culture to come to India to study. Day not only had the privilege of regular lessons with Ustad Amjad Ali Khan for three years but also traveled with him to various parts of India for recording sessions and performances.
To learn more about Stephen and his music, visit www.stephendaymusic.com