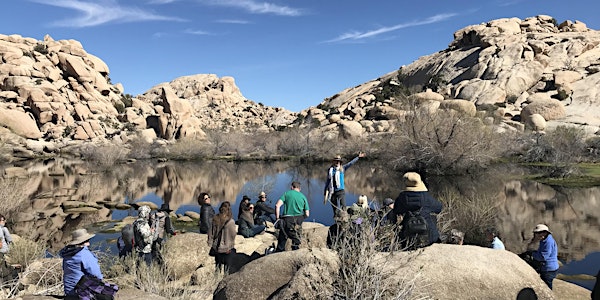 Music Medicine Professional Training Retreat - Joshua Tree, CA
Become a certified music medicine facilitator using drums and other instruments of sound healing.
When and where
Location
Joshua Tree Retreat Center 59700 Twentynine Palms Highway Joshua Tree, CA 92252
Refund Policy
Contact the organizer to request a refund.
About this event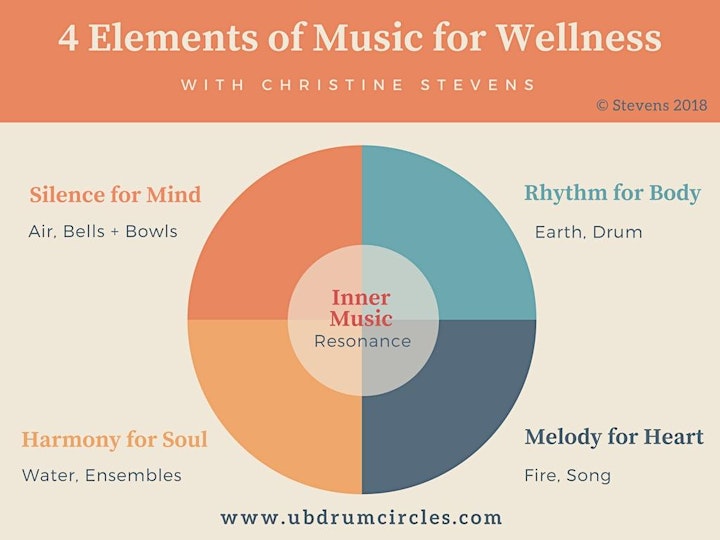 ***Due to COVID 19, we are following strict health recommendations. As much as possible, sessions will take place outdoors or six-feet apart if indoors. All participants will be assigned private rooms, unless a couple requests to be together. There are shared bathrooms. Please bring a mask. Hand spray is provided. No one will allowed in the kitchen except staff due to precautions. A meal package is available for excellent vegetarian food provided by Mojave Merilee local chef.
Please note the venue - https://jtrcc.org/the-ding-le-mei-house/
Learn practices to increase energy, joy, and bring the power of music into your life. Let your soul sing! Internationally acclaimed author and music therapist, Christine Stevens, MSW, MT-BC and her team lead you in a professional training retreat that empowers you through rhythm, voice, harmony, and silence.
Whether you want to use Music Medicine for you personal growth or to infuse it into your career, this training will transform your life. The stunning beauty of the High Desert Joshua Tree is the space-holder for your creative evolution through sound and silence.
View the Music Medicine Retreat welcome video here!
Music Medicine live recorded duet from last year.
Music Medicine featured in Watkins Magazine, UK. Check it out.
|| What You'll Experience ||
||EMPOWER YOURSELF||
- Identify the four elements of music medicine and the practical application in wellness for mind, body, spirit and soul
- Release judgements limiting you from creating music and learn to improvise.
- Identify the music area most missing in your life to reduce and prevent burn-out.
- Listen more deeply to yourself, others, and nature.
- Experience nature through a mini vision quest, deepening your relationship to the earth's music.
|| LEAD AND EMPOWER OTHERS ||
- Learn a protocol to lead using the four elements for community building, wellness, and cross-cultural healing.
- Learn a tool for cleansing space with sound, we call the "car-wash" or "soul-scrub".
- Break out into smaller groups to practice leading.
-Identify your authentic facilitation style through a 3 - word practice.
|| BUILD COMMUNITY ||
- Meet educators, therapists, coaches, drum circle facilitators who uplift humanity and orchestrate change.
- Join a global community of Music Medicine Practitioners with similar intentions of applying music to uplift humanity from Scotland to Japan to the USA.
- Integration call 10 days after the training retreat to check in and provide support for each other, facilitated by Christine.
- Added to a private social media group after the experience for continued community building (opt-in).
----------------------------------------
Learning Objectives - for counselors, therapists, educators, and coaches (CEUs)
1. Identify the four elements of music medicine and the practical application in wellness for mind, body, spirit and soul
2. Demonstrate ability to facilitate a 15 - minute experience using music medicine.
3. Identify the area most missing in your life to reduce and prevent burn out.
4. Learn specific rhythms and chants to use in your programs with groups and individuals.Music Medicine Professional Training Retreat & Certificate
------------------------------------------
|| Pricing ||
Weekend Experience - October 15 - 18, 2020
- $495 for workshop tuition **Early Bird** (595 regular price after October 1st)
- $200 for daily meals (9 total, veg/gf/etc. available)
- $125 for dorm style accommodations (4 to a room) at the Ding Le Mei House
- $175 for double accommodations at the Ding Le Mei House
- $350 for private room upgrade the Ding Le Mei House (some are shared bathroom)
-----------------------------------
Also Included in Workshop Tuition:
- 15 Page Training Manual
- Song book with online audio links
- Access to global community page
- Follow up group call 2 weeks post training
- FREE Webinar on the Science of Music Medicine
- FREE 22 minute audio practice track on Music Medicine for Self-Care
---------------------------------------
OPTIONAL CERTIFICATION:
Participants of the weekend experience can choose to become certified in Music Medicine Facilitation (MMF). Music Medicine certificate is provided by UCLArts & Healing.
Music Medicine Facilitator certification exam fee is an additional $95 payable to UCLArts and Healing. The exam takes place Sunday from 2-3pm immediately following the weekend. Please make sure you meet the requirements to sit for the exam.
Requirements for certificate exam:
- 20 hours of training in music facilitation (Health Rhythms, Beat the Odds, Arthur Hull, etc.)
- 20 hours of experience facilitating drum circles, music circles, music ceremonies for healing and wellness
- Recommended Reading: "Music Medicine: The Science and Spirit of Healing Yourself with Sound". Amazon link: http://a.co/f45FuVH.
Not sure if you qualify? Contact us with any questions at info@ubdrumcircles.com
---------------------------------------
|| About the Venue and Accommodations ||
The retreat takes place at the beautiful Joshua Tree Retreat Center at 59700 Twentynine Palms Highway, Joshua Tree, CA. We meet in the Sanctuary and in specific Nature locations on the campus including - labyrinth, medicine wheel, under the trees.
The rooming situation in the Ding Le Mei Wing of the Joshua Tree Retreat Center is very unique. Private cabins, double rooms and dorm style rooms are available at the retreat center. Some bathrooms are shared.
If you prefer to have your own private accommodation, we do have limited rooms available in a local AirBnB. You are more than welcome to find your own local AirBnB as well.
If you'd prefer to camp in a tent on-site, this is available through Joshua Tree Retreat Center. Contact the center for camping options (www.jtcampground.com).
-----------------------------------------------------------
|| What to Bring ||
- Instruments are provided. Bring an acoustic instrument you love to play; Native American flute, guitar, drums, hand percussion, singing bowls, etc.
-----------------------------------------------------------
*** This training is for advanced facilitators, who have taken facilitation training with Christine Stevens, Arthur Hull, HealthRHYTHMS or Beat the Odds. Online courses count as well; including Drumming for Healing, Drum Circle Facilitation 101, and Clinical Applications of Group Drumming
Contact us with any questions - info@ubdrumcircles.com
-----------------------------------------------------------
|| The Music Medicine Team ||
Christine Stevens, MA, MSW, MT-BC
Christine Stevens, MSW, MT-BC, MA holds masters degrees in both social work and music therapy. She is author of Music Medicine, The Healing Drum Kit and The Art and Heart of Drum Circles. The founder of UpBeat Drum Circles, she has appeared on NBC, PBS, KTLA, and is a featured speaker in the DVD Discover the Gift. A faculty for the Shift Network, Christine launched the Awaken Your Rhythm program with over 600 students from 30 countries. She has trained facilitators from more than twenty-five countries in the evidence-based REMO group drumming HealthRHYTHMS program. Christine has worked with many Fortune 500 companies, survivors of Katrina, students at Ground Zero and most recently, led the first drum circle training in a war-zone in northern Iraq.
www.ubdrumcircles.com
Christine@ubdrumcircles.com
Misty Marie Tomasino, Event Coordinator
Malcolm Moore, Facilitator
Malcolm Moore is a drummer, singer, songwriter, educator, & drum circle facilitator who lives and works in Hollywood, CA. As a drummer, singer, songwriter Malcolm Moore (aka Lord Boom Boom Stick or
King Malcolm) has lived in Rochester, NY, Philadelphia, PA, and Hollywood, CA. As an educator with over 25 years experience working
with youth in education, music, and mental health, Malcolm is the Music Teacher and a Behaviorist at Larchmont Charter Hollygrove
in Hollywood, CA. He also facilitates weekly drum circles and teaches drums privately.
Summer Mencher, Music Therapist, Facilitator
Summer Lall, MT-BC, is a Board Certified Music Therapist and obtained her degree from Berklee College of Music in Boston in 2008, and is the founder of the organization Rhythm & Truth Music Therapy, specifically aimed at empowering youth at-risk. As a Music Therapist, Lall uses a wide variety of music modalities (including a diverse selection of instruments, songs, improvisational techniques, relaxation techniques and creative arts) to establish non-musical goals. Summer has brought her music therapy to schools, hospitals (both medical and psychiatric), hospice, shelters, daycares, camps, yoga studios, and treatment centers, as well as 1:1 individual therapy. In addition to her broad local outreach, music has taken her to over 20 countries to share in the healing universal language of rhythm and song. In addition, Summer is trained as a birth doula as well as MTACB (Music Therapy Assisted Child Birth), and started CradleSong Birthing which offers services for labor & delivery and pre/postnatal care. When she is not practicing music therapy, Summer is writing, recording or performing with her band Indian Summer, hoping to inspire positive change through music however she can.