Music Industry Entrepreneurship Master Class Tour 2017 | Los Angeles
Description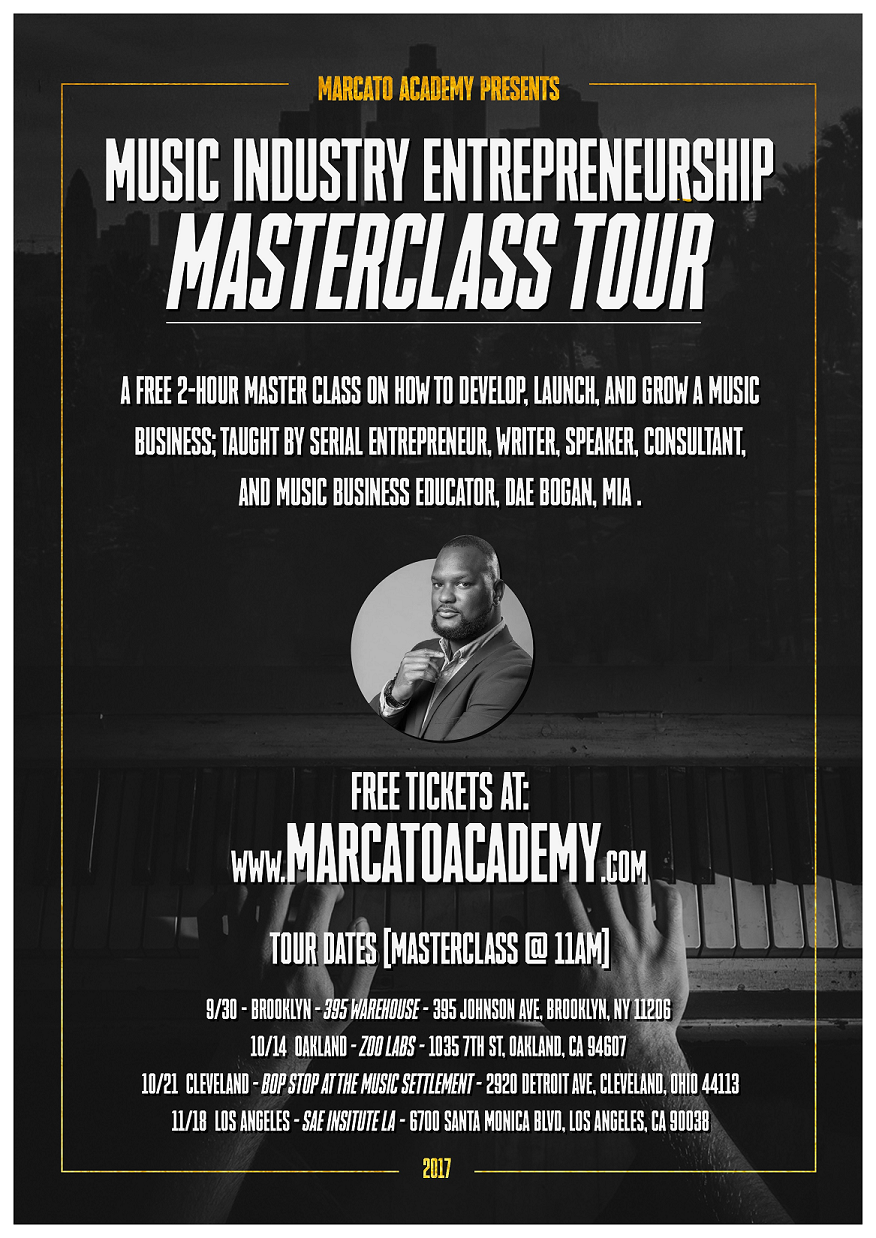 Marcato Academy & SAE Institute LA presents
Music Industry Entrepreneurship Masterclass Tour 2017
A free 2-hour masterclass on how to develop, launch, and grow a music business; taught by serial entrepreneur, writer, speaker, consultant, and music business educator, Dae Bogan, MIA .
When: Saturday, November 18th
Where: SAE Institute LA, 6700 Santa Monica Blvd, Los Angeels, CA 90038
Time: 11am to 1pm PT
Admission: Free with Eventbrite RSVP

Topics To Be Covered:
Intellectual Property (IP) - What is IP? What IP does your business create? How to protect your IP? What third-party IP does your business use? How to be compliant in the use of third-party IP?

Rights Administration & Licensing - What rights do you own and/or control? How are rights licensed and monetized? What are some rights administration best practices? When and how to join music rights organizations?

Business Formation - What business formation options are available to you? What are the pro's and con's between different entity structures? What are some tax implications that should be considered?

Go-To-Market Strategy - How to conduct market research in the music industry? How to develop a go-to-market strategy? How to market on a budget?

Team Building - When and how to build your team? How to seek, vet, and hire freelancers? How to leverage interns in a mutually beneficial manner? Best practices for remote organization management.

Networking & Personal Branding - How to establish a personal brand as a music industry professional? How to find networking opportunities? Online networking best practices?
Ideal Attendees: Music industry entrepreneurs starting or currently operating record labels, music publishing companies, artist management firms, music production houses, and self-managed DIY musicians.
FREE TICKETS AT WWW.MARCATOACADEMY.EVENTBRITE.COM