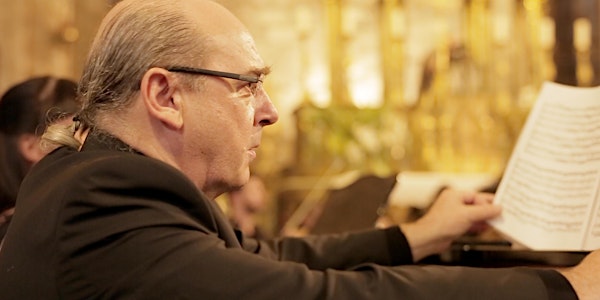 Music from Spain: A fall of concerts in Washington DC
PostClassical Ensemble will offer as concert in the classical music series organized by the Cultural Office of the Embassy of Spain
When and where
Location
Former Residence of the Ambassadors of Spain 2801 16th St NW Washington, DC 20009
About this event
The pandemic caused by COVID-19 has prevented Spanish artists and creators from travelling to the United States, but since the return to normal activity here, the priority of the Cultural Office of the Embassy of Spain has been to recover and bring back cultural life with the creation of a classical music cycle around Spanish music with Spanish musicians. MUSIC FROM SPAIN: A fall of concerts will be possible thanks to the support of our Consulates General and Maestro Angel Gil-Ordoñez, artistic director of the cycle. The program will take place during the following months of 2021, with concert in multiple cities all around the US.
Concert in the Former Residence of the Ambassadors of Spain
MANUEL DE FALLA IN CONTEXT: The Concert
The concerto as a whole is a kind of condensation of the history of Spanish music. The first movement quotes Spanish Renaissance songs, as collected by the musicologist Felipe Pedrell. The second certainly evokes the sixteenth century church music of Tomas Luis de Victoria - from the time of Don Quixote - but with a simplicity that rigorously negates any sense of grandeur. The last movement is all about the Spanish keyboard chool. And - ignoring the nineteenth century and zarzuela, which he found musically less interesting - he trasnfers it all to a twentieth century idiom.
PROGRAM
De los alamos vengo, madre - J. Rodrigo
Pange Lingua - T. Aquinas
Caligaverunt oculi mei - T.L. de Victoria
La noche oscura - J. of the Cross
Sonata in D - M. Albeniz
Sonata in D - Padre A. Soler
Concerto for keyboard and five instruments - M. de Falla
MUSICIANS
PostClassical Ensemble: Netanel Draiblate, violin, Benjamin Capps, cello, Lauren Sileo, flute, Fatma Daglar, oboe, David Jones, clarinet
Angel Gil-Ordóñez, conductor
Pedro Carboné, piano
Genevieve McGahey, soprano
Biraj Barkakaty, countertenor
Andrew Brown, tenor
William Townsend, bass
Important Information (please read carefully)
A reservation on Eventbrite is mandatory, printed tickets are not required.
Seating is available on a first-come, first-serve basis.
Doors open 20 minutes before posted showtime.
Ticket holders will have access to the event while space is available. A reservation does not guarantee admission.
Ticket holders should arrive at least 10 minutes prior to the start to guarantee seats.
No Late Seating, ticket holders may not be allowed to enter 15 minutes after posted showtime.
Right of admission reserved.
If you need special assistance, please contact us at contact@spainculture.us.
Additional Visitor Guidelines and Safety Measures
This activity takes place indoors. All guests must be fully vaccinated and wear a mask during the event. All safety COVID19 protocols will be followed.
By registering, you are acknowledging that an inherent risk of exposure to COVID-19 exists by attending this event on the premises of the Embassy of Spain. You and any family members and guests voluntarily assume all risks related to exposure to COVID-19.
How to get there:
The best way to arrive is by public transportation. The closest Metro station is Columbia Heights (Green and Yellow line). Limited metered and two-hour zoned parking is available in the surrounding neighborhoods. Public parking garage is available at DC USA Shopping Mall (Columbia Heights Metro Station).
Subscribe to our Newsletter to never miss an event by SPAIN arts & culture in Washington DC.