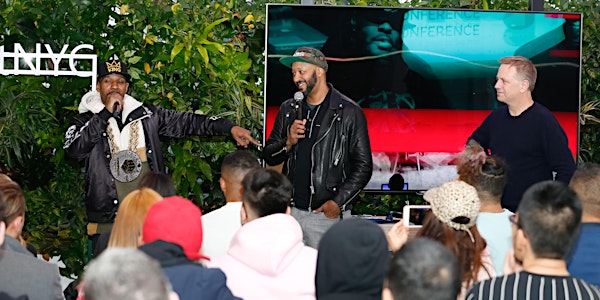 Music Entrepreneur Conference 2021
Success coaches, seasoned entrepreneurs and leaders in the business of music invite you to experience 2 days of workshops, talks and network
About this event
WANNA LEVEL  UP?  MAKE MORE MONEY W/ MUSIC?  LIVESTREAM LIKE A PRO? TOUR THE PLANET?  SYNC YOUR MUSIC IN TV, FILM & GAMES? GROW YOUR FANBASE? BUILD A SUSTAINABLE MUSIC BUSINESS ?
Reserve a PASS, Change YOUR FUTURE
Success coaches, seasoned entrepreneurs and leaders in the business of music invite you to experience 2 days of workshops, talks and networking that will give you the tools and strategies to take your career and mindset to the next level.  You'll leave with a 2022 game plan, solid direction for your brand, the inspiration to push beyond, and a network of artrepreneurs to learn and grow with you along the way. 
MEcon was designed as the missing link for music business success; to unite a global community of rising leaders around the business of music who are looking for systems and strategies to take their business to the next level. MECON helps entrepreneurs build brands that fans love, and a fan relations plan that puts money where the music is! 
Full Schedule Announced Dec 1st, 2021
2021 SPEAKERS INCLUDE:
Jerry Wonda, Grammy award winning, super producer, songwriter, performer and composer and music entrepreneur.
Brandon Pankey, VP Business Development Live Nation Urban, Founder APEX
Wendy Day, Founder Rap Coalition
Remi Jourdan, Founder TuneTrax
Virginie Berger, global music executive & artist rights advocate
Dae Bogan, Head of Third Party Partnerships MLC, Music Entrepreneur Professor, UCLA
Jalen James Acosta, CEO & Founder,  World Artists United | Global touring artist, tour producer, music producer, film director and brand architect.
John Waupsh, Co-Founder Nerve Bank for music artists
Kwasi Asare , Founder and CEO Feedia, marketing and business development services for startups, growth companies, and Fortune 500 companies; media strategy, growth and marketing strategy optimization, marketing analysis, and business development.
Suz Paulinski, Founder & CEO,  Rockstar Advocate |  Tracking Your Success 
Rachel Karry, Co Founder World Artists United, Positive, Entrepreneurial Leadership Enthusiast, Film Producer, Brand and Business strategist
Rob Cole, Top 100 on TikTok
Paolo Privitera, CEO Evensi, MIT MBA 2021, Resilient Serial Entrepreneur, GrowthStrategist, Google Accelerator, 500 Startups Mentor
and many more ! 
Click here to learn more about our Mecon speakers.