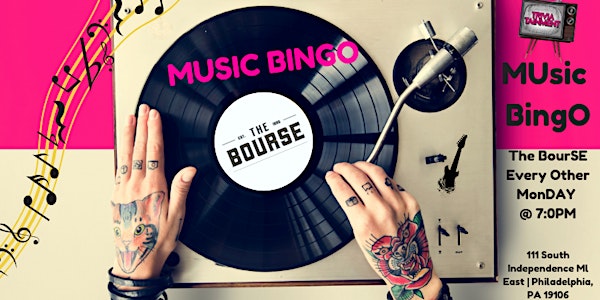 MUsic BingO at The Bourse Philly
When and where
Location
The Bourse Marketplace 111 South Independence Ml East Philadelphia, PA 19106
Description
"TODAY IS NOT JUST MONDAY, IT IS MUSIC BINGO @ THE BOURSE PHILLY MONDAY, DUH... THAT MEANS FUN DOES NOT JUST COME TO YOU, YOU MUST SIGN UP FOR IT. SO WHAT ARE YOU WAITING FOR...?"
Just when you thought it couldn't get any better than making it through Monday why not start the week off right with Music Bingo & awesome food & drinks at The Bourse Philly.
Join us for Music Bingo EVERY OTHER Monday Night starting at 7:00PM.
Experience what everyone in Philly is talking about & be ready for some serious "FUNNESS " yes it's a word... Funness: It is the joy of music seamlessly combined with the thrill of bingo and trivia in 5 unique rounds!
We are not your ordinary bingo, so put on those dancin shoes & brush up those mad shower singing skills you have, yeah I'm talking to you...
We have Five unique,exciting and challenging rounds of Music Bingo with themes from Michael Jackson, the 80's, the 90's, Country, One Hit Wonders, Dinsney Movies and so much more, theres something for everyone! Each round varies in theme including round 4 "The lighting round" & round 5 "The Album cover I.D round"!
We promise we'll melt your popsicle! So sign up NOW!
When reserving your tivkets the best way is by selecting a team captain and having them be in charge of tickets for ALL team members. For example, if Beyonce, Lady Gaga, Bruno Mars and Shakira are a team and Beyonce gets put in charge, she will then reserve tickets for herself, Lady Gaga, Bruno Mars and Shakira = (4) in total. PLEASE ONLY RESERVE SINGLE TICKETS IF YOU ARE PLAYING BY YOURSELF.