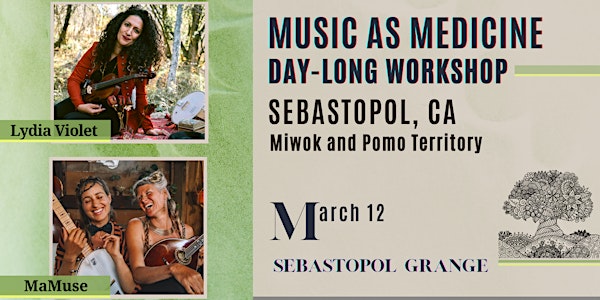 Music As Medicine Day-long! with Lydia Violet & MaMuse
A day-long workshop to celebrate being able to sing together, practice Joanna Macy's "Work That Reconnects," & connect to the Earth.
When and where
Date and time
Sunday, March 12 · 10am - 5pm PDT
Location
Sebastopol Grange 6000 Sebastopol Avenue Sebastopol, CA 95472
Refund Policy
Contact the organizer to request a refund.
Eventbrite's fee is nonrefundable.
About this event
***Venue change due to rain: We will now be hosted at the Sebastopol Grange***
These times can feel overwhelming and isolating, and understandably so. We are excited to create space for a filling of the well with reconnection, song, and Joanna Macy's work!
The School for The Great Turning is excited to offer a ripe and ready Music As Medicine day-long workshop, with Bay-Area artist-facilitator Lydia Violet Harutoonian, and Karisha Longaker & Sarah Nutting of MaMuse. This workshop will be held at the Sebastopol Grange in Sebastopol California!
Lydia, who has studied dedicatedly with Joanna Macy for the past 13 years, will lead us through group exercises from the Work That Reconnects (WTR), a dynamic, interactive body of work developed by Macy, a scholar and respected elder in systems theory, deep ecology, and Buddhism as well as 50+ years of international activism. With these tools we can actively cultivate healing and connection we can rest into and organize with, in our desires to be effective allies to both planet and people.
Karisha and Sarah of MaMuse bring with them the gift of facilitating community into song and collaboration. Singing in a council of friends is one of the most healthful, encouraging, invigorating, and nourishing things that we know. Hearts opened by grief and celebration want to sing their songs of longing, despair, belonging, reckoning, valiant warrior-ship, and gentle loving-kindness. We will experience both the teachings of Joanna Macy and the power of community singing to resource us as we face both the peril and promise of our time.
Registration will be capped at 75 participants. Our last workshop sold out, so if you are hoping to attend, we encourage you to register early!
Sunday, March 12th :: 10am-5pm
Sebastopol Grange :: 6000 Sebastopol Ave., Sebastopol, CA
We will have a one-hour lunch break in the middle of our day, please bring a bag lunch! We will provide some beverages and snacks throughout the day.
Scholarships: Our scholarships are currently full for this workshop!
Please send any additional questions to schoolforthegreatturning@gmail.com
Covid Protocol:
The Covid-19 pandemic is a shifting landscape, and we will do our best to navigate the variety of needs present in our communities. For this workshop, everyone will be asked to do an antigen-rapid-tested within 24 hours of our start time, and if you do not have access to a rapid test, please come 20 minutes early (9:40am) and we are happy to provide you with a test.
Right now mask use is optional, but we are also open to adapting as needed. We will do our best to tune into the desires within the group and accommodate as we can.
Bios:
Lydia Violet Harutoonian, M.A., has studied dedicatedly with deep ecology elder and Buddhist scholar Joanna Macy for the past 13 years, learning how we can metabolize planetary despair, anxiety, and community traumas into energy for resilience, action, and community healing. She runs The School for The Great Turning,  an on-and-offline school that creates access to an education that will empower humanity's life-sustaining legacy.  
Lydia is also an Iranian-Armenian-American multi-instrumentalist weaving together Southern blues, American roots, and Iranian folk music traditions. In past years she has collaborated with world-renowned artists Climbing PoeTree, Rising Appalachia, MaMuse, and Lyla June. 
MaMuse (Sarah Nutting and Karisha Longaker) create uplifting music to inspire the world into thriving. Interweaving brilliant and haunting harmony with lyrics born of honed emotional intelligence, MaMuse invokes a musical presence that inspires the opening of the heart. Playing a family of varied acoustic instruments including upright bass, guitar, mandolins, ukulele, and flutes, these two powerful women embody a love for all life. The synergy that is created through this musical connection is palpable and truly moving to witness.
About the organizer
Lydia founded and runs The School for The Great Turning, an online and in-person school that creates access to an education that will empower humanity's life-sustaining legacy through fostering personal empowerment and planetary care. Our courses encourage personal transformation towards becoming mutually beneficial members of the Earth Community. We support learning at both individual and community levels, committed to soul work, ecological literacy, and social justice. Our courses and workshops center on empowering the legacy of Joanna Macy's scholastic and experiential work, while expanding to cover adrienne maree brown's "Emergent Strategy," anti-racism cohorts, BIPOC affinity groups, ancestral myth and music studies, and music as medicine. Our scholarship fund empowers us to make our programming no-one-turned-away-for-lack-of-funds, as we democratize access to education and healing, especially within marginalized communities. Our faculty includes Joanna Macy, adrienne maree brown, Lyla June, Leah Song, Lydia Violet Harutoonian, Amikaeyla Gaston, Kele Nitoto, and MaMuse, and we aim to offer our programming in a wide range of spaces, pivoting away from educational elitism. We believe each of us has a role to play in human awakening at this perilous time, urging us to claim our role in The Great Turning. A term coined by revolutionary thinker and resident elder, Joanna Macy, she describes The Great Turning as one name for the essential adventure of our time: the shift from an Industrial Growth Society to a life-sustaining civilization.
www.schoolforthegreatturning.com