Description
In celebration of Spotify Apps API, join Facebook, foursquare, Last.fm, Twilio, and The Echo Nest on the weekend of February 24th - 26th for a music apps hackathon at New York City's SPiN Ping Pong Club. Hosting provided by GoGrid.
Grand prize is $10,000.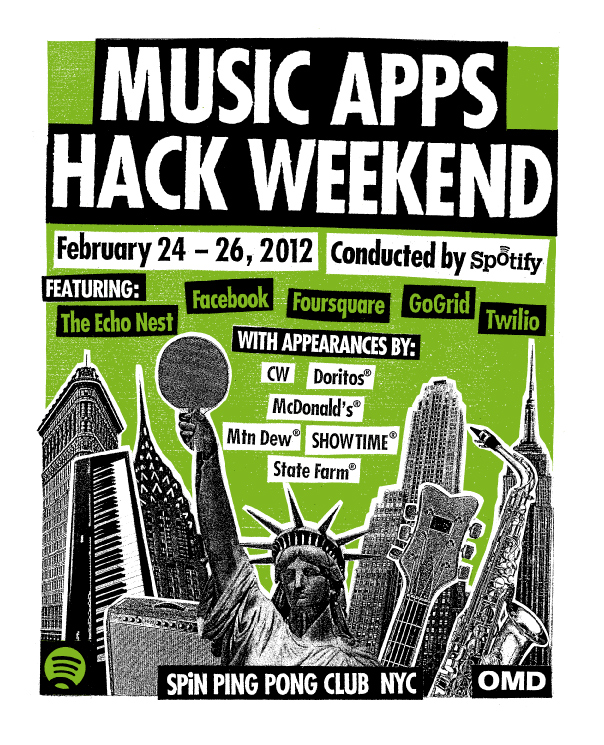 The focus of our 48-hour event is to develop innovative products on Spotify's new app platform. This is your chance to showcase your talent and channel your creativity towards building the next generation of music apps powered by some of the most powerful and robust APIs around.
For the first time ever, we will be welcoming product and marketing executives from CW, Doritos, McDonald's, Mtn Dew, Showtime and State Farm who will be deeply integrated into the on-site environment and provide inspiration for the weekend's hacks and prizing for the most innovative products.
Join us for fun, nerdery, drinks, food, ping pong, music, swag, and more.
Agenda
Friday, February 24
6:30pm: Doors, networking
7:30pm: Keynote + event overview
7:45pm: Sponsor Spotlight (5 minutes each)
8:15pm: API presentations (10 minutes each)
9:15pm - 11:15pm: Kickoff party + open bar w/ live musical performance by Blood Orange
10:45pm: Hacking begins
Saturday, February 25
9:00am: Breakfast & hacking
10:00am: API workshops
1:00pm: Lunch
2:00pm: Brand workshops (3 hour access to brand product & marketing execs)
5:00pm: Party & musical performance by MNDR
7:00pm: Dinner
8:00pm: Ping Pong Tournament (Prize TBD)
12:00am: Hacking continues
Sunday, February 26
10:30am: Hacking ends, wiki closed
12:00pm: Demos begin, lunch served
3:00pm: Judging
3:30pm: Winners announced, prizes awarded
Prizes
GRAND PRIZE: $10,000 cash
Best Spotify hack: One year of Spotify Premium for every team member
Best Facebook hack: TBD
Best foursquare hack: TBD
Best The Echo Nest hack: Two iPads
Best Last.fm hack: Two tickets to Live on Letterman
Best Twilio hack: Kindle Fire and $100 Twilio credit
Best City of NYC hack: TBD
Various prizes from CW, Dorito's, McDonald's, Mtn Dew, Showtime, State Farm
Celebrity judges include Phin Barnes (First Round Capital), and more.
We're keeping track of all the projects on Hacker League: http://www.hackerleague.org/hackathons/music-apps-hack-weekend