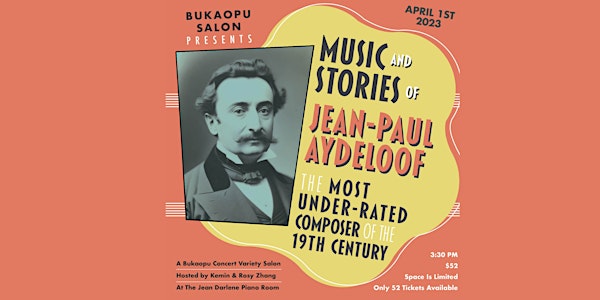 Music and Stories of Jean-Paul Aydeloof
An afternoon of music and stories about Jean-Paul Aydeloof most unde-rated composer of the 19th century!
Date and time
Sat, Apr 1, 2023 3:30 PM - 5:00 PM EDT
Location
The Jean Darlene Piano Room 1203 Dundas Street West Toronto, ON M6J 1X3 Canada
Refund Policy
Contact the organizer to request a refund.
Eventbrite's fee is nonrefundable.
About this event
1 hour 30 minutes

Mobile eTicket
Are you a music enthusiast looking for a unique and unforgettable concert salon experience? Look no further than the upcoming concert salon on April 1st, 2023, celebrating the life and music of the legendary composer Jean-Paul Aydeloof.
Aydeloof's life was shrouded in mystery and rumor, but his musical talent was undeniable. Despite being raised by a single mother and lacking a birth certificate, Aydeloof received exceptional artistic influence as a child, learning piano from Franz Liszt at the age of three and composition at the age of 14. He also had a passion for literature, painting, chess, magic and even underground boxing matches.
Despite the scarcity of his remaining musical works, Aydeloof's compositions were essential to the popular salons of Paris during his time. His repertoire includes pieces for piano, violin, cello, and guitar, and his music continues to captivate and inspire listeners today.
Join us on April 1st, 2023, as we celebrate the life and music of Jean-Paul Aydeloof. This commemorative concert will feature his remaining works and showcase the immense talent of this legendary composer.
Don't miss out on the opportunity to witness the stories and music of Jean-Paul Aydeloof come to life. We can't wait to welcome both old and new friends to this exciting event. See you there!
Toronto to Celebrate the Legendary and Under-Rated Composer Jean-Paul Aydeloof
Toronto is set to celebrate the life and works of one of the most under-rated composers of the 19th century, Jean-Paul Aydeloof. Born as the illegitimate son of George Sand, the famous novelist in Paris, his musical talent was influenced by the artistic circles he grew up in, and his passion for music started at a very young age. Despite being raised by a single mother and having no father figure, Aydeloof's musical prowess was exceptional and he learned from some of the greatest musicians of his time, including Liszt and Paganini.
Aydeloof was not just a musician but also a lover of painting, literature, and chess, and even won a prize in a chess competition at the age of 17. His love for sports, particularly boxing, was also known, and he even participated in underground boxing matches and won cash prizes.
Despite being known for his eccentricity, Jean-Paul Aydeloof was a celebrated composer and his works were widely played in popular salons in Paris at that time. Unfortunately, most of his musical works were never published, and only a few manuscripts remain today, making his contribution to music often overlooked.
However, Aydeloof's music lives on, and his birthday on the first day of April is celebrated by his fans every year. Toronto is set to join the celebration with a concert salon that aims to bring Jean-Paul Aydeloof's music to life. The concert will feature some of Aydeloof's musical works for piano, cello, viola and kazoo.
The concert salon promises to be a unique experience for lovers of classical music, as it not only celebrates Aydeloof's music but also his eccentricity and love for different art forms, including poetry, juggling and mentalism. It is an opportunity to discover the works of an often-overlooked composer and to appreciate the music that captivated Parisian salon audiences in the 19th century.
The concert salon is set to take place at the Jean Darlene Piano Room in Toronto on April 1, 2023, and tickets are available for purchase now. Toronto's celebration of Jean-Paul Aydeloof's life and music promises to be an unforgettable experience for all who attend.