Description
Inoculated mushroom logs help extend your garden or farm growing season and are about the most low-maintenance pet you'll ever own! Join us for a fun and learning filled 2.5 hour class on mushroom log inoculation. Participants will receive a tour of Haw River Mushrooms farm, inoculate four logs in class to take home (additional logs may be purchased at $10/each), and receive all the information you need to care for your logs at home and even cut and inoculate your own logs at home if you wish! Delicious and energizing Chaga Reishi Tea will be on tap throughout class.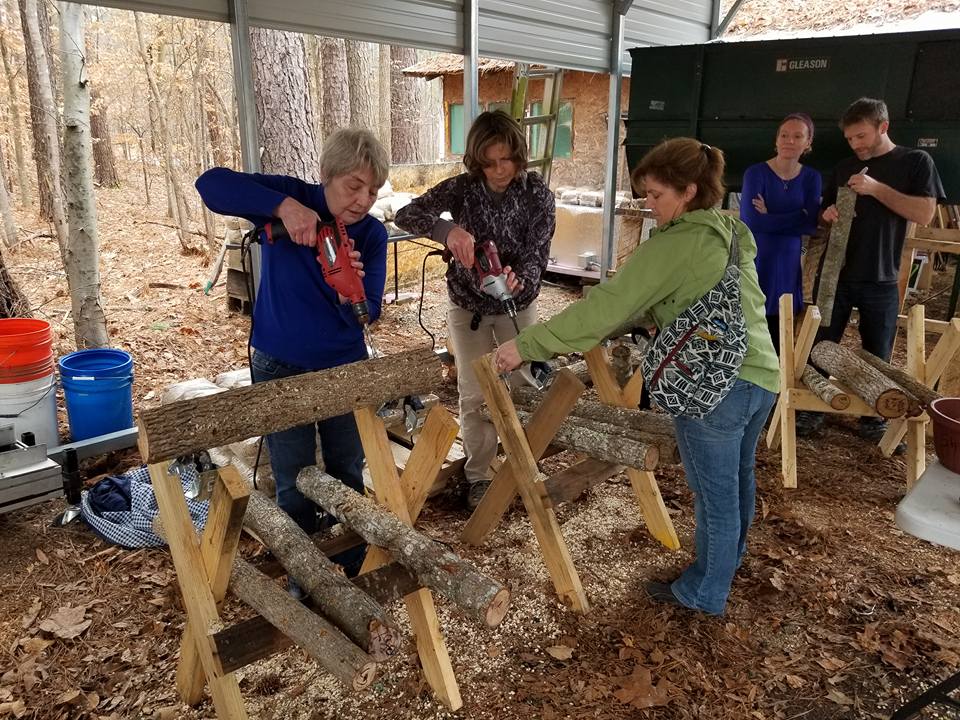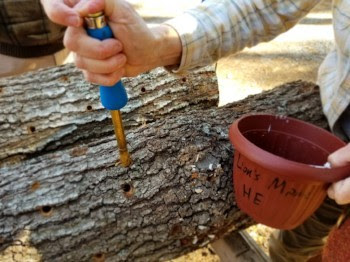 Cancellation Policy: Tickets are non-refundable but can be transferred to another user at no cost. If you sign up for a class that includes equipment or materials (such as inoculated logs, tincture, etc) and you need to miss class, please email us within three days of the missed class to arrange a time to pickup your materials. If we are running the class again and you need to change dates, you can send an email at least 10 days before class to info@hawrivermushrooms.com and we may be able move your registration for a $10 fee if space is available.

If Haw River Mushrooms must cancel an event due to severe weather, we will refund participant registration. If we are running the class again within three months we will give participants the chance to change their registration to a future offering of the class. Participants we haven't heard from in three days will automatically receive a refund. Unless weather is severe, classes are held rain or shine.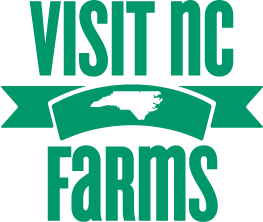 We are grateful for the support of the North Carolina Department of Agriculture and Consumer Services and their support for agritourism in North Carolina.
FAQ:
What mushroom varieties will we inoculate with?
We will have blue oyster, lions mane, and shiitake spawn available, and you may choose them in any quantity you wish (e.g. 4 shiitake; 2 oyster, 1 lions mane, 1 shiitake; etc).
I want to order lots of extra logs. How does that work?
Just place your order through the event link (there is a space for ordering extra logs). We offer logs at our wholesale rate to class participants. Typically the logs are already made up, but we will also have extra un-inoculated logs available if you prefer to do them yourself. If you are ordering more than 10 extra logs, please follow up with an email to info@hawrivermushrooms.com to make sure we have your desired varieties.
Do I need a special vehicle to transport my logs home?
Logs are 2 feet long, and 3 to 6 inches in diameter. They should transport in even the smallest car trunk. You may wish to bring a Tupperware or trashbag to keep your vehicle clean during transport.
What kind of environment do I need to grow my logs successfully at home?
Their ideal environment will be shady with good circulation and near a water source, such as under a tree or on the south facing side of a house. We have had class participants successfully fruit logs on apartment balconies, in their home garden, and in their woods. They are very low maintenance! In class we will talk about strategies to make sure your log gets the light, air, and moisture it needs.
How long will it take my log to fruit and how long will it last?
Our 2018 log class participants saw their first fruits within 5-8 months of class. Logs should fruit for about 1 year for every inch of diameter in the log (3-7 years depending on conditions and wood). Many logs give several fruits each season.
What happens if my logs never fruit?
We have produced over 1,500 inoculated logs at the farm and have seen our cultures perform well in all kinds of environments throughout the southeast. If none of your logs fruit after a calendar year, please contact the farm and we are happy to troubleshoot with you.