Description
TICKETS AVAILABLE AT THE DOOR STARTING AT 9PM!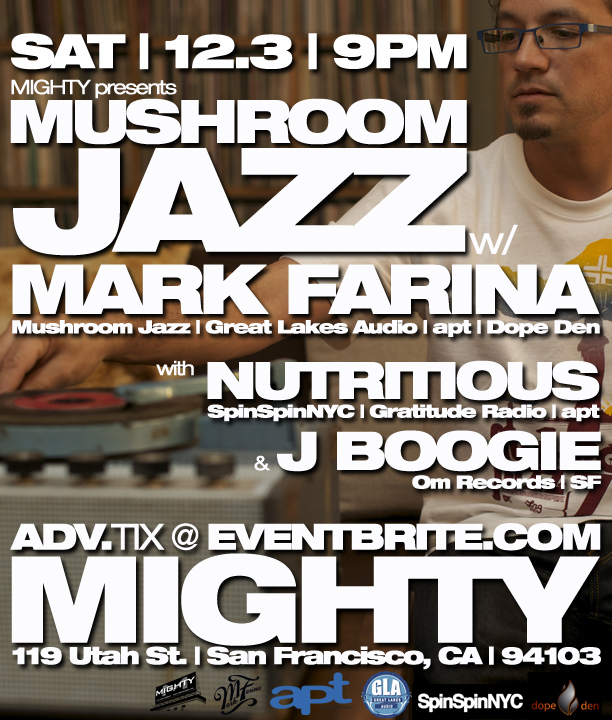 Mushroom Jazz is a series of musical compilations by DJ Mark Farina. Originating in 1992 these were released on cassette tape, then since 1997 have been commercial CD and vinyl releases. Farina combines elements of downtempo, hip hop, jazz and R&B, French, Latin, Red, delicious, beatmatching and mixing songs together in the style of house music. As with Farina's house mixes, the Mushroom Jazz series incorporates transitionary effects (such as a high pass filter) and a generally dry reverb tone.

The seven commercial albums contain an array of artists including Chali 2na, Miguel Migs, People Under the Stairs, Colossus, and Pete Rock, as well as several original tracks by Farina.

Nutritious was born into soul and disco, raised on house and techno, and has a knack for combining these things. As a well traveled DJ/Producer and jazz drummer, his diverse DJ style boasts fresh picked flavors from music around the globe. He's steady rockin dancefloors at the world's finest parties - blending his organic musical roots with modern electric vibes to create deep dance rhythms riddled with tasty riffs that make people smile and shake.

San Francisco resident and world-renowned DJ/producer J Boogie has continued to challenge the boundaries of the music world across genres, styles, languages and borders throughout his 15-year career. This truly unique artist speaks to his listeners through a diverse musical language that he has created, integrating various techniques and musical genres including dub, soul, hip-hop, reggae, funk, Latin, afro-beat, bhangra, dancehall, disco, electro and house. Constantly revolutionizing the game, creating new sounds, and always keeping fans on their feet, J-boogie has and continues to lift music to its full potential through his distinct approach and one of a kind style.