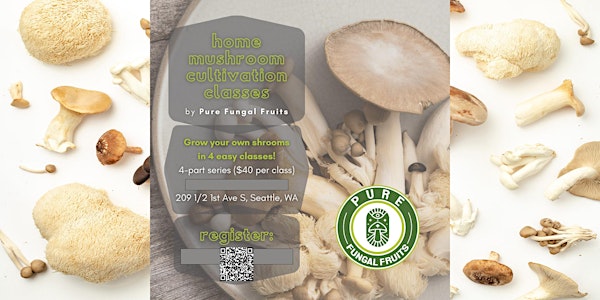 Mushroom Home Cultivation Classes (4)
A deep dive into mycology that you will actually understand , lessons in class , cultivation at home.
By Entheo Society with ADAPT-WA, Veterans group Twenty22Many and SPS
Date and time
Thursday, March 30 · 6 - 9pm PDT
Location
209 1/2 1st Ave S 209 1/2 1st Avenue South Seattle, WA 98104
Refund Policy
Contact the organizer to request a refund.
Eventbrite's fee is nonrefundable.
About this event
Students must text Matt prior to class to go over supplies and ensure spot in class, especially if your not paying through Eventbrite. Please text at 206-795-5909 to make sure your good to go.
Home Cultivation
Instructor
Matt Stewart
Phone
206-795-5909
Email
Matthewstewart@comcast.net
Course Overview
Students will grow mushrooms from spore to harvest over a 4 class series. Cultivation steps will be conducted at home by students with examples and explanations provided in class.
Required Equipment and Supplies
Still air box or laminar flow hood, 23 quart pressure cooker, 1 pint sized jar, 9 quart jars, scalpel, flame sterilizer such as a Bunsen burner or candle, spray bottle, bleach, gloves, jar or bottle for sterilizing agar grow mediums, small kitchen gram scale, petri dishes and lab tape, whole oat grain, mushroom grow bags and clips, grow medium. Many of these items are available for purchase from Matt, see the links page for more details.
Spore swabs will be provided for the class. Additional spore swabs and varieties are available for purchase.
Course Schedule
Class 1. Starts with a discussion of Basidiomycota life cycle using images, explanation of sterile techniques of working, common types of contamination, discussion of inoculation of spore plates using sterile technique.
Homework : Inoculate spore plates, join text group to report progress or ask questions.
Class 2. The second class meets two week later unless students report growth sooner. Students will bring inoculated plates for analysis, selections of colonies will be recommended and marked on plates, discussion of transfer from inoculation plate to grow out plates, discussion of tomentose vs rhizomorphic mycelium, diploid vs haploid colonies, discussion of totally different potential each pairing will have, viewing mycelium under magnification.
Homework: Make recommended transfers onto plates.
Class 3. Students will meet 2 weeks later to give the plates time to grow. Students will bring plates for analysis and a recommendation will be made for which to use for creation of a liquid culture, discussion of preparing lc using provided dry medium to make 500ml of culture medium, discussion of 2 dimensional vs 3 dimensional growth, transferring mycelium from plate to jar, explanation of steps involved in making grainspawn with example provided, using lc to inoculate grainspawn jars.
Homework: Create sterilized lc and transfer mycelium from plate to jar, create sterilized grainspawn only after the lc is fully colonized, then us lc to inoculate the grainspawn jars.
Class 4. Class will meet again after date determined by students based on growth. Students will be provided growth medium for their bags, discussion of field capacity, discussion of low nutrient vs high nutrient grow mediums, recap on types of contamination, explanation of how to inoculate with grainspawn and the effects of different spawn ratios, discussion of pinning and when to harvest for optimum fruits, discussion of the different qualities mushrooms have even from the same flush, discussion techniques used to get multiple flushes, mono tubs vs Martha's, making clones to prevent senescence , making spore prints and the future.
Homework: Sterilize grow medium bags, inoculate the bags with grainspawn and watch as your mycelium colonizes the bags and produces fruits.
Notes on homework: Homework must be completed within 3 days of class in order to keep all students on a similar timeline. If the majority of students need more time due to slow growth rates or other issues the class dates can be moved. If students outside of the majority are still unable to complete homework by the agreed upon dates, private instruction can be arranged at a rate of
About your instructor
Matt lives in Edmonds Washington with his wife Rebecca and operates a small mushroom farm on a piece of land where chickens and giant tortoises roam free. His interest in mycology goes back to the early 80's when he foraged enough mushrooms to buy his first sweet set of wheels, a brown 77' Subaru Sport Coupe. Since that time, his interests have only grown and in 2019, he founded Pure Fungal Fruits as a means of providing something of value to the community, spreading fungus and fungus knowledge far and wide.