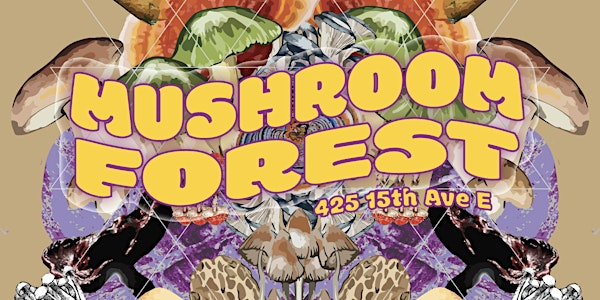 Mushroom Forest
Join us for "Mushroom Forest," an art salon on hybrid mycelial relationships.
When and where
Location
Ada's Technical Books and Cafe 425 15th Avenue East Seattle, WA 98112
Refund Policy
Contact the organizer to request a refund.
Eventbrite's fee is nonrefundable.
About this event
Join us for "Mushroom Forest" from November 11th-17th at Ada's Technical Books in Capitol Hill. The art pop-up will feature a series of mycological artists, teachers, and businesses.
Fungi are the creators of future life.
In "Mushroom Forest," we delve into the resilience of ecologies through networks of earth and technology. This journey also breeds curiosity on hallucinogenic wisdom in spirituality and healing.
Mushrooms construct webs of interspecies relationships for the benefit of all. In forest ecosystems, they regulate nutrient distribution amongst families of trees, and recycle waste or toxins from the environment back into habitable form. Mycelium help create some of the most basic conditions necessary for the building blocks of bacterial, insect, plant, and animal life.
Adaptogenic varieties, such as Reishi, Lion's Mane, and Cordyceps, have been consumed as medicine for millennia by ancient cultures. In spaces of ritual healing, the psychedelic and drug properties of mushrooms can help enhance complex neurologies of the brain.
As connectors, mushrooms provide hopeful models for salvaging cooperative life from the ends of capitalism. The evolution of humankind is said to depend upon the transformative powers of mycelium.
What does it mean to learn symbiosis with a species that heals as it decomposes? What new cultures, technologies, and political and economic networks can we sift from out of the margins in mushroom life?
Come into the Forest. Reimagine the world through a mycological lens. True knowledge awaits.
---
Dates & Events:
November 11th / 6-8 PM - Exhibition Opening. Music by Chan Plett and Chance Crafton.
November 12th / 2-6 PM PST - Teacher Talks
2 PM PST / Jody Hall (Wunderground) - Jody is the founder of Wunderground Coffee, a startup that has developed delicious adaptogenic brews using extracts of Reishi, Cordyceps, Lion's Mane, and Chaga. Before Wunderground, Jody also helmed the Capitol Hill institutions of Cupcake Royale and Goodship, and was part of growing Starbucks from a small coffee chain into a national phenomenon. Jody became interested in the mycological space through connections with Paul Stamets and other figures who popularized the topic into mainstream discourse. Currently, Wunderground is expanding mycelial worship into the digital space via NFT art, community forums, and product drops. Hall will be sharing her perspective on mushroom ecologies and medicine at the speaker series.
3 PM PST / Cassandra Posey (Cognitive Function) - Cognitive Function emerged from Cassandra's work in the functional mushroom space. Her foray into the field was driven by a need to find alternative healing practices for the mental health and learning challenges that she had faced since childhood. Diagnosed with ADHD and dyslexia, and eventually dealing with symptoms of anxiety and depression, Cassandra was determined to transition away from her medications into an earth-based healing practice through natural medicine. After experimenting for years with a natural food and medicine diet, Cassandra developed recipes for tinctures and oils with mushrooms such as Cordyceps, Lion's Mane, Reishi, and Turkey Tail. These medicines support the body to increase natural energy, provide cognitive support, tide through brain fatigue, enable gut health, and boost immunity. At "Mushroom Forest," Cassandra will be sharing insights on brain, body, and spirit healing through mushrooms.
4 PM PST / Shelagh Brown (Herban Healing) - Shelagh Brown is a clinical herbalist, ethnobotanist, medical historian, writer, poet, storyteller, cultural worker and healing centered engagement practitioner. Shelagh filters all her work through an intersectional, abolitionist, Black, womanist, queer, disabled and fat liberation centered lens. She is deeply committed to reconnecting communities that have been most harmed by colonization, white supremacy, and imperialism with nature, the land and our innate healing potential via plants. Shelagh will be sharing her ecological wisdom and scientific studies, drawing from her academic experiences in Herbal Sciences, Acupuncture and Traditional Chinese Medicine, and Social Justice and Community Organizing.
5 PM PST / Chris Adams (Sporelust) - Chris Adams is an illustrator and printmaker creating mycelial designs for collectible goods and wearables at Sporelust, a mushroom art popup in Capitol Hill. Chris is an avid forager of mushrooms in the Pacific Northwest, especially around Portland, Oregon, where he currently lives. He has also developed projects such as the Mushroom Tarot, which represents the Major and Minor Arcana of the Rider Waite through mycelial species such as Chanterelle, Cordyceps, and Morel. "In The Name of The Hyphae, The Spore and The Holy Host," Chris Adams will share his thoughts on the radical learnings of mycology.
November 13th / 12-6 PM PST - Artist Talks
12 PM PST / Claire Scherzinger - Scherzinger is a digital artist hailing from Toronto. Scherzinger works with gaming engines, modeling software, sound, and video to conceptualize new worlds. She is influenced by various schools of science fiction. The artist will speak about decentralized virtual universes and post-human realities.
1 PM PST / Yale Wolf - Wolf is a neon artist in Seattle with a background in industrial design. His approach is influenced by his time at product design firms, metal fabrication shops, and collaborations with other artists across mediums. Wolf will meld his thoughts on urban art and street scenes with his aesthetic incorporation of organic symbols (i.e. mushrooms) in his creative process.
2-4 PM PST / DJ set.
4 PM PST / Claire Johnson - Johnson is a painter envisioning anti-perspectives of land and geographic memory. Johnson creates works that tremor in tonal detail and dimension, focusing on aerial, isolated, or wide-angled views that disrupt the assumed experience of nature as a visual muse. Johnson will speak about the role mushrooms play in forest ecosystems, and restoring landscapes after the destructive waste of capitalism.
5 PM PST / Nat Evans - Evans is a composer and artist based in Seattle, Washington. Evans creates sound collages from field recordings found in nature. His repertoire spans projects such as "The Tortoise" (2014), made during a period of five months walking the Pacific Crest Trail from Mexico to Canada. Evans made hundreds of recordings, weaving them into a sonar assemblage. At "Mushroom Forest," Evans will share a performance and lecture that speaks to the connections within forest ecosystems through sound and study.
November 14th / 12-7 PM - Open Gallery Day. Tours available upon request.
November 15th / 12-7 PM - Open Gallery Day. Tours available upon request.
4-6 PM PST / Pynk Pussy - Black Feminist woodlands art collective. Poetry readings and discussion.
6-7 PM PST / Chan Plett - Poetry reading and film screening. Chan Plett is a gendervoid gay poet and copywriter from Los Angeles living in Seattle, who creates visual, performance, video, sound, and written works of avant garde outsider art. Chan will be reading poems on the theme of inner cosmos and exploration and sharing their original video work.
November 16th / 12-7 PM - Open Gallery Day. Tours available upon request. Film Screening (5-7 PM).
November 17th / 12-8 PM - Open Gallery Day. Closing Night. Music and plant workshop.
Tickets will be sold on a sliding scale. Suggested donation $45 for access to all salon programming.
---
For accessibility requests or feedback, please contact Jordan at Ada's Books (jordan@adasbooks.com).
Image description: Psychedelic mirroring mushrooms rest over a geometric pattern and a tan background. Top left is blue striped text saying "salon habitudes." Top right has a profile of a woman's head in gray and the text "ADA'S." Center font is 90s graffiti-style, broad and bubbly laid out in a curve. The lettering says "Mushroom Forest" with "425 15th Ave E" in smaller font underneath. Beneath is written event time and details (in caption above).