Museums & Relevance: An Evening with Nina Simon - SOLD OUT
Description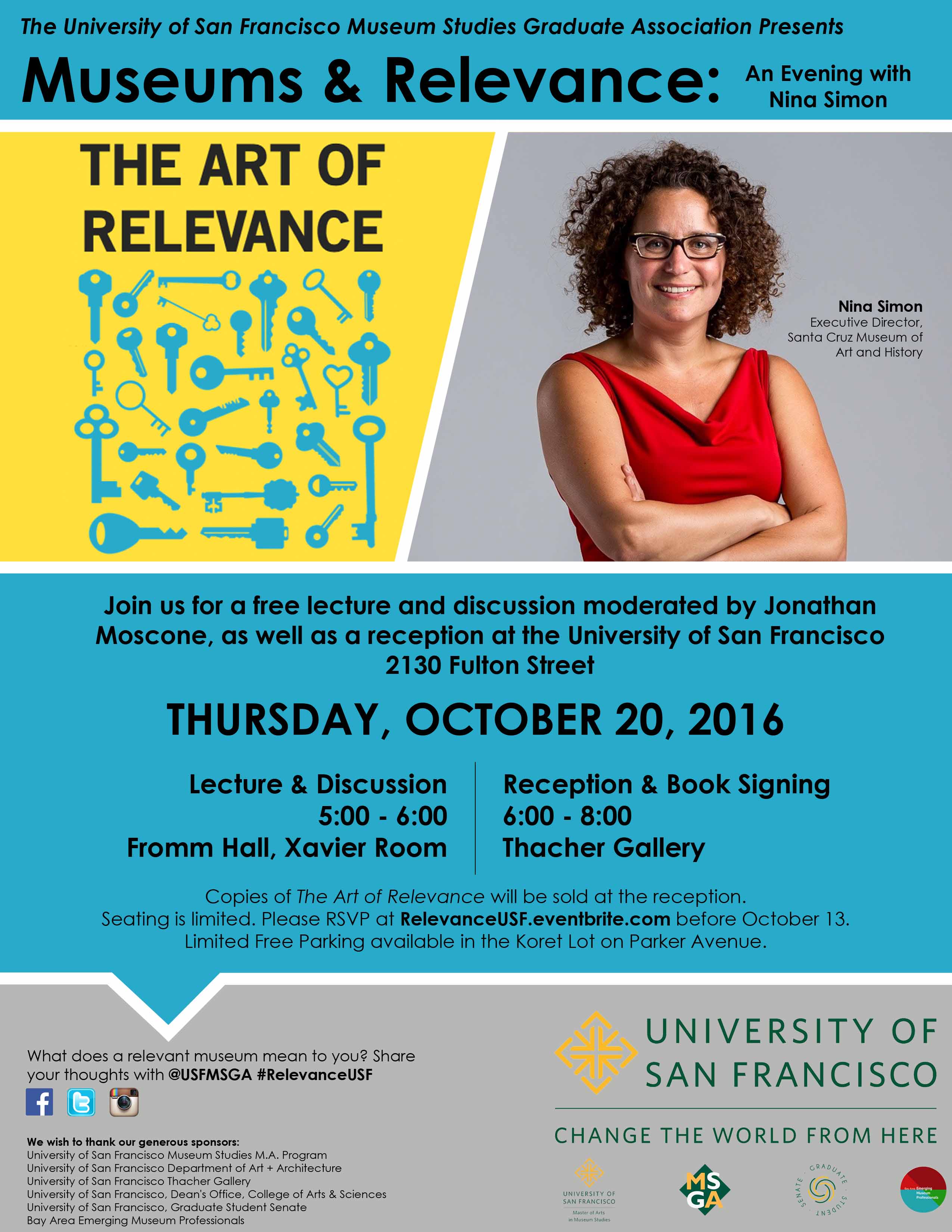 The University of San Francisco's Museum Studies Graduate Association is proud to host "Museums & Relevance: An Evening with Nina Simon" on Thursday, October 20th, from 5pm-8pm on the University of San Francisco Campus.
Nina Simon is the Executive Director of the Santa Cruz Museum of Art & History. Nina is a leader in the museum field for her work on audience-centered approach to design and is the best-selling author of The Participatory Museum and the popular Museum 2.0 blog. She will discuss her 2016 book The Art of Relevance, which combines anecdotal examples, inspirational case studies, and research to provide a guide for making museums and cultural institutions matter more to more people.

Please join us for a free and informative evening with Nina Simon to learn what it means to build relevancy within museums, non-profits, and cultural institutions. The discussion will be moderated by Chief of Civic Engagement for the Yerba Buena Center for the Arts and author of the preface for The Art of Relevance, Jonathan Moscone.
The lecture & discussion will take place from 5-6 p.m. in Xavier Hall, with a reception and book signing following immediately afterward in Thacher Gallery.
Tickets are officially SOLD OUT, spaces are limited.
Free parking will be available in the Koret Parking Lot on Parker Ave.
For a map of the University of San Francisco Campus, please click here.
Thank you to our generous sponsors:
University of San Francisco Museum Studies M.A. Program
University of San Francisco Department of Art + Architecture
University of San Francisco Thacher Gallery
University of San Francisco, Dean's Office, College of Arts & Sciences
Bay Area Emerging Museum Professionals