| | |
| --- | --- |
| | |
Event Details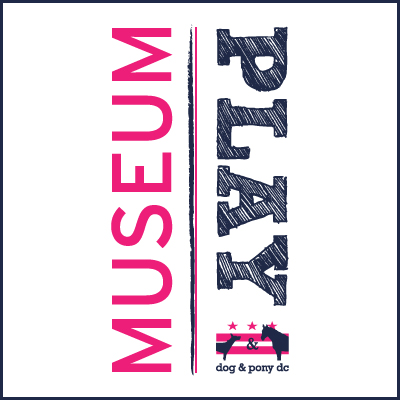 MUSEUM PLAY
Break the rules. Play with art.
Museum Play is an experiential primer on art appreciation with games, projects, and a few historical sidebars. Through this experience you will become BFFs with art, interacting with each other and the collections in new and creative ways. Museum Play is a mix of digital, analog, goofy, and down-right-serious. Museum Play is for anyone ready to impress the pants off of everyone at the water cooler or the next cocktail party.

FAQ:
Wait -- is this a play?
Museum Play is named because we will be playing within a museum. It is not a theatrical experience (like the rest of dog & pony dc's work!) but does involve artsy activities and techniques.
Is this for adults?
Yup! But we welcome young folks 11+ with an adult.
I'm sold. Where do I sign up?
Awesome! Pick a date and time that works for you above and register. You will receive a confirmation email one day prior to your Museum Play experience with more specifics about where you will meet your dog & pony dc guide.
Museum Play sounds totally amazing but I'm busy on weekends! Do you do weekdays?
We can arrange for a Museum Play experience during the week as long as it starts before 5PM (the museum closes at 7PM!) Let us know if you're interested by emailing museumplay@dogandponydc.com.
Any special gear required?
We recommend comfortable walking shoes as we explore all three floors of the museum in a short period of time.
How long is Museum Play?
Each experience is about 2 hours in length.
What ages are appropriate for Museum Play?
This experience has been designed for adults, but would be appropriate for children 11+ accompanied by an adult as well. Check back for alternate versions of Museum Play for kids in the future!
I'm coming from somewhere else that day. Will there be a place to put all of my stuff?
The American Art Museum & Portriat Gallery has a section of lockers available for public use which easily fits a backpack, jacket, and umbrella. That being said, maybe leave your precious family jewels or gold-plated laptop at home.
I signed up for a Museum Play experience but can't make it. What is your refund policy?
All refunds and exchanges must happen 72 hours (3 days to the hour) prior to the start time of your Museum Play experience. No refunds or exchanges will be processed on the day of the experience or after it has occurred. Drop us an email at museumplay@dogandponydc.com if you need to exchange your reservation or cannot attend your slot.
What if I'm running late for my Museum Play experience?
Call or text 856-MUSEUM1 and we will do our best to get you caught up to the group. We need to start on time to fit all of the cool stuff in to two hours.
I still have a lot of questions.
Feel free to email us at museumplay@dogandponydc.com and someone will get back to you as soon as they are able.
When & Where

Smithsonian American Art Museum
8th and F NW
Washington, DC 20004


Organizer
dog & pony dc
dog & pony dc is an ensemble of artists who devise innovative performances that incorporate new ways for audiences to experience theatre...and all art!