Event Information
Refund Policy
Contact the organizer to request a refund.
Eventbrite's fee is nonrefundable.
The Museum of Dead Words | A virtual hip hop theatre experience that explores what bridges and divides us the most: WORDS
About this Event
CLICKBAIT | Week 10
The Museum of Dead Words Online Series
Week #10 of the Museum's online series features artist is Simon José Vieira Benlulu, a visual artist and designer from Sao Paulo, Brazil known for his work addressing urban problems between introspective psychology and the social environment.
Tune into all week to watch live art and live chats with Dyalekt and the Museum's featured artist on museumofdeadwords.com or one of these streaming sites:
This week's live art and chats:
Tuesday, 11/10 at 7pm ET - Blueprints in Progress with Dyalekt: the BK based MC shares the research and results of his study into the common use of the word Clickbait and how the word died. History, stats, fun facts, sad realities and the consequences that arise when a word dies.
Thursday, 11/12 at 7pm ET - The Main Event with Simon José Vieira Benlulu: Simon and Dyalekt unveil his art piece exploring the death of Clickbait, and the effect of words and their meanings on both the art world and the spaces the artist inhabits
Sunday, 11/15 at 7pm - Epitaphs with Kristen Crouch - in Memory of Clickbait: on Sundays, we check in with the Museum's Art Director, Kristen Crouch, about her ongoing memoryscape project. Kristen will create a new original memoryscape – a mixed media artwork comprised of people and memories – over the course of The Online Series. Join her live to see the memoryscape evolve as she reflects on this week's word, artists, and important moments.
***You will receive reminder emails before every live event so you won't miss a thing!***
________________________________________
About the Museum of Dead Words Online Series:
These are historic days, and artists are the curators of history. These times require that we amplify and share challenging stories and experiences in order to find a way forward together. The Museum of Dead Words has always sought to inspire action and empathy as we encounter injustice and apathy in the mercurial age of the Internet.
The impacts of Covid-19 and global resistance against systemic oppression have reinstated our thinking of this show as a space for collaborative dialogue as we navigate together ever-evolving challenges to community and conversation. In an online series of panel discussions, interviews, community conversations, live art happenings, and excerpts from the live show, we will unpack one of the museum's eleven words per week between September 7th and November 22nd.
Full schedule is below: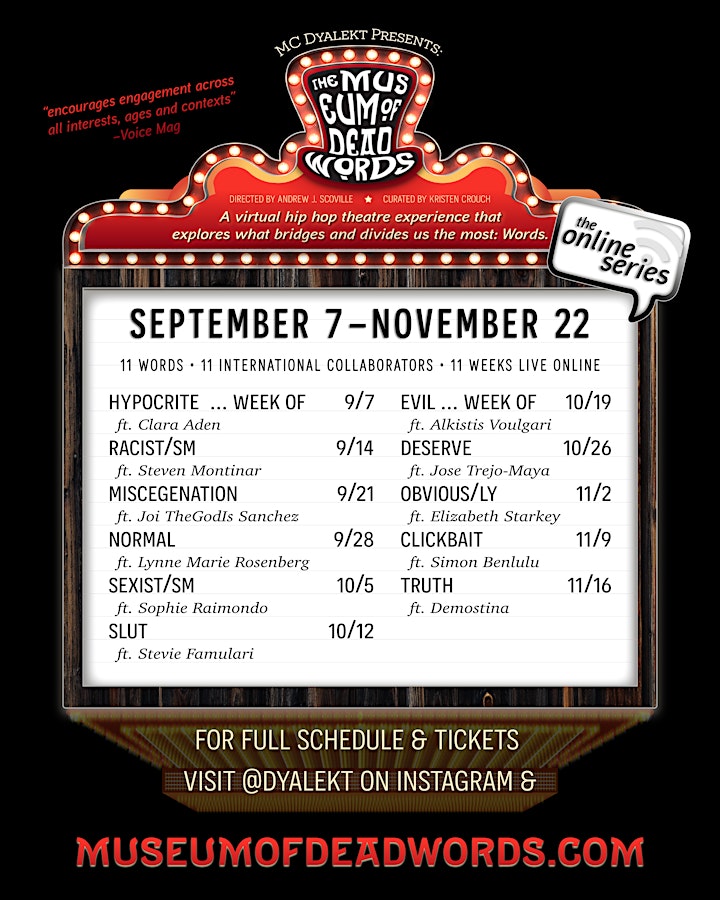 A sample of Kristen's Memoryscapes:
Date and Time
Location
Refund Policy
Contact the organizer to request a refund.
Eventbrite's fee is nonrefundable.