Description
Upgrade Your Museum Career & Master Audience Engagement
3 Days of Intense Training Based on Museum Hack's Proven Methodologies
Join us for a boot camp exclusively for museum professionals! You'll travel to New York City to learn our tips and tricks for passionately engaging audiences, infusing new life into programs, and hacking museum collections. You'll also get to explore the juicy gossip and hidden backstories at two of the most famous museums in the world: the Metropolitan Museum of Art and the American Museum of Natural History.

In a three-day intensive weekend, you'll become a "Hacker in Training" -- learning and practicing our methods and brainstorming ideas for your museum -- along with other museum professionals from around the world. You'll top it off by presenting two tours at the Metropolitan Museum of Art, followed by celebratory coffee!

Please note that this Boot Camp is specifically for museum staff who work with adult audiences in museums or historic sites, or who want to learn Audience Engagement techniques for tours and public programs. Students in museum studies or related fields are also welcome to join.

To discuss our services for other museum departments, such as marketing, or if you are a non-museum professional, please contact us directly.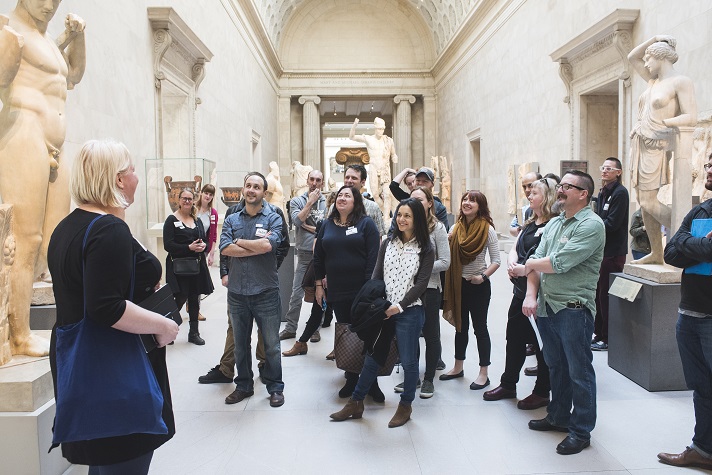 Want to know more? Here's the details of your three-day whirlwind NYC adventure:
On Friday, you'll arrive in New York City to meet our staff, discuss the program, and become an official Hacker in Training. We'll begin by discovering the amazing stories and juicy secrets at the American Museum of Natural History, inviting you to discover our experiences from the visitor perspective. Next, you'll be assigned a coach and squad for developing and presenting your skills throughout the weekend. Squads will spend time doing fun team-building activities, followed by your first two lessons: our signature 5 Elements of a Hack method for effective storytelling and how language use dramatically effects your visitors. After a break for dinner, you'll shadow our VIP Tour of the Metropolitan Museum of Art on Friday night.

On Saturday morning, we'll whisk you to the Metropolitan Museum of Art. You'll start by learning how infusing your tours with VIP Sensibilities dramatically increases visitor engagement and learning. Next, you'll embark on a brazen expedition through the halls of this 27-building, 1.6-million square foot landmark cultural institution to research and start developing your very own Museum Hack tour with your squad.

We'll break for a group lunch, providing time for you to discuss your museums and for us to brainstorm ways to better meet your goals and needs. Next, we'll interactively demonstrate Scaffolding and Activity Development, including:

How to Encourage Visitors to Speak Their Minds

, using activities that encourage visitors to verbalize their feelings in an open and non-threatening environment;

Exploring Spaces

with exploratory games and activities that give visitors fun missions, connect them with objects on display, and get them discussing the stories behind the objects and the museum while exploring the museum kinesthetically; and

Using Smartphones

as tools of engagement and sources of background knowledge, including technology-based activities that keep visitors engaged and learning while empowering them to continue exploring and making connections long after the tour is over.
You'll finish Saturday by spending the evening with your squad and coach, working on performance skills while designing and preparing your tour with your squad and coach.

On your final day, you'll be ready for any hacking challenge! In the morning, your squad will present your object or activity hacks to Museum Hack's VIP Guides. Afterwards, you and your squad will gather for lunch to assess your performances. You'll then showcase your new skills to the public during a special Museum Hack beta tour for guests from our early adopter list. Then we'll gather all the squads together for coffee to assess your performance, give you great takeaways, and chat with members of our senior staff.

You'll return to your museum trained in Museum Hacking, ready to engage new audiences, tell amazing stories, and infuse your museum with all that Museum Hack awesomeness. One month after your Boot Camp, your coach will conduct a one-on-one call to reinforce learnings and discuss any further concerns you may have.

All hands in for museums!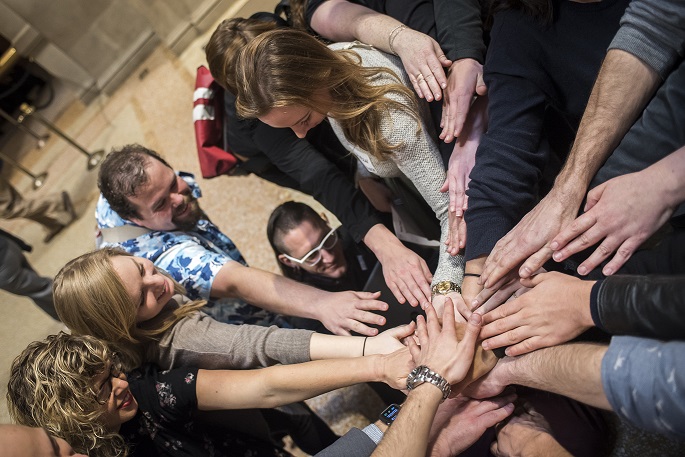 Sample Schedule
Click here to view a sample schedule of what to expect during your weekend. This includes the tours and training sessions you will attend, as well as which meals are provided. If you have any questions, please email us.
Policies
Cost per participant includes all museum admissions and entrance fees, attendance to our VIP Night Tour of the Metropolitan Museum of Art and our AMNH Saturday morning tour to see how we do it live, and select meals as indicated in our sample schedule. Participants are responsible for all other related costs, including travel, lodging, and meals not provided by Museum Hack.

Registration is limited to eight (8) participants per workshop. Tickets are available on a first-come first-serve basis only, up to 14 days prior to the scheduled event dates.
Scholarships are not available. For suggested assistance in paying for our Boot Camps, see our blog post on grants available for museum professional development.
Schedule: Please note that Boot Camp runs from Friday at 10:30 a.m. to Sunday at 6pm. As a participant, you will be expected to attend all sessions in order to complete the training. A finalized schedule will be sent to participants at least two weeks before Boot Camp, detailing locations for meet-ups, important contacts, and a full timeline of activities. This schedule includes your attendance on Museum Hack tours and presentation of your hacked objects and activities during two Museum Hack tours on Sunday. Please plan your travel accordingly.
Cancellations: Any request by a registered participant must be received in writing via email or the Eventbrite site. A request for cancellation (and refund) will be accepted up to fourteen days in advance of the event. Requests made during the two weeks prior to the event will be contingent upon finding a substitute participant to attend. Participants are encouraged to find a substitute from their own institution. Written notification of a substitution will be accepted by email up to the day before the event. All approved refunds will be made through the Eventbrite ticketing platform.
If Museum Hack cancels a Boot Camp, all registrants will receive a full refund of fees paid no later than five business days following the scheduled date of the event.
All refunds will only be made using the original form of payment. We cannot view, and do not require, your credit card number (that information is encrypted & protected) to perform a refund transaction. Never put any credit card information in an email.
Want a Boot Camp or Workshop for 5 or more staff?
For questions on providing a customized boot camp or professional development workshop for five or more of your museum's staff, please contact us.