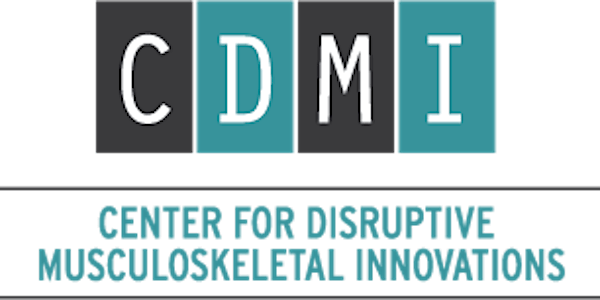 Musculoskeletal Innovations: CDMI Fall Symposium
When and where
Location
UCSF Mission Bay Campus Mission Bay Conference Center 1675 Owens Street San Francisco, CA 94143
Description
Center for Disruptive Musculoskeletal Innovation

Fall 2017 Symposium
Come together with researchers, clinicians, and high level executives from top orthopaedic companies to learn about the latest musculo

skeletal innovations from 4 different campuses (UC San Francisco, University of Toledo, The Ohio State University, and Northeastern University). In this semi-annual event, the center's Industry Advisory Board also will choose which projects to fund and will hear about the center's results from collaborative initiatives with the FDA and

previously funded university projects

. Project titles can be found here.
This event is open to ALL MUSCULOSKELETAL industry representatives and university musculoskeletal researchers and clinicians.
Thursday September 28, 2017
Fisher Banquet Room West
7:30 am
Registration
7:30 - 8:00 am
NETWORKING (BREAKFAST provided)
8:00 - 8:25 am
Welcome Remarks, Introductions & CDMI Update
Drs. Jeffrey Lotz & Vijay Goel - CDMI Site Directors
8:25 - 8:40 am
Introduction to Presentations
Drs. Jeffrey Lotz & Denis Gray (NSF I/UCRC Evaluator)
8:40 - 9:50 am
Research Areas 1 - Clinical Outcomes
9:50 - 10:00 am
BREAK (snacks provided)
10:00 - 10:55 am
Research Area 2 - Spine: Innovative Devices/Tools/Equipment or Surgical Technique Evaluation
10:55 am - 11:10 am
CDMI/CERSI Spinal Implant Computational Model Roadmap
Thomas Graf, M.S. - CDMI/CERSI Engineering Intern, M.S. graduate student, Department of Mechanical Engineering, Worcester Polytechnic Institute University
11:10 am - 11:20 am
FDA/CDMI Smart Sensor Public Workshop
Dr. Anton Dmitriev, FDA Director, Division of Applied Mechanics
11:20 am - 11:35 am
The Ohio State University Planning Meeting Update
Dr. William Marras, Site Director, Professor, Executive Director & Scientific Director of the Spine Research Institute, The Ohio State University
11:35 am - 12:45 pm
LUNCH
11:45 - 12:00 - IAB and new companies at reserved table
12:45 - 1:05 pm
NSF I/UCRC Presentation
Dr. Prakash Balan – NSF I/UCRC Program Director
1:05 - 2:00 pm
Research Area 3 - Innovative Spine Devices or Surgical Techniques
2:00 - 2:10 pm
BREAK (snacks provided)
2:10 - 2:55 pm
Research Area 4 - Biomaterials
2:55 - 3:35 pm
Research Area 5 - Basic Science
3:35 - 3:50 pm
BREAK (snacks provided)
3:50 - 4:45 pm
Final Project Presentations: UC San Francisco
4:45 - 5:00 pm
Review of Day 2 Activities & CDMI Organizational Meeting
Drs. Jeffrey Lotz & Denis Gray
5:00 - 6:00 pm
RECEPTION (hors d'oeuvres + drinks), Fisher Atrium
Friday September 29, 2017
Mission Hall - Global Health and Clinical Sciences Building, Room 2103
7:00 - 7:30 am
NETWORKING (breakfast provided)
7:30 - 9:00 am
LIFE FORM Review and Discussion of 2017-18 Projects with Faculty
9:00 - 9:10 am
BREAK (snacks provided)
9:10 - 10:30 am
IAB Meeting – Voting Session
(IAB Members and NSF only)
10:30 - 10:40 am
BREAK (snacks provided)
10:40 - 11:00 am
Discussion:
IAB Report Out

Action Items

Plans for Spring Symposium 2018 @ the University of Toledo
11:00 - 11:55 am
Final Project Presentations: University of Toledo part I
11:55 am - 1:20 pm
LUNCH in parallel with rest of presentations
12:05 - 12:55 pm
Final Project Presentations: University of Toledo part II
12:55 - 1:00 pm
Closing Remarks
Dr. Jeffrey Lotz