Description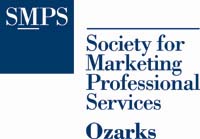 SMPS Ozarks will be holding a half day seminar with
SUSAN MURPHY


Murphy Motivation & Training
Twitter: @bossymurph
Susan Murphy has been coaching Presentation and Interview Skills for over twenty-five years. She began her career as a high school teacher in St. Louis, Missouri, her home town. A chance meeting led to a career in travel, where her last job was Director of Travel Industry Marketing for Club Med.
In 1988, Susan found herself out of work and answered a blind ad in the New York Times. This led to the whole new world of coaching and training. Susan joined Communispond, the leading international communication skills firm for Fortune 500 firms. Murphy completed the intense and thorough Communispond faculty training and went on to become one of their top teachers and coaches.
A chance encounter with SMPS landed her at a National Conference in Boston. There was no turning back once Susan met the AEC industry and the SMPS membership. Her practice is now dedicated to helping AEC firms hone their communication skills, with an emphasis on Interview Presentations and coaching.
Susan will cover these topics:
• Benchmark – A non-judgmental look at what the participant usually does when communicating.

• Controlling Nervousness – How to keep your body from getting in the way of your mind. How to "read" the person or people to whom you are speaking.

• Physical Skills - How to look as commanding, intelligent and as competent as you are.

• Gathering Intelligence – How to get the information the competition misses, which puts you in the leadership seat.

• Working as a Team – How to make a team seamless. How to show teamwork.

• Changing Direction – How to think on your feet. How to be flexible if goals change.

• Closing – How to get agreement, whether moving forward together or signing a contract.

Susan lives in Beaufort, SC and Bozouls, France and travels to her clients. When she isn't coaching and teaching, she can be found reading or hiking with her husband, Ullrich Klamm and her boyfriend, Frankie the rescue mutt. Neither one of them responds to her coaching.
Proposed Agenda for the workshop:
10:00 am Networking
10:20 am Introduction of Speaker and Morning Sponsor
10:30 am Susan Murphy
11:45 am Lunch Sponsor & Lunch
12:15 pm SMPS Ozarks Presentation
12:25 pm Afternoon Sponsor
12:30 pm Susan Murphy
1:45 pm Door Prizes & Free Membership Drawing
2:00 pm Closing

Thank you to our lunch sponsor :

Thank you to our Speaker Sponsor:

Thank you to our Special Event Sponsor:

SMPS Ozarks Sponsors: