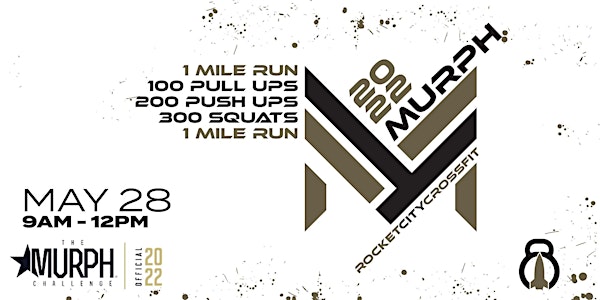 Murph 2022 at RCCF
Murph at Rocketcity Crossfit will be on May 28th from 9AM-12PM.
When and where
Location
Rocket City CrossFit 920 Winchester Road Northeast Huntsville, AL 35811
About this event
Come out, bring your friends & family and let's do this special HERO WOD in honor of LT. Michael P. Murphy, killed in action in Afghanistan on June 28, 2005.
We will run 2 heats: 9am & 10am.
This is a free event, but donations will be collected to support Wounded Warrior.
Please grab a free ticket here. This will serve as your registration and help us plan a great event for you! If you don't want to participate in the workout, just come and cheer as a spectator!
Choose a SPECTATOR Ticket, HEAT 1 Ticket or HEAT 2 Ticket.
RCCF is an official host for THE MURPH CHALLENGE: The Murph Challenge is the Official annual fundraiser of the LT. Michael P. Murphy Memorial Scholarship Foundation, presented by Forged®. It is also one of the primary means of funding for the Foundation on an annual basis. YOUR support is what drives our success! Visit their website for more about The Murph Challenge. https://themurphchallenge.com/