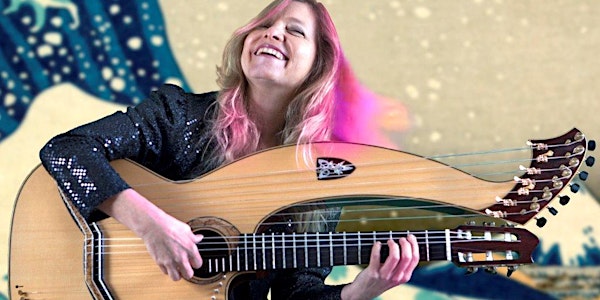 Muriel Anderson LIVE Online
Muriel Anderson Live-Stream Concert with Giveaways
About this event
Sun May 24th, 2 - 3:30pm CDT, 3pm EDT, Muriel Anderson Live-stream Concert featuring new tunes on guitar and harp-guitar, visual backdrops, and some surprises! We'll be giving away a copy of "Acoustic Chef" Cookbook/CD, a free private lesson, and a tray of homemade baklava! Please register HERE. It will be broadcast on YouTube HERE
Something special for Memorial Day Weekend Sunday. It's completely free, donations welcome.
Muriel has some special moments planned for you. She'll have new music that you haven't heard before as well as some of your requests, with Bryan's images on a big screen behind her.
Muriel Anderson's obvious joy of music, humor and her comfort across genres of folk, classical, bluegrass, popular and international music is revered by guitarists worldwide.
Check out the "Music Videos" tab in her new TRUEFIRE CHANNEL or some tunes from her new CD/cookbook "Acoustic Chef."
Considered one of the world's foremost fingerstyle guitarists and harp-guitarists, she is an engaging performer with a unique approach to the instrument. Muriel is the first woman to have won the National Fingerstyle Guitar Championship and has performed/recorded with Chet Atkins, Les Paul, Victor Wooten and many others. Her innovative CD that lights up, "Nightlight Daylight" was chosen as one of the top 10 CDs of the decade by Guitar Player Magazine. She is host of the renowned Muriel Anderson's ALL STAR GUITAR NIGHT® and founder of the MUSIC FOR LIFE ALLIANCE charity.
Muriel Anderson is a good friend and a great guitarist. She deserves national recognition. …Chet Atkins
This is some seriously powerful, deeply emotional music that will stay in your head and your heart forever..Muriel plays all styles with such ease and command that it's easy to forget how good she really is! …Tommy Emmanuel, cgp