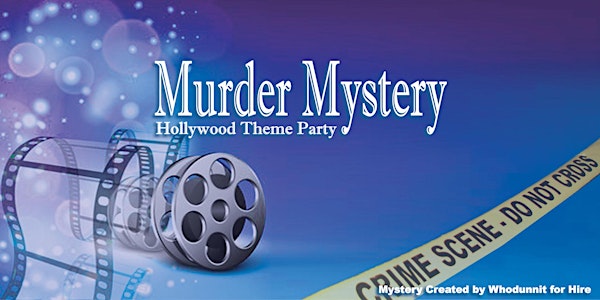 Murder Mystery Party - Frederick MD
Murder Mystery Dinner Party - Frederick MD
Date and time
Friday, October 13 · 8 - 10pm EDT
Location
Dutch's Daughter 581 Himes Avenue Frederick, MD 21703
About this event
https://ddmysteries.eventbrite.com | Whodunnit for Hire and Dutch's Daughter Restaurant present "Hollywood Homicide" the murder mystery game set in the present day at a pre-awards party.
Cash Bar
Must be 21+ to attend. Full bar with three signature drinks and classic options available.
Red Carpet Sangria
Oscar's Appletini
Hollywood Hawaiian
The Menu
First Course
Garden Salad
Fresh Rolls and Whipped Butter
Second Course (Choose Chicken, Beef or Fish)
Dutch's Chicken; Tenderloin of Chicken Topped with Ham, Asparagus, and Cheese
Or Beef; Medallions Topped with Mushrooms and Onions
Or Fish; Blackened Atlantic Salmon Drizzled with a Honey Glaze
All served with Signature Twice Baked Potato and Chef's Choice Vegetables
Third Course
Death by Chocolate: Oreo Cookie Crust Filled with a decadent Chocolate Mousse and Topped with Dutch's Sweet Whipped Cream and served with Tea, Coffee or Decaf
Interactive Murder Mystery Game
The rich and famous are gathered at Arnold Moneymaker's mansion. Please come in cocktail attire. You cannot be in too much glitz or glam for tonight's party.
Dates at Dutch's Daughter in 2023
Advance reservations required. Limited attendance. Purchase a few table's worth of seats and turn one of these dates into a birthday party, corporate team building event or employee appreciation party.
Venue
Dutch's Daughter is an upscale American Restaurant in Frederick, Maryland. You should plan to visit regardless of whether or not you can attend this party. Your tastebuds will thank you.
Dutch's Daughter Restaurant
A History of Mysteries with Whodunnit for Hire
2018 - "Sinister Speakeasy" - 1920s
2019 - "Gag Me With A Spoon. She's Dead." - 1980s
2021 - "CLUE"
2022 - "Dead Men Tell No Tales" - Pirates
2023 - "Hollywood Homicide" - Present Day Glam
2024 - TBD (Maybe "19 Crimes" based on the wine of the same name)
FAQ
I've seen "Hollywood Homicide." Do you have other locations/dates/themes? Yes! Check out the options at https://whodunnit-for-hire.eventbrite.com
What time should I arrive? 7:45pm
What time does the event begin? 8:00 PM
I would like to buy tickets for my friend and give this as a gift. Wonderful! Yes you may purchase tickets for another guest. You will choose their entree for them when you purchase the ticket. They will use your name at the door upon arrival.
Will I be able to solve the mystery? Yes. There are clues pointing to a particular guilty party. This is not a majority rule decision.
I am celebrating a birthday. Is there a way to make it special for me? Yes. You could invite others. With eight or more you could arrange to come early for photos and mingling. Your group will have a private table. You could also volunteer to be a suspect accused of the crime.
I have a food allergy. How can I get that information to you? Choose "Dietary Concern" ticket. The Chef at Dutch's Daughter is able to accommodate almost all dietary restrictions with advance notice.
I would like to sit with my friend. Could we make separate reservations? Yes! Make a reservation with the same party name and you will be seated together. More than eight seats will be at neighboring tables.
I would like to book eight or more people. Is there a discount? If you pay by a check in the mail for eight or more seats, you will avoid eventbrite and credit card fees. Contact me, Wendy Olenik, at murdermysterycompany@gmail.com or 410-549-2722 before mailing the check.
Are there any exceptions to the no refunds policy? No. Plan accordingly. Unless the restaurant is forced to be closed by state or county mandate, the event will go as planned and there will be no refunds or exchanges.
What if there is an emergency (illness, death in the family, etc.) and I cannot attend? Give your seat to a friend. Have them use your name at the door.
I would like to buy every seat and offer this as my company's employee appreciation party or my family's next reunion. If all the seats are available, the date is yours. Reach me at murdermysterycompany@gmail.com or 410-549-2722 (accepts text).
I would like to arrange a private murder mystery party on an alternate date at Dutch's Daughter. This is such fun! The price is $3900 for a group of 48 guests. Each additional guest is $81.25 (maximum 120 guests). The price includes the mystery, meal, tax, gratuity, and free parking. I will customize the mystery based on your event. You may have a lunch or dinner party, mid-week or weekend. The date is dependent our availability. To include alcohol, bring a card and pay at the end of the event.I have another question. You can reach me (Wendy Olenik) at murdermysterycompany@gmail.com or 410-549-2722. I'm happy to help.
Upcoming Whodunnit for Hire Murder Mystery Parties