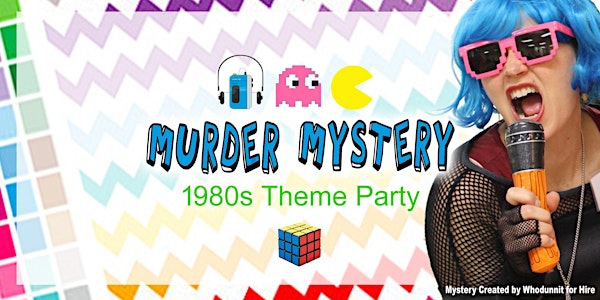 Multiple dates
Murder Mystery Party - Columbia MD
1980s Theme Murder Mystery Party - Columbia MD
Date and time
January 28 · 7pm - December 2 · 9pm EST
Location
DoubleTree by Hilton Hotel Columbia 5485 Twin Knolls Road Columbia, MD 21045
About this event
1980s Attire
Think big hair, neon clothing and extra jewelry for tonight. Madonna, Michael Jackson and Cyndy Lauper are like, totally welcome. Search "1980s Costume" for radical ideas.
Admission
Your admission includes the three course dinner with entrée options, tax, gratuity and mystery game. Parking is free at the hotel.
Dates at the Doubletree in Columbia
Saturday, January 28, 2023 - Sold Out
Tuesday, February 14, 2023 - Sold Out
Friday, March 17, 2023 - Sold Out
Saturday, April 1, 2023 - Sold Out
Sunday, May 14, 2023 - Sold Out
Tuesday, October 31, 2023 (Halloween)
Sunday, December 31 (New Year's Eve) - Coming Soon
Other Locations for Whodunnit for Hire parties
Tonight's murder mystery is an interactive game. Guests will be sleuths solving whodunnit or suspects proclaiming their innocence and giving out clues. Watch out! You could be accused of the crime.
Must be 21+ to attend.
80s Theme Drinks
The Doubletree By Hilton will offer these classic 80s themed drinks at the hotel's bar (please arrive at 6pm if you intend to purchase drinks).
Screwdriver (vodka & oj) - $12
Sombrero (coffee liqueur & cream) - $12
Alabama Slammer (amaretto, sloe gin, southern comfort, oj) - $13
Sex on the Beach (vodka, peach schnapps, oj, cranberry juice) - $14
Screaming Orgasm (coffee liqueur, vodka, amaretto, irish cream, milk) - $14
Overnight
Turn this into a murder mystery weekend by booking a room at the hotel. Enjoy the indoor heated pool. Take a trip to the Columbia Mall or explore nearby Ellicott City or Sykesville. Call the hotel for room reservations 410-997-1060.
Questions?
Please reach out to Wendy Olenik, Owner of Whodunnit for Hire by email to murdermysterycompany@gmail.com or phone or text to 410-549-2722. I am happy to help.
Private Event
Would you like to turn this event into a team building event for your company? That can be arranged on the date of your choosing based on availability. Reach me (Wendy) at murdermysterycompany@gmail.com or text to 410-549-2722. I'm happy to make that happen for you.
FAQ
What is the timeline for the event?
6:00 Doors Open | Cash Bar Available
7:00 Salad | Start of Mystery
7:30 Entrees | Interrogations
8:30 Dessert | Wrap-Up, Curtain Call, Awards
9:00 End
What time should I arrive? You should arrive between 6 and 6:30pm.
I've seen "Gag Me With A Spoon. She's Dead." Do you have other locations/dates/themes? Yes! Check out the options at https://whodunnit-for-hire.eventbrite.com.
I would like to sit with my friend. Could we make separate reservations? Yes! Make a reservation with the same "party name" and you will be seated together. You'll choose a "party name" during check out.
Are there exceptions to the "no refunds policy"? No. Should any emergency prevent you from attending (i.e. death in the family or covid) give your seat to a friend. Plan accordingly.
What if there is a storm? If the Doubletree is open, the event will go as planned and there will be no refunds for no-shows. If the state of Maryland forces the hotel to close and the event is cancelled, everyone will get a full refund.
I would like to book more than eight people. Is there a discount? If you pay by a single check in the mail for eight or more seats you will avoid Eventbrite transaction and credit card fees. Contact me before mailing the check, Wendy Olenik, at murdermysterycompany@gmail.com or text 410-549-2722.
2023 Whodunnit for Hire Murder Mystery Parties