Murder Mystery Dinner - Towson Maryland
About this event
Tickets - Limited seats. No sales at the door.
Timing - 6:30 PM Welcome Reception; 7-9 PM Mystery Dinner
Cost - $75/person includes tax and gratuity
Age Requirement - Must be 21+
Group Seating Available - Celebrate an anniversary, birthday, bachelorette or retirement with us! Purchase a table of six. Or, choose a Party Name and make separate reservations. All reservations who choose the same Party Name will be seated together.
1st Course
Greens mixed with Heirloom Cherry Tomatoes, Vidalia Onion, Cucumber, Radish, Rainbow Carrots and Served with a House Made Dill Ranch Dressing
2nd Course Options
Fish - Panko Crusted Salmon Drizzled in a Bourbon Teriyaki Glaze and Served with Jasmine Rice and Sauteed Broccolini
Beef - Red Wine Braised Short Ribs, Served with Fingerling Potatoes and Chef's Choice Vegetables
Chicken - Sauteed Chicken Breast, Zucchini and Sun-Dried Tomatoes Served in a Rich Rose Cream Sauce
Vegetarian - Towson Tavern's Grilled Cauliflower Steak, Served with Jasmine Rice and Chef's Choice Vegetables
3rd Course (chosen on site)
Chocolate Cake or Cheese Cake
Killer Cocktails (Available for purchase on site)
Not included in the purchase price. Full cash bar. 1920s themed cocktails will be available.

Recommended Dress - Gangsters and flappers of the 1920s encouraged. Search "1920s costume" for ideas. Men in fedoras and wearing suspenders, ladies in sparkles, feathers and headbands.
Participation Encouraged
This event is an interactive murder mystery game. As a guest, you will be asked to participate in the mystery as a sleuth searching for clues and interrogating suspects, or as a suspect proclaiming your innocence. Watch out! You could be accused of the crime.
FREQUENTLY ASKED QUESTIONS
*Where do I park? We have Valet Parking at Towson Tavern. Pull up to the door on Shelay Avenue. While the service is free, a $2-$5 tip is customary for our Valets.
*My friend and I want to sit together. Can we book individually? Yes. You may make separate reservations. When asked "Are you part of a larger party?" Answer "Yes." If both of you choose the same Party Name, your seats will be together.
*I'm celebrating. How can I have an entire table devoted to my party? Choose a Party Name and give it to your friends and family. Our tables hold six. If you need more reach me via email - murdermysterycompany@gmail.com
*Is there a savings if I purchase an entire table? Yes. Purchasing a table will reduce eventbrite ticketing and credit card fees. If you'd like to avoid those fees entirely send an email to arrange payment by check. This is only available for six or more seats.
*Do I need to print my ticket? No. Save your ink. Give your name and party name at the door.
*Do I need to wear a costume? Most guests will come dressed up. It is part of the fun. You do not need to purchase a costume. Search 1920s costume for ideas then check your closet, you probably have something that would work.
*I have a severe food allergy. What should I do? Choose "Dietary Concern". The Chef can accommodate allergy concerns.
*Is it okay if the name on my ticket doesn't match the person who attends? Yes. If an illness or emergency prevents you from attending, give your seat to a friend. Have them use your name upon arrival.
*Can I get a refund? No. All sales are final. Plan accordingly.
*What if there is inclement weather? Unless there is a Maryland emergency preventing Towson Tavern from opening, the event will go as planned and there will be no refunds.
*Are there any exceptions to the refund policy (death in the family, illness)? No. Sales are final. If an illness or emergency prevents you from attending, give your seat to a friend.
*I would like to turn my company party (or family reunion) into a murder mystery party at Towson Tavern. Is that possible? Yes! Towson Tavern can accommodate groups of between 20 and 80 guests. If you don't make changes to the menu, we'll be able to keep the price at $75/person. Contact Wendy Olenik at Whodunnit for Hire for details. 410-549-2722 or murdermysterycompany@gmail.com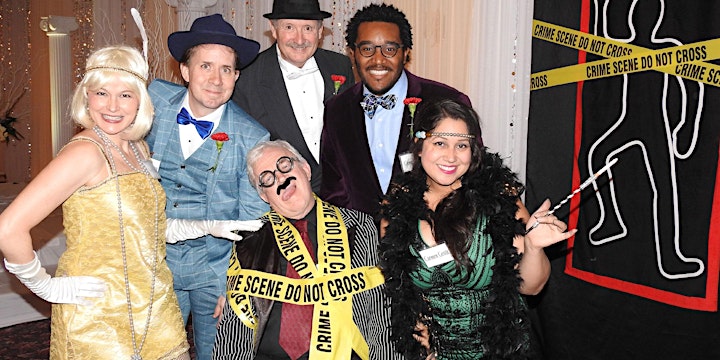 Organizer of Murder Mystery Dinner - Towson MD
Whodunnit for Hire turns company parties and team building events into murder mystery parties. Are you looking for a private event? Turn one of these murder mystery events into your personal party by booking tables worth of seats. Or, if your preferred date is not on the list and you have a minimum of thirty guests, call me and I'll set it up for you. But watch out. This is so much fun, you might die laughing!

Whodunnit for Hire
410-549-2722; murdermysterycompany@gmail.com