Description
Looking for some exciting entertainment for February? Look no further than Thorndale Oaks!
We are proud to be hosting our first Murder Mystery Dinner at Thorndale Oaks in Oxford, NC. It's a Mystery Dinner Theater, who are well renowned for their dinner performances at Duplin Winery, will give you a night full of entertainment while Thorndale presents you with a lovely dinner.

No evening is more intriguing than spending an evening of murder among friends. Piece together the clues of the case in the interactive detective dinner show.
Tickets are $65.00 per person which includes appetizers, dinner, and dessert and of course the entertainment. For more information contact us at Thorndale Oaks 919-603-3701.


MINGLE AND GREET COCKTAIL HOUR: 6PM TO 7PM


DINNER 7PM TO 9M.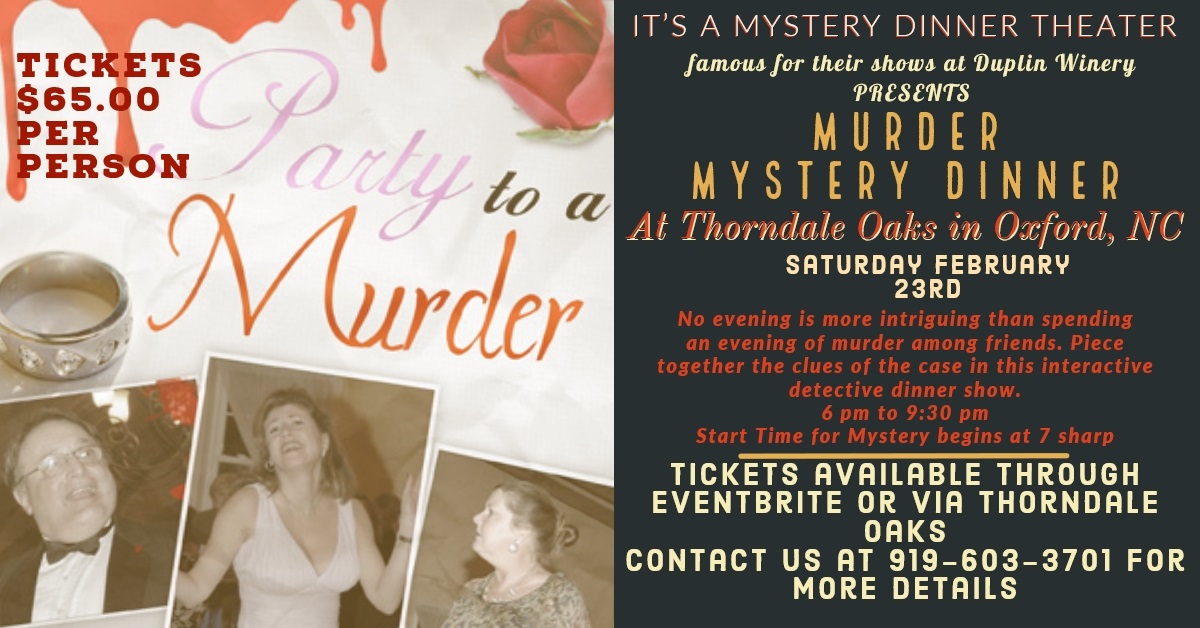 Following Menu:
Spinach Artichoke Dip with Chips
Cheese Board with Crackers
Dinner
Chopped Garden Salad with Tomato, Cucumber, House-made Croutons
and Balsamic Honey Vinaigrette
Chicken Marsala
Linguine Pasta with Boursin Cheese Cream Sauce or
Pesto Marinara
French Bread with Dipping Sauce
Dessert: Apple Pie or Pecan Pie