Description
Murder Mystery Dinner

Join us for an evening of murder, mystery and mayhem as Whodunnit for Hire and Baldwin's Station Restaurant in Sykesville, Maryland team up to bring you "19 Crimes" the Murder Mystery Dinner based on the brand of wine by the same name.
2018 Dates
Friday, January 26, 2018
Friday, February 23, 2018
Friday, March 23, 2018
Friday, April 27, 2018
Friday, May 25, 2018
Friday, June 29, 2018
Friday, July 27, 2018
Friday, August 31, 2018
Friday, September 28, 2018
Friday, October 26, 2018
Friday, November 2, 2018

Timing
6:30 - 9:30 PM (Kindly arrive between 6:30 and 6:45 PM)

The Cost
$75/person inclusive for the mystery, three course dinner with entree options, taxes, gratuity, happy hour drink prices all night and free parking in the lot out front or nearby.

Group Seating Available
Celebrate an anniversary, birthday or retirement with us! Family and friends encouraged. Bachelorette parties and "ladies night out" groups all welcome. Upon check out you will be asked for a Party Name. All reservations giving the same Party Name will be seated together.

The Menu
Salad Course: The Cellblock Caesar - romaine hearts, house-made croutons, shaved asiago, roasted garlic bruschetta, topped with house-made dressing
Entree Course (Choose One):
The Lawbreaker; Lamb - lamb loin chop drizzled with hot honey glaze, served with pine nut and cranberry couscous, and vegetable du jour
Or The Jailbird; Chicken - grilled chicken breast with lemon basil beurre blanc, served with herb butter couscous and candied Malibu carrots
Or The Unpardonable; Fish - roasted tilapia with sundried tomato cream sauce, served with wild rice pilaf and asparagus
Dessert Course: The Sticky Fingers - apple cinnamon bread pudding drizzled with caramel and Chantilly cream

Optional Wine Dinner
Enjoy a glass of 19 Crimes Wine with each course. Glasses will be sold at the Happy Hour price of $6/glass and we encourage you to try different option with each course. A quick presentation of the 19 Crimes Wines will start this show.

Signature Cocktails Available for Purchase
Twentieth Crime: 19 Crimes Cabernet Sauvignon, Lemonade, Lemon Juice, Orange Juice
Sinister Sangria: 19 Crimes Hard Chard, Angry Orchard Hard Apple Cider, Apple Juice, Sprite
Convict Cocktail: 19 Crimes The Warden (Red Blend), Brandy, Sprite, Fresh Fruit
Recommended Dress
Business Casual Attire

The Storyline
In 1783, the British Government established 19 Crimes Punishable by Transportation. If convicted, the penalty was a one way trip to the penal colony in Australia.
Jump to present day Sykesville, Maryland. This is a quiet town. It is filled with quaint shops, antique stores and clothing boutiques. It recently had the honor of winning the prestigious title "Coolest Town in America." The folks are friendly and quick with a smile.
But they are frustrated with outliers unwilling to follow some simple rules. So, the townsfolk have updated and reinstated the 19 Crimes. Tonight those convicted will enjoy a farewell dinner surrounded by family and friends; for tomorrow they will be banished from Sykesville and shipped out of town.
Unfortunately, a stranger will stumble in during their last meal and die! Oh no! The convicts and guests will be called upon to help solve the crime. They will search for clues, interrogate suspects and solve whodunnit.

The murder mystery is a comedy and will at no time have guests frightened or confused.

Participation Encouraged
This event is an interactive murder mystery game. As a guest, you will be asked to participate as a convict, sleuth or a suspect. Watch out! You could be accused of the crime.
19 Crimes
Tonight's murder mystery storyline is based on a wine created by the Australian winemaker Tony Robinson. Treasury Wine Estates was first established in 1843 in Hunter Valley, Australia and today has an award winning portfolio of more than 70 brands of wine. One of those brands is "19 Crimes" and it was the catalyst for this tale of intrigue written and presented by Whodunnit for hire.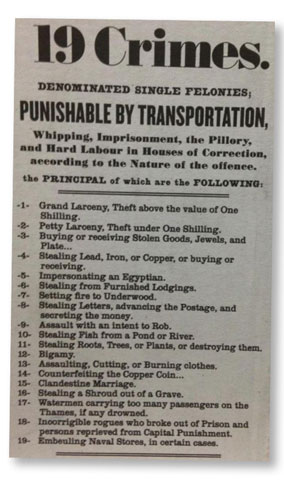 Refunds
There are no refunds within seven days of the event. You may give your ticket to a friend or family member. Or you could try to sell your ticket on http:ticketswap.com.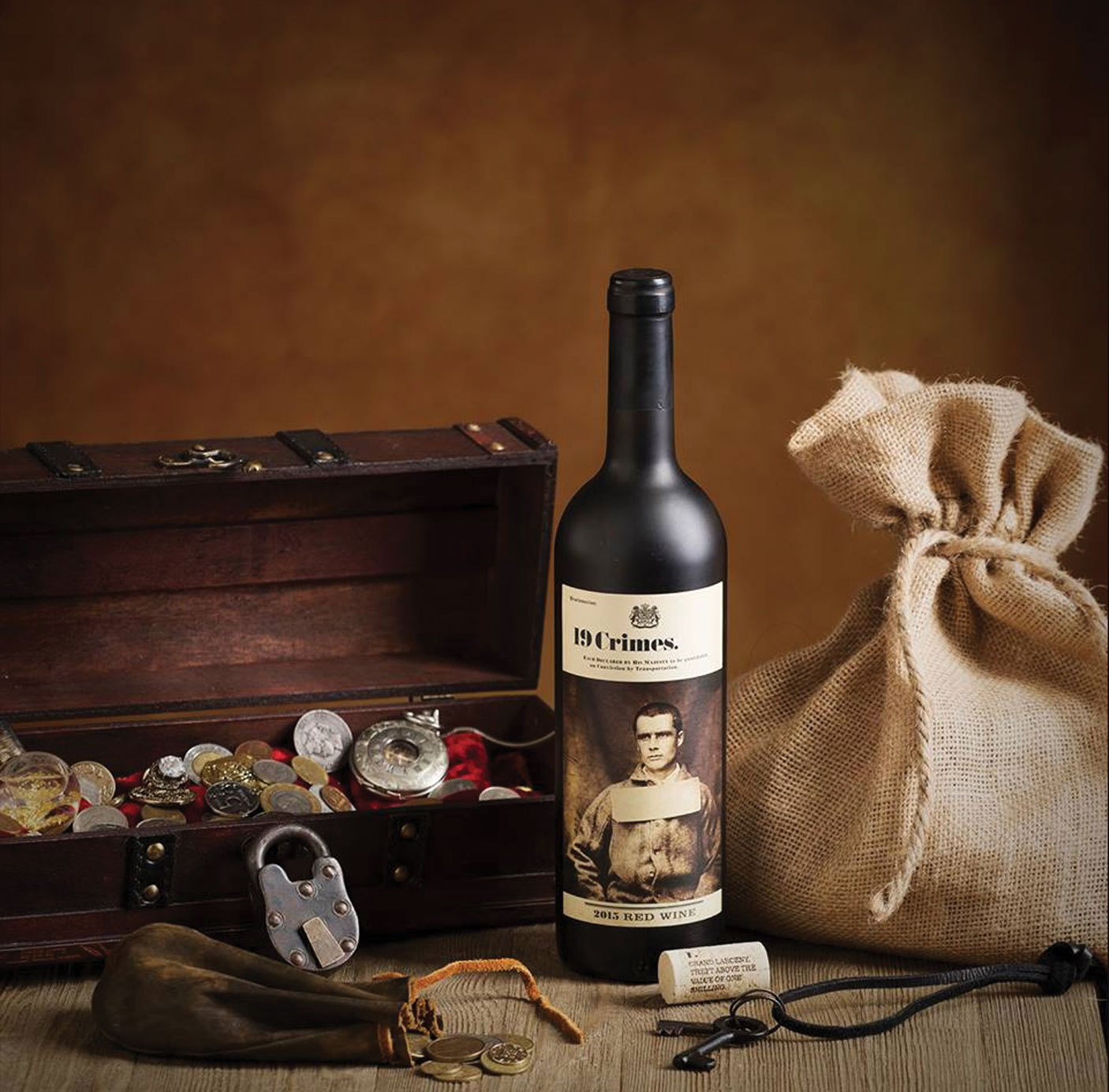 ---
FREQUENTLY ASKED QUESTIONS
*My friend and I want to sit together. Can we book individually? Yes. You may make separate reservations. When asked "Are you part of a larger party?" Answer "Yes." If both of you choose the same Party Name, your seats will be together.

*I'm celebrating. How can I have an entire table devoted to my party? Choose a Party Name and give it to your friends and family. Our tables vary in size. If we cannot accommodate you at a single table you will be next to one another.

*Will I save money if I purchase an entire table of seats? Yes. If you purchase six or more seats by check in the mail, you will avoid on-line ticketing fees. Send to "Whodunnit for Hire," 1018 Grandview Avenue, Sykesville MD 21784.

*How should I dress? This dinner is casual. Come as you are.

*Do I need to print my ticket? No. Save your ink. You may give your name at the door.

*Is there a Vegetarian (Vegan, Gluten Free, Other) option? Yes. Choose the "Dietary Concern" ticket and let us know what you need. This goes for allergy concerns as well.

*Is it okay if the name on my ticket doesn't match the person who attends? Yes. If an illness or emergency prevents you from attending, you are welcome to give your seat to a friend. Be sure to let them know what you have ordered.

*Is there a minimum age requirements to enter the event? There is no minimum age, however you should be aware that most guests will be over 21, alcohol will be available for purchase throughout the event and it is a wine themed show. You must be 21 in order to purchase alcohol.

*Where do I park? There is free parking in the front lot or around the corner at 732 Oklahoma Avenue, Sykesville.

*Do you have alternative locations? Yes, click on this image for a list of murder mystery dinner options.



*I have a question and you didn't provide an answer here. My name is Wendy Olenik and I own Whodunnit for Hire. I'm happy to help. Email your question to murdermysterycompany@gmail.com