Location
Shawnee Golf Course
460 Northwestern Parkway
Louisville, KY 40212
Come dressed in your best 1920's themed Gatsby Attire! A Soulful Mystery Dinner experience! & Live-music•Food•Dance•Theater•Interactive Fun
About this event
1920's Gatsby Murder Mystery!
Louisville, KY
Are you up for a challenge? "A Murder in Harlem" is a live, who-done-it experience that includes the comfort of a delicious three-course meal. Just beware, the suspect will be lurking somewhere in the room, and you may find yourself examining the scenes as a real-life detective!
Due to some mild content, loud noises, and adult humor, our murder mystery production is geared toward adults. Only adults (ages 18 years & older) will be permitted; no infants, toddlers, or young children will be allowed to enter.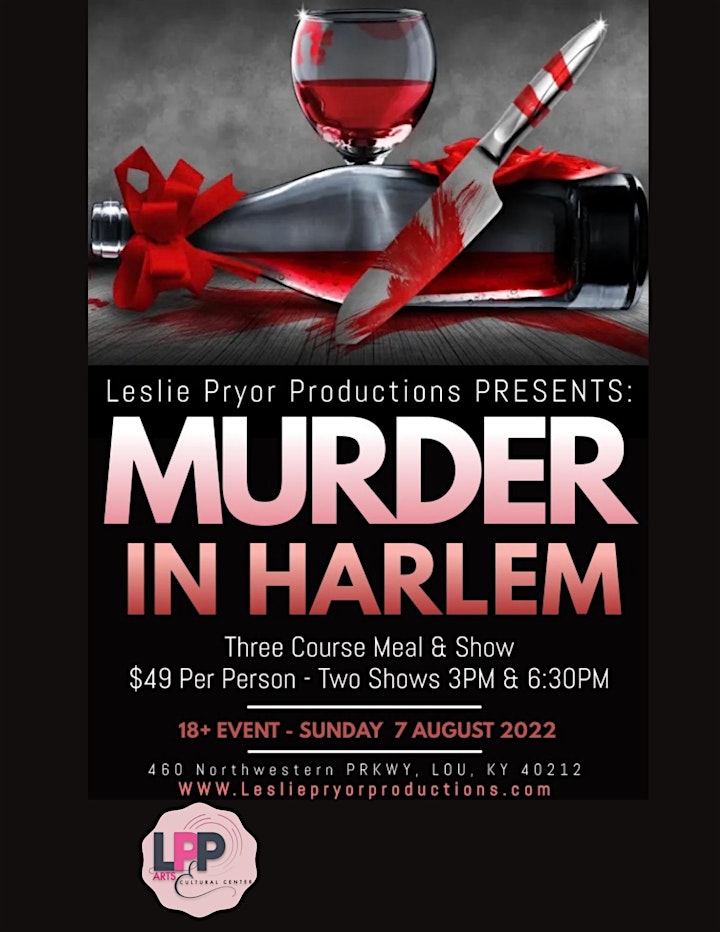 About this event
Enjoy a soulful dinner at the Historic Shawnee Golf Course but Keep Watch and don't let your guard down! While you dine, our Murder Mystery Dinner Theater team will perform the locally written and produced thriller, "A Murder in Harlem". You will become so caught up in the drama that you will start wondering and asking the question, #whotheMurderer?!"
The happenings take place at Harlem's Premier Jazz Club in the roaring1920's. It is the height of the jazz era; this is the age of Prohibition—and of bootleggers and gangsters. Fred Cook is the club's owner who happens to be the son of a successful bootlegger and mob boss. While Fred is a successful businessman, he is also a very handsome and charming married man who might be considered "a little too friendly" with the ladies. The jazz club is enjoyed by many artists, musicians, and gangsters alike and while enjoying a night of soulful music, strong booze, and petty games…a sudden murder suspiciously takes place right there in the club!
In addition to the mysterious entertainment, you the audience will get to vote on a Best Dressed Guest who will receive a special surprise. But don't forget to pay attention to the show because the top guest investigator who solves the mystery will also win a prize! Here's a clue: The Owner didn't do it!
There are so many twist and turns, the show will have you second guessing your own mystery solving abilities. You do not want to miss this twisted, suspenseful, mystery thriller.
Click a show time below to see pricing and get tickets! Seating is limited so get yours NOW!!!
MENU:
Option #1
Harlem Garden Salad
Marinated bake chicken (White Meat) Fresh steamed broccoli, Wild rice
Chef's choice dessert
Option #2
(Vegan, dairy free, nut free, gluten free)
Harlem Garden Salad
Spaghetti Squash - Onions, tomatoes, spinach & marinara sauce
Chef's choice dessert
————————————————————
Option #3 VIP ONLY
Choice of two meats!
All seasoned baked Cod fish, roasted garlic seasoned potatoes, asparagus
Marinated bake chicken Breast, Fresh steamed broccoli, Wild rice
Option #4
Choice of Two Entrees!
(Vegan, dairy free, nut free, gluten free)
Cauliflower Spaghetti - Onions, tomatoes, squash & zucchini w/marinara sauce
Plant-Based Roast w/gravy, Clery, Carrots, Potatoes and wild rice
Water or Iced Tea (Served Upon Request)
No substitutions can be made.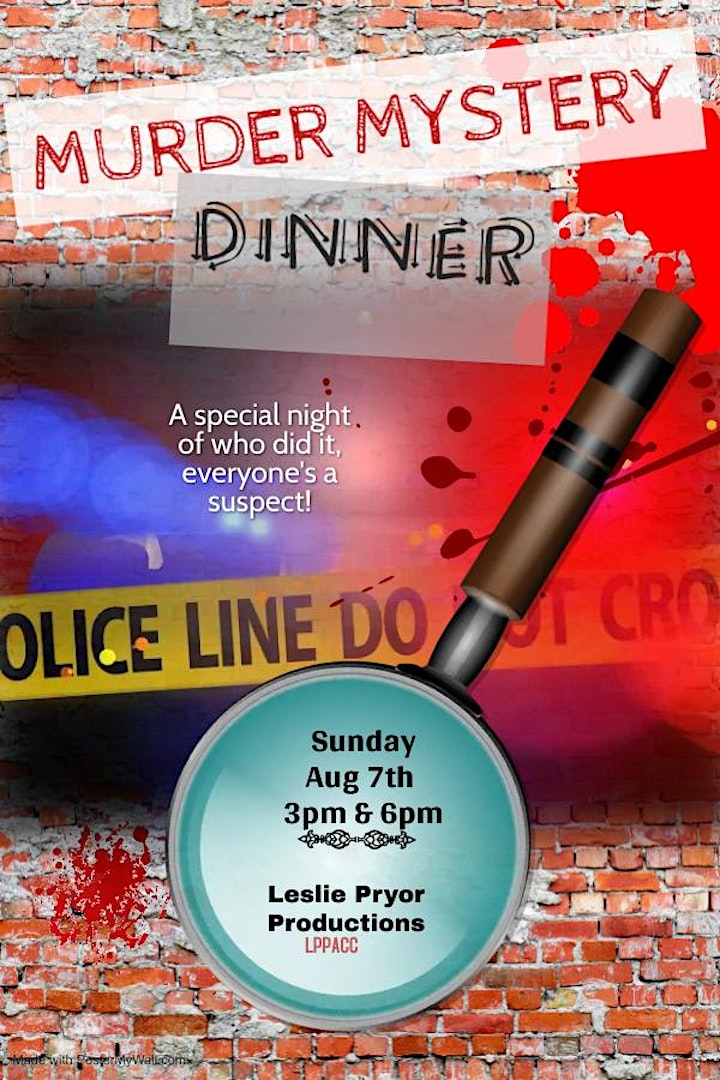 * If you have questions, please email admin@lesliepryorproductions.com
* Guests will be seated together to fill tables of 8. All tickets purchased on the same order will be seated together. We encourage everyone to buy a table of 8 to ensure you sit with those you are most comfortable.
Mask Required
*Menu subject to change.
*Tickets are non-refundable.
*Free Parking
*No firearms/No Guns permitted
*This event is best suited for guests 18 years and over.
*Whothemurderer #MurderInHarlem