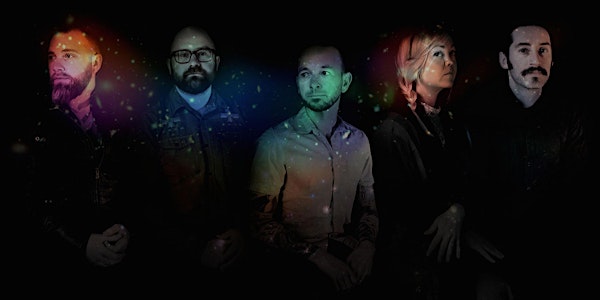 Murder By Death w/ O'Death at Ace of Cups
Presented by Archie Fox Live
Location
Ace of Cups
2619 N High St
Columbus, OH 43202
"A heady blend of brooding and erudite balladry and orchestral indie rock..." For fans of Minus the Bear, Cursive, mewithoutYou, etc.
About this event
Murder By Death's eighth full-length album The Other Shore is a space-western about a ravaged Earth, its fleeing populace, and a relationship in jeopardy. It's an epic journey rocketing toward the unknown—in the universe, within the characters represented through 11 songs, and through the band's evolving sound. But basically, the quest poses the ultimatum: Stick with what you have, or risk it all to find something new.
Recorded at La La Land in Louisville by Kevin Ratterman (My Morning Jacket, White Reaper, Ray LaMontagne, Basia Bulat) and Anne Gauthier, The Other Shore sonically captures the mood of two lovers choosing separate paths, one who stays on Earth and one who leaves it.
As trailblazers of the early 2000s indie-Americana style, the Louisville, KY-based quintet finds a way of taking tried & true rock-and-roll and knocking it slightly off axis, into tottering revolutions of something eerie, emotional, immediate, lush, and uniquely theirs. As the album and voyage progress, the atmosphere transitions from earthy to cosmic, sober to festive—from folksy Midwestern indie rock ("Stone") and piano-laden devil-on-one-shoulder/angel-on-the-other Leonard Cohen-style balladry ("Only Time"), to buoyant new wave recalling The Cure ("Bloom") and celebratory jangly singalongs ("I Have Arrived").
In between departure and arrival, there is a brooding, swirling complexity. In some moments, The Other Shore is loaded with intimate and visceral detail, like reading a manic stranger's daily journal; and in others it's more cinematic and visual, as if one were listening to a movie. "Alas" uncovers the pastoral air and morose gloom of a decaying land, captured by multi-instrumentalist David Fountain's droning accordion, swelling classical cello lines from Sarah Balliet, and the echoey acoustic guitar strums and the baritone call of guitarist/singer Adam Turla. The complicated tension between diverging lovers is wretched forth as Turla resigns, "I need to stay/ But alas I must go." Later in "True Dark," you can hear a rattling craft soar through the cosmos, as a bounding triplet rhythm on drums and electric bass accelerate through spooky black holes, bright star twinkles, and meteoric dust.
As fear and doubt loom, hope of escape and potential flicker on the horizon. "Stone" is classic MBD built around the group's signature gothic punk spirit and redemptive, dark horse attitude; Dagan Thogerson's driving rhythmic pulse; a Morricone-meets-Calexico trumpet-cello duet; and Turla's Everyman aphorism, "Ain't ya s'posed to bend/ ain't ya s'posed to flex like a willow in the wind/ ain't it easier to bend." Eventually "Bloom," "I Have Arrived," and "New Old City" signal the rebirth into something new and foreign, an embryonic marriage of '90s indie-punk structure, the way-outedness of Ziggy Stardust, the grandeur of synth pop, and hints of dusty roots shuffle.
The Other Shore pits quantifiable reality against incalculable newness. The duality of big and broad vs. microscopic and narrow is ever-present, especially as the group explores untapped genres, dynamic and emotional touches, intersecting and introspective storylines, and remote edges of the galaxy. Welcome: After nearly 20 years, thousands of performances around the world, and eight albums—you've landed on your new Murder By Death.
The band has also taken their evocative sound to other evocative spaces, being the first group in recent history to play shows at the Historic Stanley Hotel in Estes Park, CO (the inspiration for Stephen King's The Shining), which has culminated into an annual residency of sold-out performances after five years. While that event takes fans to over 7500 feet above sea level, a new experience planned for summer of 2018 will take fans 333 feet below the surface of Earth, in the middle-of-nowhere Tennessee, where MBD will play two shows in a cave in the Cumberland Caverns.