Location
Malden Center
89 Commercial St
Malden, MA 02148
A Murder Mystery Pub Crawl inspired by Murder at the Malden Bank
About this event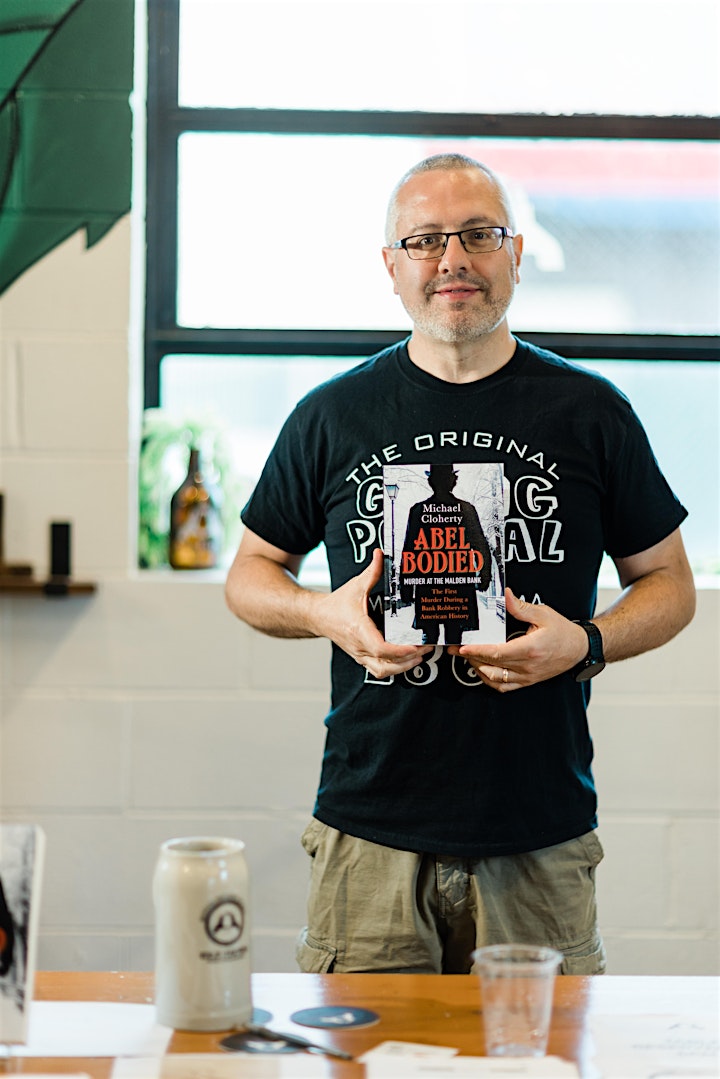 Join us on this summer for a one-of-a-kind Mystery Pub Crawl in downtown Malden inspired by the historical 1863 murder at Malden Bank, and celebrating the book Abel Bodied: Murder at the Malden Bank written by Malden native Michael Cloherty who will be at the final location to sign and sell his novel.
Tickets are spread out in 20 minute increments beginning at 5pm with the event wrapping by 10pm. Choose the time slot for your group to show up and begin your adventure. Depending on the pace of your group it can take anywhere from 1.5 - 3 hours to complete. You set the pace based on how long you take to solve the challenges and linger at each location to enjoy food and drink.
This Pub Crawl takes you to multiple locations in downtown Malden connected to the historical murder that are also now conveniently drinking establishments! But this is not just a pub crawl! At each location you will encounter interesting characters who will present you with challenges and puzzles to solve to unlock the mystery behind the murder. Decide who to help, and see if you can solve the crime!
We offer both a Story Mode, which features fun, easy challenges that you perform to win the character's trust; as well as a Challenge Mode , which features more challenging pen-and-paper puzzles. Whether you are in it just for some casual fun, or to test your skills, everyone can join in!
This event is part of the Malden Summer Festival Program and is sponsored by the Office of Mayor Gary Christenson and the Malden Chamber of Commerce. If you wish to further support Incantrix Productions and our staff producing this event, we are happy to accept donations.
Order of Locations:
Idle Hands Craft Ales, 89 Commercial St, Malden, MA 02148
Malden City Hall, 215 Pleasant St, Malden, MA 02148
Exchange Street Bistro, 67 Exchange St, Malden, MA 02148
3 Amigos Bar & Grill, 375 Main St, Malden, MA 02148
Faces Brewing Co., 50 Pleasant St, Malden, MA 02148
Hugh O'Neill's Restaurant & Pub, 45 Pleasant St, Malden, MA 02148
This is an easy 15-minute walking loop but there is plenty of parking in the area should you need to drive from one location to the next and accessible parking and entry to the spaces.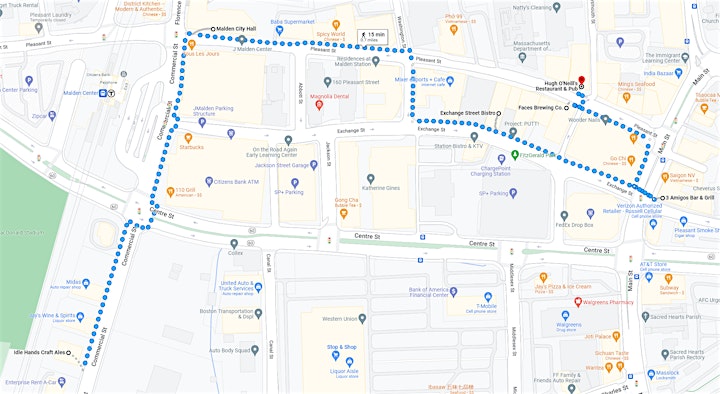 What to Expect
You and your group members will sign up for a specific start-time. Start times are staggered by 20 minutes, which allows you to move from location to location to meet the characters and solve their challenges before another group comes along. We encourage you to patronize the various establishments, but not linger too long in any one place or you may run out of time to complete the mystery.
If you run into another group already talking with our characters, please allow them some time to complete their interactions before approaching.
When you have collected all of the clues, you can return to your starting location and decide how the story ends!
COVID-19 Safety
Please adhere to the safety protocols outlined by each location you visit; bring a mask in case it is required by the venue. All of our staff are vaccinated and will put on a mask when requested.
FREE Parking
Free parking at the city garages at 170 Centre St or 7 Jackson St
Age Restrictions
This game is playable by families, but meant for patrons 21+, as most locations are restaurant/bars. There is no gore or bad language used, though the subject of intrigue is an unsolved murder.
Costumes
Costumes for the event are not required, though Pub Crawl staff will be dressed in 1863-appropriate clothing. If you enjoy dressing up, we encourage you to do so!