Murder at the Howard Johnson's

Multiple Dates
Event Details
You're Invited To Join Us...
For A Wee Bit Of Holiday Mirth & Murder!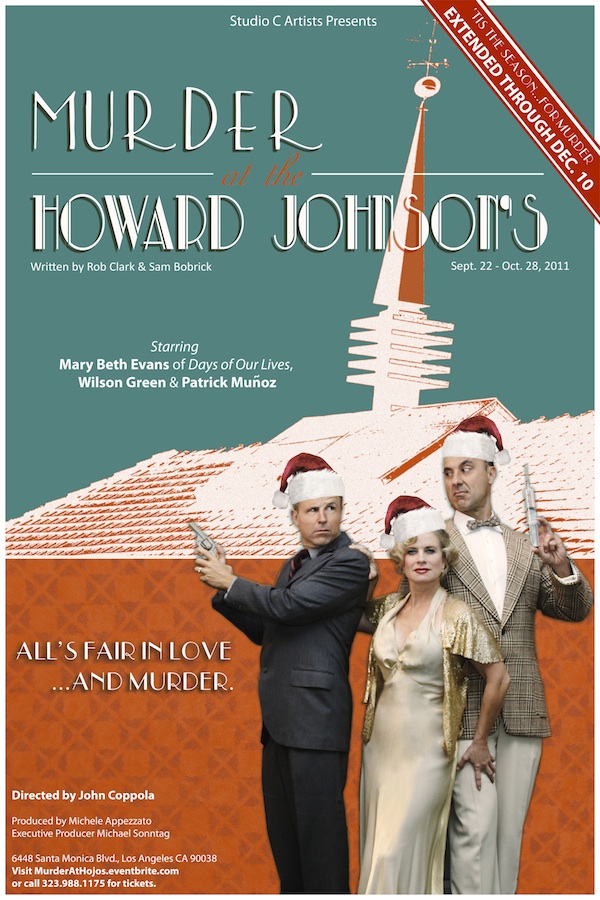 Murder at the Howard Johnson's is an uproarious screwball comedy, about a love triangle and three murder plots that all take place at a Howard Johnson's Motor Inn - and all on three separate holidays.  This production is set during the height of the Great Depression – times are tough, desperation is in the air – and Arlene's passion-less marriage to Paul has her wanting for more.  Much more.  That's where Mitchell comes in – he's their dentist, and also Arlene's secret lover.  Act one – Arlene and Mitchell meet at the HoJo's to kill Paul, but fail.  Act two – Arlene and Paul reunite, and meet at the motel to kill Mitchell; they fail too.  Act three – Paul and Mitchell, who have now both been dumped, pair up at the Howard Johnson's to do-in Arlene. You'll DIE laughing at this madcap farce!  It's HO-HO-HOmicide for the holidays!
All Is Fair In Love... And Murder.
"Enough laugh lines, mirth provoking situations and extravagant sight gags to outfit two rapid fire farces of the absurd." - Variety
"A holiday of laughter… Beautifully polished, very funny very American comedy." - WNBC TV
MURDER AT THE HOWARD JOHNSON'S
Written by Ron Clark and Sam Bobrick
Starring Mary Beth Evans of Days Of Our Lives
Wilson Green & Patrick Muñoz
Directed by John Coppola
Produced by Michelle Appezzato
Executive Producer Michael Sonntag
RUN EXTENDED - Continues At Studio C Artists Through December!
Continuing:
Saturday, November 19th @ 8:00PM
Saturday, November 26th @ 8:00PM
Friday, December 2nd @ 8:00PM
Saturday, December 10th @ 8:00PM
  
General Admission - $22.50
  
Approximate running time: 1 hour 15 minutes
Produced by special arrangement with Samuel French, Inc.
Where

Studio C Artists
6448 Santa Monica Blvd.
Los Angeles, CA 90038


Multiple Dates
Add to my calendar
Organizer
At Studio C, we combine the strength of old Hollywood with the power of innovation to offer the most unique and effective approach to casting, acting instruction and storytelling. Equal parts production company, casting office and acting studio, we take the of the old studio model and add in our own contemporary spin to meet the demands of today's entertainment industry.
For actors looking to discover themselves - we offer workshops, master classes and special intensives.
For producers in search of the right talent - we offer a full range of casting services.
For audiences seeking high-quality storytelling - we produce shows for both the stage and screen.
Studio C Artists has an intimate, stageless theatre space in Hollywood, right in the heart of Theatre Row. The venue seats up to 40 with riser seating, and a small, ground level stage area. The space provides the perfect venue for acting classes, workshops, auditions, and performances that don't require sets (i.e., sketch comedy, black box theater).
To find out more about our company, our work or how you can get involved, visit us online or call (323) 988-1175.