Description
You're Invited To Join Us...
For A Wee Bit Of Holiday Mirth & Murder!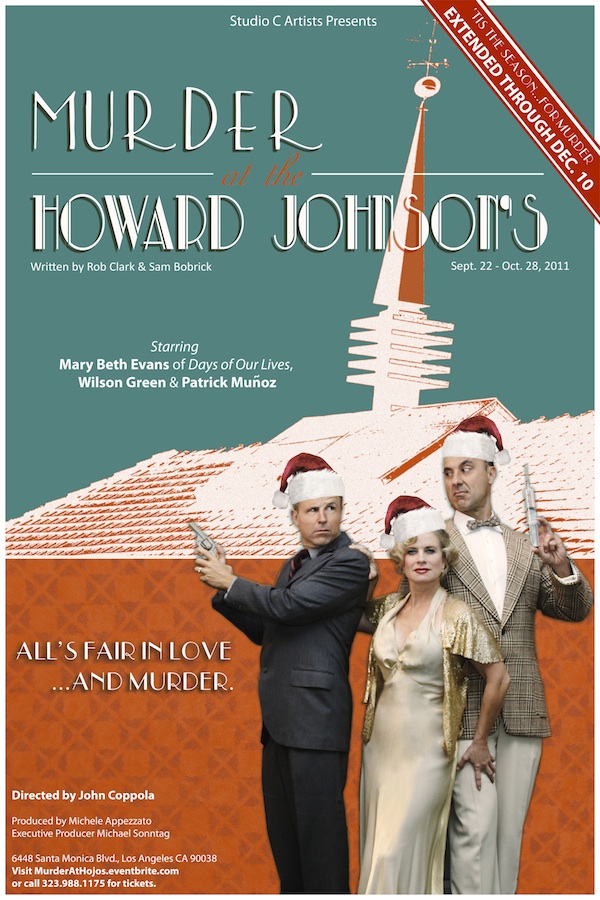 Murder at the Howard Johnson's is an uproarious screwball comedy, about a love triangle and three murder plots that all take place at a Howard Johnson's Motor Inn - and all on three separate holidays. This production is set during the height of the Great Depression – times are tough, desperation is in the air – and Arlene's passion-less marriage to Paul has her wanting for more. Much more. That's where Mitchell comes in – he's their dentist, and also Arlene's secret lover. Act one – Arlene and Mitchell meet at the HoJo's to kill Paul, but fail. Act two – Arlene and Paul reunite, and meet at the motel to kill Mitchell; they fail too. Act three – Paul and Mitchell, who have now both been dumped, pair up at the Howard Johnson's to do-in Arlene. You'll DIE laughing at this madcap farce! It's HO-HO-HOmicide for the holidays!
All Is Fair In Love... And Murder.
"Enough laugh lines, mirth provoking situations and extravagant sight gags to outfit two rapid fire farces of the absurd." - Variety
"A holiday of laughter… Beautifully polished, very funny very American comedy." - WNBC TV
MURDER AT THE HOWARD JOHNSON'S
Written by Ron Clark and Sam Bobrick
Starring Mary Beth Evans of Days Of Our Lives
Wilson Green & Patrick Muñoz
Directed by John Coppola
Produced by Michelle Appezzato
Executive Producer Michael Sonntag
RUN EXTENDED - Continues At Studio C Artists Through December!
Continuing:
Saturday, November 19th @ 8:00PM
Saturday, November 26th @ 8:00PM
Friday, December 2nd @ 8:00PM
Saturday, December 10th @ 8:00PM

General Admission - $22.50

Approximate running time: 1 hour 15 minutes
Produced by special arrangement with Samuel French, Inc.