Description
Tenderloin in Motion is a mural that will be up along the entire unit block of Turk Street, from Mason to Taylor, on the barricades of the Group i construction site. The mural will be up for two years, from Spring 2018 until 2020. The mural is designed by local mural artists, Elaine Chu and Marina Perez-Wong, who go by Twin Walls Mural Co., and features dancers that represent the four natural elements and the diversity and freedom of the Tenderloin.
Elaine and Marina will be working on the mural through the month of April in the Project Space studio at CounterPulse, and the public is invited to come help paint! The artists will provide all the supplies and instruction needed to paint the dancers that will be featured in the mural. Please wear clothes that can get paint on them.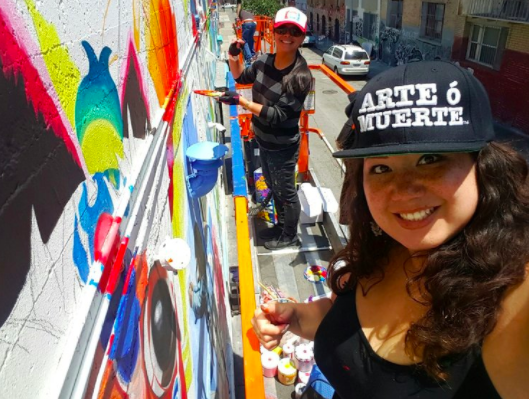 Elaine and Marina painting a mural in Hemlock Alley, San Francisco CA
These are the days Twin Walls will be opening the studio up for the public to come paint, RSVP by selecting a date above.
Thursday April 12 3pm-7pm

Saturday April 14 12pm-4pm

Tuesday April 17 3pm-7pm

Tuesday April 24 3pm-7pm

Saturday April 28 12pm-4pm