Travis Park Church 175th Mural Project Launch & Paint Party
About this event
The Downtown community is invited to kick-off the painting of one of San Antonio's largest murals titled ALL ARE WELCOME, LOVE CONQUERS HATE.
Five* artists have come together to work alongside Travis Park Church to create a long-lasting, larger-than-life piece resembling the church's historic stained glass windows and echoing a message of hope, acceptance, justice, inclusion, and love.
The event will also mark the International Day of Peace, "a day devoted to strengthening the ideals of peace, through observing 24 hours of non-violence and cease-fire.
In 2021, as we heal from the COVID-19 pandemic, we are inspired to think creatively and collectively about how to help everyone recover better, how to build resilience, and how to transform our world into one that is more equal, more just, equitable, inclusive, sustainable, and healthier." [United Nations]
11:00 AM - 12:00 PM - Press Conference and Mural Artwork Unveiling
01:00 PM - 04:00 PM - Food Truck Lunch, stop by and meet our Mural Artists!
06:00 PM - 08:00 PM - Community Prime & Paint Party, donations encouraged
From 5pm until 8pm families are invited to help kick-off the mural painting by grabbing brushes and priming 10x10 sections of the 3500 sq. ft. canvas. Participating family names will be featured in the mural artwork - yes, your toddler can be a "patron of the arts" - how fun!
FREE PARKING IS AVAILABLE AT THE CITY OF SAN ANTONIO - ST. MARY'S LOT AFTER 5PM
Families are encouraged to safely provide their own brushes and extender tools, or utilize those provided by Travis Park Church. All supply donations are welcome!
ABOUT TRAVIS PARK CHURCH
Established in 1846, Travis Park Church is grounded in history and vision. Founded by the Rev. John Wesley DeVilbiss, missionary to The Republic of Texas, who in 1844 preached the first protestant sermon ever heard in San Antonio and in 1946 organized the congregation in the courthouse. Today, the people of Travis Park Church continue seeking to make the world a better place through "unconditional love and action". Travis Park Church is affiliated with the Reconciling Ministries Network, a group of congregations and groups worldwide which have adopted statements welcoming people of all sexual orientations and gender identities. In 2019, Travis Park Church hosted and sheltered over 23,000 asylum seekers coming through San Antonio to travel to their designated host homes. Each and every week Travis Park Church, alongside Corazon Ministries, serves over 800 homeless individuals with warm meals, medical care, and supportive services. To learn more visit travispark.org.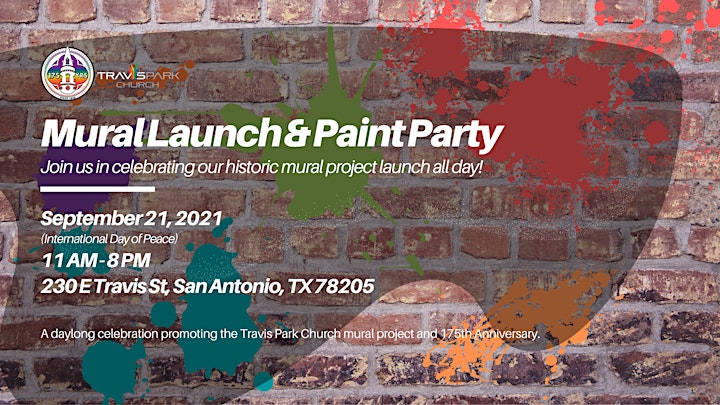 Organizer of Mural Launch & Paint Party
A top rated public relations and strategic communications firm in San Antonio, EHCUPR was launched in 2011 by entrepreneurial duo Christian and Uche Ogba.  
The pair are also the founder's of the Good People SA Mixer, San Antonio's most diverse entrepreneurs and professionals mixers.  
Together alongside a team of vendors and contractors the Ogbas have launched longlasting campaigns for Brooks City Base, the Edwards Aquifer Authority, SAMMinistries, the Westin Riverwalk, the Alamo City Black Chamber of Commerce, City of San Antonio and more.
EHCU PR is a leading resource in corporate event planning, event marketing, strategic communication, social media management and campaign marketing.  They've proven time and time again that their results driven tactics are what makes events great.
Events hosted by EHCU PR include community development activations, industry events and mixers, groundbreakings, seminars and conferences, social events for minority entrepreneurs, municipal and government meetings.
EHCU PR may be the host of an event while not being the owner of that same event.  Contact us for information on sponsorship opportunities.  EHCU PR affiliation as event manager or host does not imply event ownership.