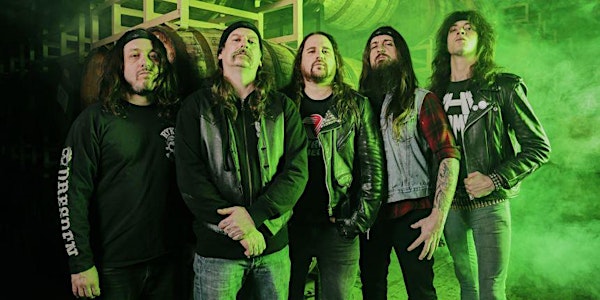 MUNICIPAL WASTE & NAPALM DEATH, with Sick Of It All, Take Offense.
Performers
Municipal Waste, Napalm Death
Sick Of It All, Take Offense
Location
The Broadberry
2729 W Broad St
Richmond, VA 23220
About this event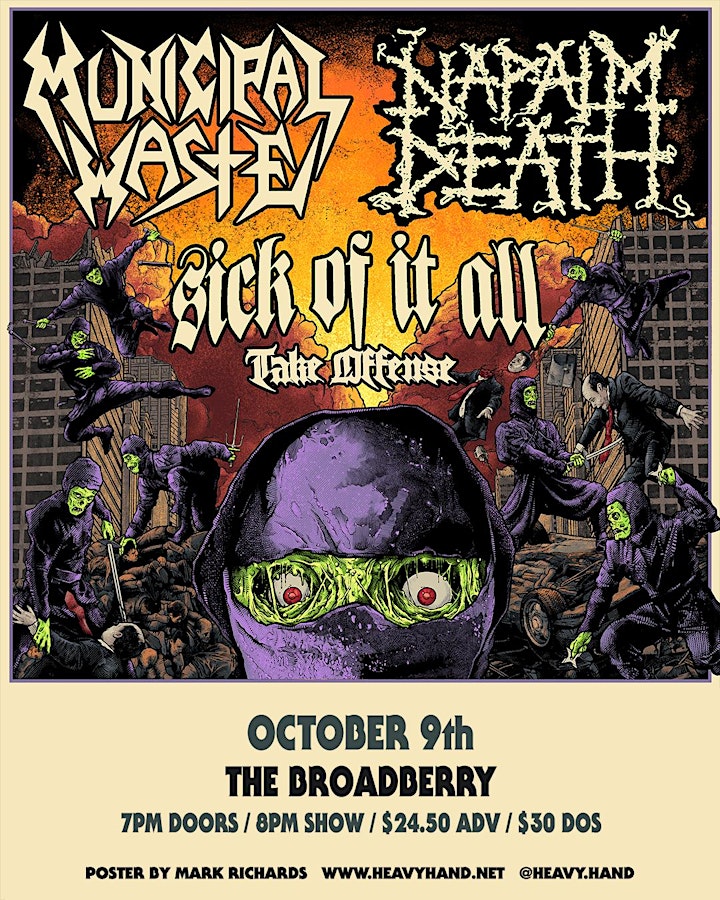 Municipal Waste
So what happens when a band's riotous reputation catches up with them? Precautionary measures are taken and they - of course - get banished, only this time, it's into space! When the greedy ship captain hordes the food rations, the crew kicks into survival mode, commit mutiny, and devour their captain skewing the story into a horrific yet fantastic cannibalistic voyage into space that cult movies are made of.
The Fatal Feast, the fifth studio album by Richmond, Virginia's speed metal punks MUNICIPAL WASTE, not only ponders the type of moral dilemma faced in the title track but also tackles earthly issues that consistently plague humanity ("Covered In Sick/The Barfer," "Repossession," "Standards And Practices," "12 Step Program," "Crushing Chest Wound"). These 37 minutes of new music consolidate the best of everything the band's got to offer: their utmost respect for headbang-inducing riffs, their trademarked aggression, their tongue-in-cheek sense of humor, and their talent for extracting meaning out of the absurd.
Rising from the squalor of a cursed punk house for their live debut at a New Year's Eve keg party welcoming in 2001, founding members Ryan Waste and Tony Foresta quickly embraced a DYI ethic to spread the word about their band and graduated to booking shows out-of-state and even in Mexico. After a self-titled EP and the Waste 'Em All debut album in 2003, bassist Phil "LandPhil" Hall and former Melt Banana drummer Dave Witte were ushered into the fold. This line-up went on to record three full-length albums for Earache Records (2005's Hazardous Mutation, 2007's The Art Of Partying, and 2009's Massive Aggressive), earning such accolades throughout their career as "MUNICIPAL WASTE do it so well that any track could squeeze comfortably between D.R.I. and Gang Green on a mix tape" from Spin Magazine, "No band sound more authentic," from Alternative Press, "A gold standard" from Decibel magazine, and "Undeniably the best at what they do," from Outburn magazine. Visually, the band also delivered, as evidenced by the success of the devil-may-care and often outrageous attitude of their videos which have all become fan-chanted anthems at their live shows. The fact is, no one could argue against MUNICIPAL WASTE's reputation as the ultimate feel-good party band.
Dedicated to keeping the spirit of the 1980's cross-over scene alive, it was with their uncontrollable mirth and succinct songs that lead MUNICIPAL WASTE to reap the rewards of their hard work. By the time they signed with new label Nuclear Blast in 2011, they had proven themselves as die-hard road warriors who could tour & perform with bands outside their genre such as Suicidal Tendencies, The Casualties, 7 Seconds, Circle Jerks, Sick Of It All, GWAR, Lamb Of God, Children Of Bodom, and At The Gates and win over their crowds. Here they are 11 years later and their rabid fan base – which includes fans of metal, punk, and hardcore - continues to expand.
With artwork by Justin Osbourn of Slasher Design, 2012's The Fatal Feast is the first MUNICIPAL WASTE album to feature contributions from invited guests. Steve Moore of Zombi penned the intro to the title track and the spacey "Waste In Space," John Connelly of Nuclear Assault's vocals grace the album's title track, and former singer Tim Barry of Richmond punk legends Avail jumps in on "Standards And Practices."
Aptly hailed as "an interstellar thrashterpiece" by Decibel magazine, MUNICIPAL WASTE's The Fatal Feast debuted at #3 on the Billboard Heatseekers chart. Not bad for a band from Virginia, eh? Space may be a noiseless vacuum for amateurs who don't travel with their own P.A. system, but seasoned veterans of extreme situations MUNICIPAL WASTE always know better than to leave home without it!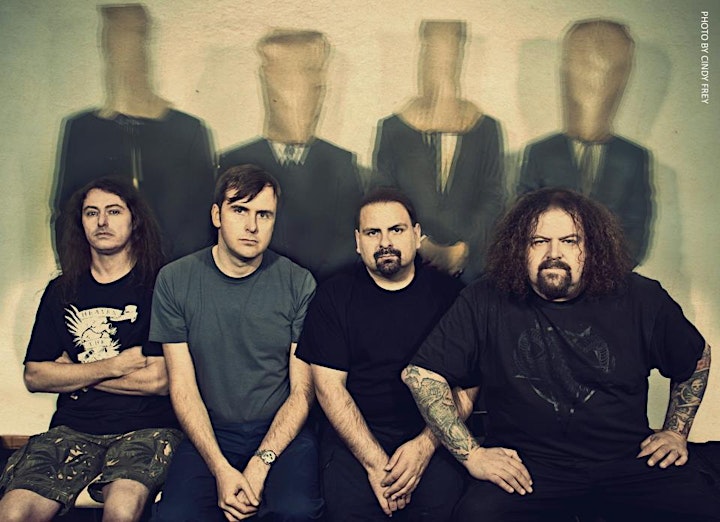 Formed in Birmingham, UK in 1982, by Nik Bullen. Napalm Death were originally one of the bands that defined the UK hardcore thrash/punk sound of the mid-late 1980s, along with bands such as Extreme Noise Terror, Doom and Sore Throat. The band has gone through countless line-ups and many former members have gone on to become significant figures in a variety of musical scenes.
Although their debut album "Scum" featured members Justin Broadrick (who was also a member of Fall Of Because, the band that later became Godflesh, at the time) and Nik Bullen (later part of Scorn), the first stable line up consisted of Lee Dorrian (vocals), Bill Steer (guitar), Mick Harris (drums) and Shane Embury (bass).
By late 1989, Lee Dorrian, whose vocals epitomised the early Napalm Death sound, had left to form another band (doom metal band Cathedral) and focus on his label Rise Above. Bill Steer also left to concentrate on his other band, Carcass. Dorrian was replaced by former death metal band Benediction's vocalist Barney Greenway, and an American guitarist, Jesse Pintado, was recruited from fellow Earache label-mates Terrorizer. A short time later Mitch Harris from Las Vegas' grindcore outfit Righteous Pigs joined as second guitarist.
Mick Harris left the band in 1991 and has since been involved in a plethora of solo and joint projects/collaborations as Scorn, Lull, Quoit etc. He was replaced by Danny Herrera, an old friend of Jesse's from Los Angeles. This line-up lasted until 2004, when Jesse Pintado left the band. Currently the band consists of Barney Greenway, Mitch Harris, Shane Embury and Danny Herrera.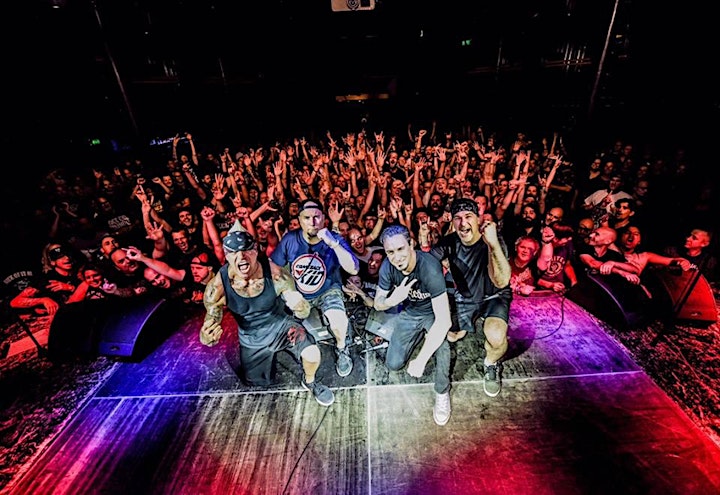 Sick of it All
New York Hardcore / Old School Hardcore band founded in 1986.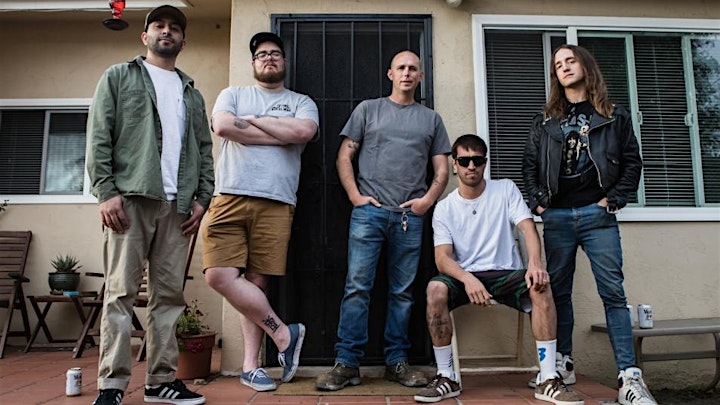 Weathering countless trends and defying all odds, over the past decade Take Offense has established themselves as one of the West Coast's most prominent hardcore acts. Sonically, Take Offense hits hard, with a sound steeped in late 80's NYHC tradition, coupled with the distinctively Venice crossover stylings of Suicidal Tendencies and the like. Take Offense manages to both whet the palate of the stodgy old guard, while satisfying the youths' insatiable lust for hard hitting, mosh riffage. Established in 2005, Take Offense have never been ones to rest on their laurels, and after a handful of EPs, 2011's landmark full length The Tables Will Turn, and a hell of a lot of time on the road with stalwarts such as Terror, Agnostic Front, D.R.I., Trapped Under Ice, Backtrack, Alpha & Omega, and Rotting Out, the band are set to unleash their latest magnum opus, United States of Mind, on the mighty Reaper Records. Though Take Offense are at a point in their lifespan when many bands shrug their shoulders and crank out half hearted riffs and reheated lyrics, United States of Mind proves the group has the stamina and creativity to push their sound forward without losing touch with their roots. In short, Take Offense are one of the most engaging hardcore bands to emerge in recent years, and lucky for all of us, they don't appear to be going anywhere. All that's left is to accept your fate and enter: THE T.O. ZONE
Venue Information:
Parking is available in side lot (by Exxon)
No Smoking/Vaping permitted anywhere inside venue
Bags/purses will be checked at the door.
Must have ID for entry
If you do not have access to a printer, we can scan ticket from your cell phone. Be sure to have your brightness turned all the way up at the door.
Children under 3 years old are Free.
Kitchen is open during all hours of operation.
Appropriate clothing required at all times (tops and bottoms covered).