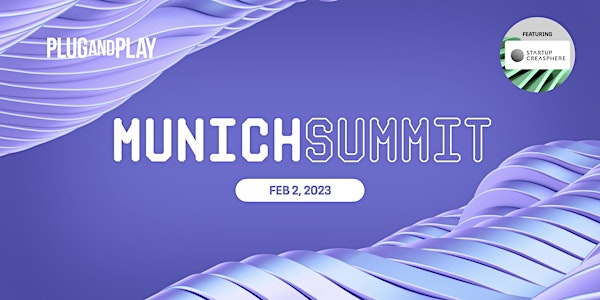 Munich Summit 2023
Join us at Plug and Play Munich as we bring together key stakeholders, startups and investors in the insurance and healthcare industry!
When and where
Location
Plug and Play Munich Balanstraße 73 #1. Stock 81541 München Germany
About this event
About this event
Join us for our Munich Summit 2023 to celebrate innovation in healthcare and insurance with a great lineup of keynote speakers, impressive pilot project showcases, inspirational panel discussions, insights from our corporate speakers, and much more. And to top it off, we will have some special treats in store with plenty of networking, drinks, and snacks to mingle.
At Plug and Play's Insurtech EXPO 9, we will showcase our stellar startups across all lines of business, along with exclusive insights to pilot showcases, the latest trends in the industry, and plenty of networking opportunities to create an unforgettable day in the innovation space.
AGENDA
09:00AM - 02:00PM Insurtech EXPO 9
09:00AM Registration
09:30AM Opening Remarks & Trends
10:00AM Fireside Chat with Ottonovo
10:15AM Startup Pitches I
10:45AM Networking Break
11:15AM CVC Trends & Possibilities
11:45AM Startup Pitches II
12:15PM Awards
12:45PM Closing Remarks
01:00PM Lunch & Networking
At Startup Creasphere EXPO 9, we will dive into the future of healthcare and tell the stories of the successful pilot projects between Roche and BIOTRONIK and our Batch 9 startups.
AGENDA
02:00PM - 06:00PM Startup Creasphere EXPO 9
02:00PM Opening Remarks
02:15PM Surprise Element
02:30PM Pilot Showcase
03:15PM Networking Break
03:45PM Keynote with Unicorn Startup Owkin
04:00PM Pilot Showcase
05:30PM Award & Closing
Want to be at the forefront of open innovation? Meet us at the Munich Summit 2023 IN-PERSON.
Register for your ticket today!