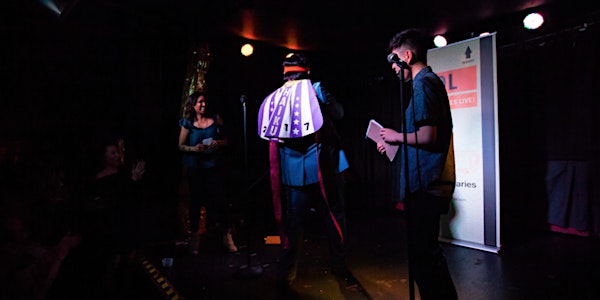 Muni Diaries Live! Sat. Nov. 4, 2017
When and where
Location
Elbo Room 647 Valencia Street San Francisco, CA 94110
Refund Policy
Refunds up to 7 days before event
Description
Everyone has a Muni story, and Muni Diaries is where we capture it all. Where else can you find strangers yelling, "Back door!" to help you get off the bus, and who else could help catch the Muni Humper? We'll have only-in-SF stories, a rousing Muni Haiku battle, and a sneak peek at our newest venture, San Francisco Diaries! Join us in celebrating all the hilarity, delight, and weirdness that happens on public transit in San Francisco.
Our stellar storytellers:
Alexandria Love is a stand-up comedian, podcaster, and writer from Oakland, California. She's performed at some of the best venues in California, including Tommy T's, The San Jose Improv, and Cobb's Comedy Club. For two years she ran a successful podcast called Here's Why That's Funny, which celebrated it's final episode in March 2017. Since then, Alex has been one of the most frequently booked comedians all around the Bay Area, a feat that she credits to her inability to tell people no. She is the current reigning champion of Tourettes Without Regret's Dirty Haiku battle and currently has 5 wins under her belt. She is currently pursuing an M.A. in Communications from the University of San Francisco and enjoys long walks off short cliffs and explosively emotional conversations about her parents with her therapist, Lynn. You can find some of Alexandria's writings on hereswhythatsfunny.com. .
Baruch Porras-Hernandez is a Pushcart Prize nominated writer, performer and standup comedian, named one of the 13 Top Bay Area Writers to Watch in 2016 by 7×7 Magazine in San Francisco. He's been featured in Writers with Drinks, has performed several times with Radar Productions, LitQuake, and is a winner of Literary Death Match, Write Club, The Moth, and Muni Diaries. As a comic he's featured at Tourettes Without Regrets, ManHaters, Marga Gomez's NYE Comedy Fiesta and all over the Bay Area. He is The Voice of Shipwreck SF Fan Fiction Competition and Podcast and regularly hosts literary shows with KQED. He is the founder and head organizer for ¿Donde Esta Mi Gente? created in part by a grant from Galerìa de la Raza. He was born in Toluca, Mexico and grew up in Albany, California.
Dominique Gelin is a comedian in Oakland, CA who offers strong opinions on stupid things, -isms, and assholes. It's all very fascinating. She has performed at SF Sketchfest, Boston's Women in Comedy Festival, the All Jane Comedy Festival, and was a finalist for the Ultimate Miami Comedian. She has also touched the stage of a really famous comedy club that one time.
Matt Gonzalez usually tells stories to 12 people. He's the chief attorney in the San Francisco Public Defender's Office. A native of McAllen, Texas, he has lived in San Francisco since 1991. He is also an artist who works with found paper which he exhibits at Dolby Chadwick Gallery. Fourteen years ago he ran for mayor of San Francisco, losing a close race to our current Lt. Governor. He also was Ralph Nader's running made in the 2008 election. His writings about art and politics can be found at themattgonzalezreader.wordpress.com.
Senait Hallermariam is a twenty-something San Francisco transplant cosplaying as an adult. Despite studying Digital Communication at San Francisco State University, Senait somehow found a job after graduation and currently works at BAYCAT, a nonprofit media production studio that educates and employs young people in digital media. Senait is the owner of a snake that she will most likely work into any conversation, currently binge-watching Grey's Anatomy, and in no way a professional storyteller. Please cut her some slack.
Steve Pepple is on the board of San Francisco Transit Riders, a rider-supported group for world-class transit in San Francisco. He works as designer at OpenGov, Steve works toward making cities more livable, whether he's working on a budget or a bus.
Tirumari Jothi has been performing comedy for six years, with stand-up as his first love, but he also loves improv and sketch acting so please don't ask him to choose. You can find him either performing with the geeky comedy group he co-founded, Komedio Comedy (facebook.com/komediocomedy); hosting video game drinking tournaments/shows with the Super Trashed Bros (facebook.com/SuperTrashedBros) at the Brewcade or PianoFight Theater; or acting on stage with Killing My Lobster in both their shows this Christmas and at Sketchfest 2018. If you can't find him doing any of that, then he's home playing video games or watching cartoons.
So grab a ticket, pen us in your calendars, and we'll see you soon!
Muni Diaries Live
Saturday, Nov 4, 2017
Doors: 6 p.m., show: 7 p.m.
Elbo Room
647 Valencia Street, San Francisco
Take Muni there: J-Church, 12, 14, 22, 33, 49, or BART: 16th or 24th St. stations